By John Harvith
Issue Date:
July 9, 2007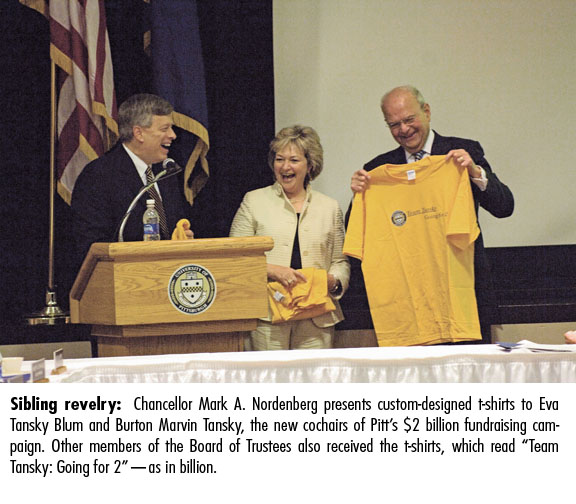 Burton Marvin Tansky, Eva Tansky Blum Named Cochairs of University' $2 Billion "Building Our Future Together" Campaign
Burton Marvin Tansky and Eva Tansky Blum—siblings, Pittsburgh natives, and Pitt alumni and trustees—have been named cochairs of the University's $2 billion "Building Our Future Together" fundraising campaign.
Tansky is president and CEO of The Neiman Marcus Group, Inc. Blum is senior vice president, director of community affairs, and chair of the PNC Foundation, the PNC Financial Services Group.
The first-known brother and sister in the University's 220-year history to serve concurrently as Pitt trustees, Tansky and Blum also are the first-known brother and sister to cochair a higher-education fundraising campaign of the magnitude of Pitt's.
They succeed Thomas J. Usher, retired chair and CEO of United States Steel Corporation and currently chair of Marathon Oil Corporation, who has chaired Pitt's capital campaign since its inception. With Usher as chair, the campaign goal doubled twice—from $500 million to $1 billion in 2002 and from $1 billion to $2 billion in 2006—with more than $1 billion raised thus far, making Pitt's fundraising initiative the most successful such campaign in the history of Western Pennsylvania.
"We are delighted that Burt Tansky and Eva Tansky Blum—each of whom is a distinguished Pitt alumnus and member of the University of Pittsburgh Board of Trustees—will cochair the next phase of our record-setting capital campaign," said Pitt Chancellor Mark A. Nordenberg. "Their talents, experiences, and expertise, combined with their devotion to Pitt and its mission, will reposition an already successful campaign to attract even higher levels of support. We are grateful to Burt and Eva for their willingness to serve their alma mater. We also forever will be indebted to our former campaign chair, University Trustee Tom Usher, for his own extraordinary leadership, service, and philanthropy."
A 1961 graduate of Pitt's College of Arts and Sciences, Tansky began his career in Pittsburgh as an assistant buyer at Kaufmann's. He worked for several other retailers, including Filene's (Boston, Mass.), Rike's (Dayton, Ohio), Forbes and Wallace (Springfield, Mass.), I. Magnin (San Francisco, Calif.), and Saks Fifth Avenue (New York City) before joining The Neiman Marcus Group, Inc., in 1990, serving in a number of senior executive positions—including chair and CEO of Bergdorf Goodman and the group's president and COO—before assuming his current position, in 2001.
Tansky was honored as a Pitt Legacy Laureate in 2000, was given the Pitt Alumni Association Award of Distinction in 1990, and is a lifetime member of the Pitt Alumni Association. Tansky has been accorded numerous honors, among them the Superstar Award from Fashion Group International in 2006, a Visionaries! Award in 2005 from the Museum of Arts and Design, the 2004 Gold Medal Award from the National Retail Federation (considered the highest honor in retailing), and, in 2002, appointment as a Chevalier de la Legion d'Honneur by the French government.
Blum is a 1970 graduate of Pitt's College of Arts and Sciences and a 1973 graduate of Pitt's School of Law. She began her career as an attorney in the Economic Development Administration of the U.S. Department of Commerce. She joined PNC's legal division in 1977, became vice president in 1986, and was elected senior vice president and chief compliance counsel in 1990. She has served as senior vice president and deputy general counsel/director of regulatory affairs and has served as senior vice president and director of comprehensive risk management and compliance at PNC. She was named to her current position in July 2002.
A recipient of the Pitt Volunteer of the Year award in 1990, Blum is a member of the Executive Committee of Pitt's Board of Trustees, former president of the Pitt Alumni Association, a member of the School of Law Board of Visitors, and also a lifetime member of the Pitt Alumni Association. She is responsible for the PNC Grow Up Great program and is a member of the Citizens Advisory Committee on the Efficiency and Effectiveness of City-County Government chaired by Chancellor Nordenberg. She was the 2001 recipient of the Carlow College Women of Spirit Award, was named in 1999 one of Pennsylvania's Best 50 Women in Business by former Pennsylvania Governor Tom Ridge, and was honored with the YWCA Tribute to Women Award in 1998.
"Burt and Eva have been longtime supporters of the University of Pittsburgh and our fundraising efforts," said Albert J. Novak Jr., vice chancellor for Institutional Advancement. "They have served as loyal volunteers in the past and we are excited that they are willing to join forces to help us engage our alumni across the county."
Tansky's giving to Pitt has included broad-based support of various University initiatives in addition to the creation of the Burton M. Tansky Fund in Pitt's School of Arts and Sciences.
Blum's long-term support of the University has included gifts to various initiatives and units, including the School of Law, the Department of Athletics, and the Pitt Alumni Association.
Tansky and Blum, with their sister Shirley Gordon, made a donation in June 2006 to name the Tansky Family Lounge in the William Pitt Union in memory of their parents, Harry and Jeanette Tansky, immigrants from Poland and Russia, respectively, who settled in Pittsburgh.
Other Stories From This Issue
There are no stories for the issue at this time.
On the Freedom Road

Follow a group of Pitt students on the Returning to the Roots of Civil Rights bus tour, a nine-day, 2,300-mile journey crisscrossing five states.
Day 1: The Awakening
Day 2: Deep Impressions
Day 3: Music, Montgomery, and More
Day 4: Looking Back, Looking Forward
Day 5: Learning to Remember
Day 6: The Mountaintop
Day 7: Slavery and Beyond
Day 8: Lessons to Bring Home
Day 9: Final Lessons