Building Pitt's Future: Canard Grigsby is vital link in high-profile construction projects at Pitt
Issue Date:
February 11, 2008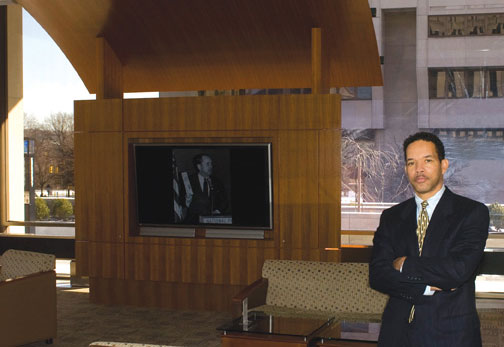 When Canard Grigsby crisscrosses Pitt's 132-acre campus on any given day, he doesn't necessarily see the bricks and mortar of the buildings' facades. Instead, he may be remembering the negotiating sessions that took place to keep the building's construction cost within budget. Or the planning involved in the creation of a glass door transom that bears the signature of an esteemed Pitt alumnus.
As project manager for planning and design in Pitt's Department of Facilities Management, Grigsby is thoroughly familiar with many details of campus construction, from the predesign phase to the last finishing nail. He and seven other project managers oversee three critical components of any Pitt building project—scope of work, budget, and schedule.
"No two days in this position are the same," said Grigsby, 48, a soft-spoken, energetic man who works out of the Eureka Building's third floor. Since coming to Pitt in 2004 as the first African American to hold a project manager post in Pitt's facilities management, he functions as an important liaison between a project's outside consultant and the Pitt department in which the work is being done. Any given day could involve meetings, discussions with consultants, a road trip to a regional campus, or a visit to a construction site.
Grigby's job title belies the diverse range of skills needed to perform the job well. At times, he must play the role of diplomat, gently nudging the multiple parties involved in a project to agree to work together. That may involve Grigsby donning his work shoes to talk with construction workers at a site—or wearing a suit and tie to make a boardroom presentation. At other times, his architectural expertise may be called into play. And sometimes it may mean tapping into his broader understanding of the world, as he works to adapt a structure's form to the culture and diversity of a campus.
After earning a Bachelor of Science degree in architecture at Temple University, he worked for several years at private architectural firms. At Pitt, Grigsby is a critical component in helping to create the architectural image that Pitt presents to potential students and top-flight faculty and staff.
"The difference between getting that top athlete or top scholar could be the facilities you have to offer," Grigsby said, commenting on the continuous stream of new construction and upgrades under way all over campus. State-of-the-art facilities "enhance or develop the skill sets individuals bring with them when they arrive at Pitt."
Grigsby has managed several key projects in Oakland, including construction of the new Richard L. Thornburgh Room in Hillman Library and Panther Hall, as well as improvements to Salk and Ruskin halls.
Currently, he's juggling a number of projects, with funding close to $6 million, which include a major addition to Salk Hall, physics laboratories in Old Engineering Hall, and several upgrades at the Bradford campus. Those range from new auditorium seating and lab renovations in Fisher Hall to a new campus chapel. Each undertaking is meticulously planned and carried out under Grigsby's watchful eye.
A native of Warrenton, Va., Grigsby grew up in Sewickley. By the eighth grade, he had set his heart on a profession in architecture.
"My Uncle Sherman was an architect in Washington, D.C.," he recalled with a smile. "He told me what he did and how he did it. I have artistic ability and proficiency in math and science, so I thought it was a good fit."
After graduating from Temple, Grigsby returned to Sewickley and worked for a small architectural firm. Before joining Pitt, he was with the New York-based architectural firm Perkins Eastman.
One of Grigsby's more visible projects at Pitt is the Thornburgh Room, completed in fall 2006. The project involved a series of presentations to Pitt Trustee and former Pennsylvania Gov. Dick Thornburgh, representatives of the University Library System, members of the Board of Trustees, and others. Grigsby was also key in negotiations between the Pitt parties and the consulting architect, Strada, and subconsultant, Landesberg Design.
The resulting space, tucked into the northeastern corner of Hillman Library's first floor, is a handsome tribute to Thornburgh, a 1957 Pitt law school alumnus. It is Thornburgh's oversize signature that graces the glass over the front entranceway.
"Collectively, we thought there had to be some ownership of the space," said Grigsby. "We suggested his signature in the transom above the double glass door entry, and he thought the idea was fantastic."
Another of Grigsby's projects, on O'Hara Street, involves making the Mid-Campus Complex—the nuclear physics lab, Allen Hall, Old Engineering Hall, Thaw Hall, and the Space Research Coordination Center—one cohesive working environment.
"Every project has its share of challenges," Grigsby said. "It's critical how issues get resolved and that they get resolved in a timely manner. In my opinion, that's what drives those who function as managers."
For a project manager like Grigsby, the concept of cohesion may be defined in the physical sense—such as the Mid-Campus Complex project—or in a global sense, as in ensuring that a building reflects a campus's essence and community. A recent meeting on the design of the Bradford campus chapel brought home that point. Grigsby described a stimulating discussion with campus representatives about how to make the facility exude reverence, without catering to any one denomination.
"We talked about everything from Catholic holy water fonts to Muslim foot-washing to Baptism by immersion. We also discussed menorahs and altars," he said, adding that the Bradford campus is a kind of microcosm of the diversity found at Pitt's Oakland campus.
Grigsby said he is proud of being the first African American to hold his position at Pitt, but he says he sees diversity as "not just a byword but a reality."
Cohesion and diversity are just two of the many factors that Grigsby must consider when advising a University department on its options for a project. Cost and historic preservation also play a role. According to Grigsby, where adaptive reuse—an upgrade—is feasible, it is more cost-efficient to upgrade than demolish. Historic preservation is also considered because sections of Oakland are both on the National Register and part of the City of Pittsburgh Historic Districts.
The University Club is a case in point. The eight-story, 83-year-old structure at 123 University Place, designed by renowned turn-of-the-century architect Henry Hornbostel, is about to get a $20.2 million facelift. HVAC systems in the building are being modernized and new elevators are being installed. The finished product will house a faculty and staff club, fitness facilities, and three floors to be leased by Family House, Inc., a local nonprofit group.
"To tear it down, we would have lost an historic piece of architecture," said Grigsby, who works on the project on an interim basis. "Now, it will make a tremendous statement along University Place, linking the upper and lower campus."
Creating a cohesive environment, preserving history, reflecting campus diversity, Grigsby works to keep it all together. No doubt, Uncle Sherman would be proud.
Other Stories From This Issue
There are no stories for the issue at this time.
On the Freedom Road

Follow a group of Pitt students on the Returning to the Roots of Civil Rights bus tour, a nine-day, 2,300-mile journey crisscrossing five states.
Day 1: The Awakening
Day 2: Deep Impressions
Day 3: Music, Montgomery, and More
Day 4: Looking Back, Looking Forward
Day 5: Learning to Remember
Day 6: The Mountaintop
Day 7: Slavery and Beyond
Day 8: Lessons to Bring Home
Day 9: Final Lessons