By Steve Levin
Issue Date:
February 3, 2014
In today's global economy, there's a lot of focus on the need for growth and innovation, the potential of emerging markets, and the fortunes of top-earning companies. But how does one create business success? An interesting Pitt project, the Business of Humanity®, suggests that financial profit isn't the whole answer.
The project draws upon actual case studies and business examples from Brazil, the Czech Republic, India, Russia, and the United States to create a model for optimal business and economic performance that includes benefits for workers, the community, the environment, and other stakeholders. A key question is: What happens when firms incorporate concepts such as humaneness and humankind into their strategies for success?
"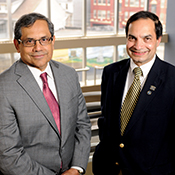 It's not about being a do-gooder," says John Camillus, the Donald R. Beall Professor of Strategic Management at Pitt's Joseph M. Katz Graduate School of Business. "It's based on an informed understanding of the shortcomings of financial numbers. When you look at profits only, you're relying on a single measure but forgetting all the assumptions and uncertainties that underlie profit projections. You're looking for the comfort of a number built on a foundation of assumptions that are particularly questionable in relation to strategic decisions." Instead, he says, businesses need to mesh and harmonize their organizations with their broader operating environments.
The idea for the Business of Humanity® Project first stirred in Camillus years ago when he was earning a doctoral degree from Harvard in planning and control. That's when he began to note a fundamental flaw in the priorities of many firms: Companies seemed more focused on financial accounting reports for shareholders than on comprehensive, sustainable business models based on economically sound criteria.
Pitt's Business of Humanity® Project offers a theoretical academic framework and a practical global focus that builds social responsibility into a business model as a way of making profits. "There are some people elsewhere focusing on sustainability and integrity in business," says Camillus, "but no one has the holistic perspective that we are employing at Pitt." The project name is no accident; in fact, "Business of Humanity®" is a registered name owned by the University of Pittsburgh.
Camillus chose the word "humanity" because, to him, it represents two distinct parts: humaneness and humankind. "Both of those meanings are at the core of what is important to me," he says, explaining that humaneness equates with programs that incorporate gender equality, diversity, safety, product quality, integrity, and environmental and social sustainability. Humankind, he continues, recognizes the global context of decision-making in relation to the needs and potentials of huge and growing markets, particularly those with low per-capita income. "In terms of strategic decision making, humane criteria are just as important, if not more helpful, than accounting numbers."
Bopaya Bidanda—Ernest E. Roth Professor and Chair of Industrial Engineering in Pitt's Swanson School of Engineering—is co-leader of the project. He says that decision-making by companies worldwide is also influenced by cultural beliefs and practices. "One of the most interesting things I've found is the cultural differences among corporate organizations in terms of how they implement concepts central to the Business of Humanity," says Bidanda. An Indian company, for example, may allow staff employees to interview and select new hires; while a Japanese company may have a far more rigid hiring hierarchy and a 300-year strategic plan. Such differences are another aspect of the project's value and educational potential.
A multitude of forces led to the development of the Business of Humanity® Project, but Camillus pinpoints three: globalization, innovation, and the recognition of business's importance to society. World economic growth is shifting to countries that have a growing population of youth with the potential to become a significant workforce. As growth continues in those countries, new consumers will gain a sufficient level of economic power to become significant consumers—and their numbers may reach into the billions in the years ahead. The economic and buying characteristics of that demographic will subsequently motivate disruptive innovations in business models and technologies.
Innovation is the key for economic growth, especially in an era of globalization, says Camillus. As an example he describes an initiative in India by GE Healthcare and its "Healthymagination" venture, which has produced a line of electrocardiogram (ECG) systems. Most such systems in G7 countries cost from $2,000 to $10,000, but GE designed a $400 battery-powered model that can be transported by bicycle into India's most rural areas, enabling villagers to have an ECG exam for about the cost of a bottle of water. More than 10,000 of the units have been sold. Market need stimulated the development of the new technology.
"When you try to meet the needs of impoverished people in large numbers, it forces you to rethink your products, your technology, your marketing, your business model," says Camillus. "How would a company design, sell, and deliver the products? The technologies needed and the processes used to answer such questions are enormously powerful motivators for innovation."
More and more companies, says Camillus, are discovering that it's difficult to maintain profitability without enhancing quality, ensuring safety, building diversity, supporting gender equality, committing to integrity, and being environmentally and socially sustainable. For Camillus it's about shared value.
"That is at the heart of everything I'm doing, which is the notion that economic benefit and social benefit are mutually supportive and synergistic," he says. Business, he says, is much more sustainable if it takes into account the needs and priorities of the community in which it operates, the employees it has, the creditors it has, the government agencies and nongovernment organizations that have an interest in the operations. "If the business takes into consideration the needs of those multiple stakeholders in addition to just the shareholders, the shareholders do better and so does everyone else."
This story was excerpted from Pitt Magazine, Spring 2013.
Other Stories From This Issue
There are no stories for the issue at this time.
On the Freedom Road

Follow a group of Pitt students on the Returning to the Roots of Civil Rights bus tour, a nine-day, 2,300-mile journey crisscrossing five states.
Day 1: The Awakening
Day 2: Deep Impressions
Day 3: Music, Montgomery, and More
Day 4: Looking Back, Looking Forward
Day 5: Learning to Remember
Day 6: The Mountaintop
Day 7: Slavery and Beyond
Day 8: Lessons to Bring Home
Day 9: Final Lessons