Issue Date:
October 22, 2007
LAW SCHOOL REUNION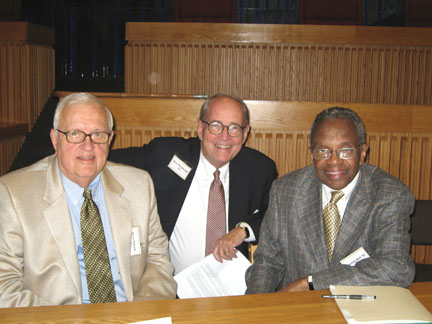 From left, Norman Rubash, Richard Thornburgh, and Derrick Bell, three distinguished graduates from the University of Pittsburgh School of Law's Class of 1957, were the featured speakers during the law school's Law Alumni Reunion Weekend, Sept. 28 and 29. The three presented a panel discussion titled "Ethical Challenges Facing Attorneys and Law Schools: The View From 50 Years in the Legal Profession" on Sept. 28 in the Barco Law Building's Teplitz Memorial Courtroom.
The speakers, whose paths led to careers in legal education, politics, and business, offered perspectives informed by a half-century as practicing attorneys. Thornburgh, formerly governor of Pennsylvania, attorney general of the United States, and undersecretary-general of the United Nations, is currently of counsel at Kirkpatrick & Lockhart Preston Gates Ellis LLP. Lawyer, teacher, activist, scholar, and author Bell is a visiting professor of law at New York University School of Law, while Rubash is the retired international executive vice president of Amoco Corporation.
Other reunion events included a reception Sept. 28 and a dinner Sept. 29. At the dinner, held in Alumni Hall's Connelly Ballroom, Bell and U.S. Sen. Orrin G. Hatch (LAW '62) were honored with Distinguished Alumni Awards.
COLKER LECTURE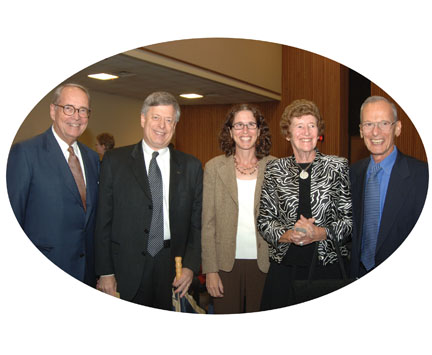 Ruth Colker, the Heck Faust Memorial Chair in Constitutional Law at Ohio State University's Michael E. Moritz College of Law, delivered the keynote lecture, "Why I Only Give Take-Home Exams: A Disability Perspective," at this year's Thornburgh Family Lecture Series in Disability Law, held Sept. 27 in the Barco Law Building's Teplitz Memorial Courtroom. Shown below from left are former Pennsylvania Governor and U.S. Attorney General Richard Thornburgh (LAW '57); Pitt Chancellor Mark A. Nordenberg; Colker; and Colker's parents, Janice and James Colker of Shadyside.
INTERNATIONAL WEEK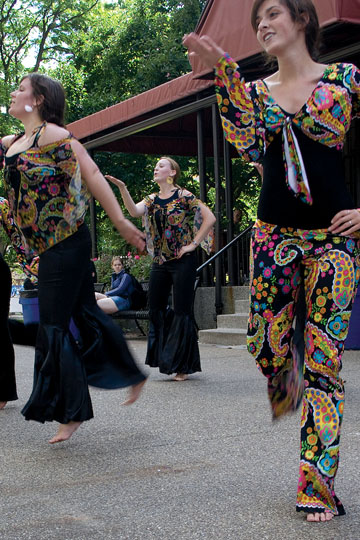 In cooperation with campus, student, and community organizations, the University of Pittsburgh celebrated International Week from Sept. 23 through 30 with panel discussions, lectures, and international food, dance, art, music, and films.
The annual slate of events is sponsored by the Global Studies Program of Pitt's University Center for International Studies and the Student Affairs Office of Cross-Cultural and Leadership Development.
Above, The Brazil Nuts Portuguese Club performs the Brazilian samba in ethnic costumes.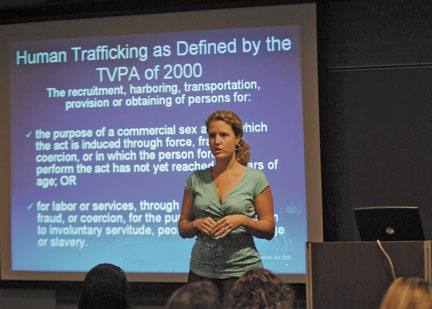 Above, Mary Burke of the Project to End Human Trafficking, a nonprofit organization working regionally, nationally, and internationally in the antislavery movement, explains human trafficking and some of the ways in which policy makers, public health professionals, and concerned citizens can get involved. Burke is the project's executive director as well as director of training for the doctoral program in counseling psychology at Carlow University.
Below, community members who purchased tickets for the Oakland International Restaurant Tour were able to sample a variety of ethnic foods at participating restaurants.
At bottom, students, faculty, and staff learn the basics of salsa dancing from instructor Marlon Silva, who gave lessons in the first floor Galleria of Posvar Hall.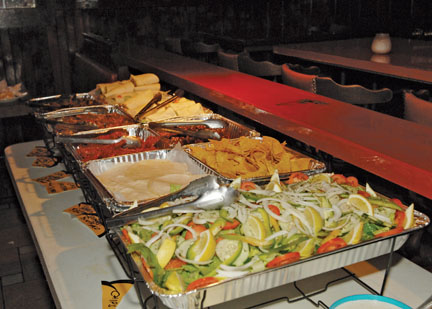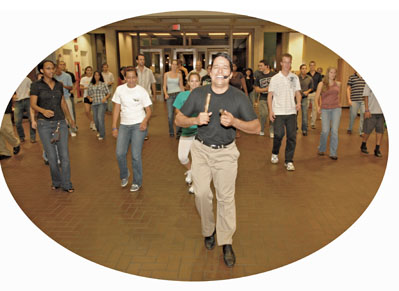 Other Stories From This Issue
There are no stories for the issue at this time.
On the Freedom Road

Follow a group of Pitt students on the Returning to the Roots of Civil Rights bus tour, a nine-day, 2,300-mile journey crisscrossing five states.
Day 1: The Awakening
Day 2: Deep Impressions
Day 3: Music, Montgomery, and More
Day 4: Looking Back, Looking Forward
Day 5: Learning to Remember
Day 6: The Mountaintop
Day 7: Slavery and Beyond
Day 8: Lessons to Bring Home
Day 9: Final Lessons