The Cascading Thoughts of Terrance Hayes
By Ervin Dyer
Issue Date:
February 24, 2014
Four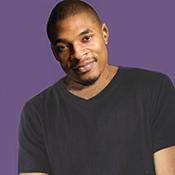 years ago, Terrance Hayes, in his newly purchased tuxedo, was called to a podium in New York. By unanimous vote, the University of Pittsburgh English professor had won the National Book Award for poetry for Lighthead, a volume of 42 poems that explores fatherhood, politics, and personal history. There is also race, love, addiction. It's a work diverse in form and content.
In the time since, Hayes has had sushi in New York with Amiri Baraka, the recently deceased poet, author, and activist. They chewed on the purpose and responsibility of revision. He's been to Martha's Vineyard, reciting poetry while jazz pianist Jason Moran—winner of a MacArthur Fellowship, aka "genius grant"—riffed in the background. Congresswoman Eleanor Holmes Norton stood listening nearby. And lately, the joke around his house has been his evolution of attraction to strong women. In high school, he crushed on Color Purple author Alice Walker, and now he glows for the quirkiness and artistry of Erykah Badu.
But mostly Hayes has retreated to the third floor of his Pittsburgh home, the quiet space where he writes in snatches—building, layering, and revising the work for his next volume of poetry. When he does fall asleep, often lines of poetry show up in his dreams. He's excited about his next book, which explores feelings and perceptions about how people are seen, and how they are depicted.
The acclaimed Lighthead has been described as an illumination of the imagination, as "light longing for lightness," but here's more of Hayes on what he was thinking.
I wanted to explore the relationship between telling stories and singing. I was interested in how an idea conveyed through "once upon a time" is different from an idea conveyed through humming. Writing the pecha kucha form [borrowed from a Japanese business presentation style that uses 20 slides with 20 seconds of chatter per slide] was one way to do it. When the 20 musical and imagistic fragments are arranged as a single poem, they are meant to convey a story. So that is what I was exploring initially: Whether I could sing and tell a story at the same time. It's complicated, but at some point, I began to move from my formal interests to the themes of Lighthead. I saw a lot of images of fire and light, and began to think about the paradoxical nature of fire. Fire can warm you. Burn you. Destroy you. Passion is constructive. Passion is destructive. I'm always waiting for the poems to tell me what I'm interested in, and this was just something I noticed suddenly. "Oh, there are a lot images of fire." Once I saw that, I began to think about fire's light and what it means to be lightheaded, to be lit up. I think I had more than half the poems written when I saw that theme emerging. The question would be, did I write something explicit about light or fire? I don't think that I did. But once I saw it as a thread in the collection, I began to organize around it.
Other Stories From This Issue
There are no stories for the issue at this time.
On the Freedom Road

Follow a group of Pitt students on the Returning to the Roots of Civil Rights bus tour, a nine-day, 2,300-mile journey crisscrossing five states.
Day 1: The Awakening
Day 2: Deep Impressions
Day 3: Music, Montgomery, and More
Day 4: Looking Back, Looking Forward
Day 5: Learning to Remember
Day 6: The Mountaintop
Day 7: Slavery and Beyond
Day 8: Lessons to Bring Home
Day 9: Final Lessons