Cathedral of Learning Society
Issue Date:
July 9, 2007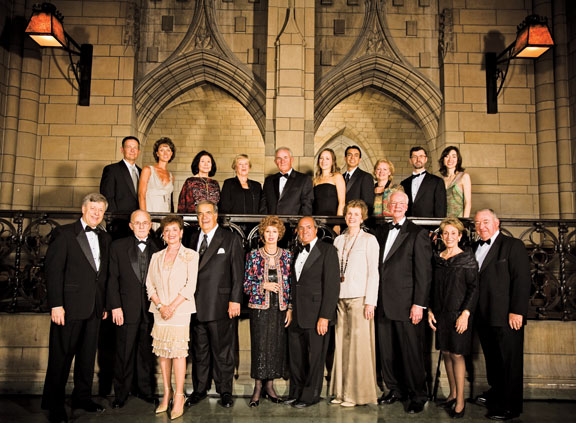 Some 140 people gathered for cocktails and dinner in the Cathedral of Learning's Commons Room on the evening of June 29 to honor new inductees into the Cathedral of Learning Society (CLS).
Each of the society's members has donated $1 million or more to Pitt. Inductees or members of their families received framed citations.
Pictured in the front row, from left: Chancellor Mark A. Nordenberg and inductees Marlin H. Mickle (ENGR' 61, '63G, '67G), Nickolas A. DeCecco Professor and professor of telecommunications and computer, electrical, and industrial engineering in Pitt's School of Engineering; Athena and Frank Sarris, founders and owners of Sarris Candies; Marianna Zamias and George D. Zamias (KGSB '53 and '54G), founder of George D. Zamias Developer and Zamias Services, Inc.; Jeanne H. Olofson, president of the Tom W. and Jeanne H. Olofson Foundation, and  Tom W. Olofson (KGSB '63), chair and CEO of EPIQ Systems, Inc.; and Rhoda Steiner and Charles M. Steiner (KGSB '63), retired CEO, founder, and chair of Branch Group, Inc.
Back row, from left: inductees Gordon J. Vanscoy (PHARM '84, KGSB '91), associate dean for business innovation and professor of pharmacy and therapeutics in Pitt's School of Pharmacy, and Bethann Vanscoy; E. Maxine Bruhns, director of Nationality Rooms Programs at Pitt; Margaret E. Wilkes and James E. Wilkes (CAS '59), retired president, owner, and CEO of Wilkes Venture; Kristy Rodriguez (daughter of CLS inductees J. Faye Sampson and the late Myles D. Sampson, who was the chair and CEO of Rimco Properties, Inc.) and William Rodriquez; J. Faye Sampson, trustee of the J. Faye and Myles D. Sampson Family Foundation; William F. Benter (CGS '71), chair and international chief executive of Acusis, and Christina Stacey.
CLS 2007 inductees not pictured include the late Fred C. Bruhns (GSPIA '69), who with his wife E. Maxine Bruhns conducted resettlement work for the United Nations and U.S. refugee agencies before he became a GSPIA professor; the late Thomas E. Cadman (CAS '52, MED '56), whose medical career included 30 years of service to the Geisinger Medical Center in Danville, Pa.; Wyoming rancher Allen L. Cook, who in December 2005 donated to Pitt a 4,700-acre property rich in dinosaur bones and Native American archeological remains; Kathleen DuRoss Ford, president of KDF Overseas Investments, Inc., and L. Frank Chopin, a retired principal in the law firm Chopin & Miller; the late Anthony E. Gill (ENGR '49), who was a civil engineer for Dravo Corp.; the late Frank E. Jeffries (DEN '33), a dentist and career officer in the U.S. Navy, and Dorothy T. Jeffries, who established the Frank E. Jeffries Scholarship Fund in Dental Medicine in Pitt's dental medicine school; professional golfer, businessman, and philanthropist Arnold Palmer; Henry Posner (CAS '48), chair of The Hawthorne Group, and Helen Posner; Thomas J. Usher (ENGR '64, '66G, and '71G), retired chair and CEO of U.S. Steel Corp. and currently chair of Marathon Oil Corporation, and Sandra L. Usher; Robert J. Weiss, an ophthalmologist, cofounder, and president of Seneca Eye Surgeons, Inc. and chair of the Department of Surgery for the medical staff at Warren General Hospital, and Mary B. Weiss.
For biographical sketches of the 2007 CLS inductees, see story in the June 25 Pitt Chronicle, available at www.chronicle.pitt.edu/?p=434.
Other Stories From This Issue
There are no stories for the issue at this time.
On the Freedom Road

Follow a group of Pitt students on the Returning to the Roots of Civil Rights bus tour, a nine-day, 2,300-mile journey crisscrossing five states.
Day 1: The Awakening
Day 2: Deep Impressions
Day 3: Music, Montgomery, and More
Day 4: Looking Back, Looking Forward
Day 5: Learning to Remember
Day 6: The Mountaintop
Day 7: Slavery and Beyond
Day 8: Lessons to Bring Home
Day 9: Final Lessons