Center on Race and Social Problems Making a Difference
Issue Date:
January 20, 2009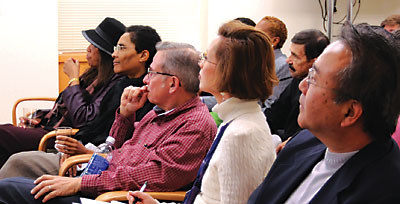 The University of Pittsburgh's School of Social Work created the Center on Race and Social Problems (CRSP) in 2002 to address an issue—race— that has plagued society for centuries. CRSP was the first such center at a school of social work in the country.
CRSP has provided a forum for students, faculty, and the community to discuss race and a means to support faculty who research race. The center offers lectures, courses, summer institutes and, to students, the opportunity to work as research assistants on race-related projects. In addition to writing scholarly publications, the center's researchers compiled the 2007 report Pittsburgh's Racial Demographics, a comprehensive quality-of-life survey for different racial groups in the Pittsburgh region.
The summer institutes have already made an impact on the local community. David M. Kennedy, director of the Center for Crime Prevention and Control and professor of anthropology at John Jay College of Criminal Justice in New York City, was so effective in outlining his method of youth-crime reduction during his CRSP talk last summer, city of Pittsburgh leaders asked him to help implement his plan here. A similar method has helped drive down violent crime in Boston, Cincinnati, and Chicago.
The center also serves as a magnet for students interested in race
"A number of students come here in part because CRSP is unique. It's a great advantage to have this expertise and focus on race through classes, summer institutes, and lectures," says Ralph Bangs, the center's associate director. "Social work and other students know that race is very important in the settings they'll work in."
Among those students drawn to the center is Monique Constance-Huggins, who is pursuing a joint master's-doctoral degree in social work. She is studying how women- and minority-owned businesses in Chicago and Boston are awarded contracts by local governments.
"The fact that there is a center here really adds importance to studying issues like racial disparities. It makes race the focus of study, rather than something added on at the end,"
Constance-Huggins says.
In the world of social work, paying attention to subtle differences in how racial groups behave can mean the difference between the success and failure of a given intervention, she says.
"It's important to have culturally sensitive research in order to advance African Americans' social outcomes," Constance-Huggins adds.
Other Stories From This Issue
There are no stories for the issue at this time.
On the Freedom Road

Follow a group of Pitt students on the Returning to the Roots of Civil Rights bus tour, a nine-day, 2,300-mile journey crisscrossing five states.
Day 1: The Awakening
Day 2: Deep Impressions
Day 3: Music, Montgomery, and More
Day 4: Looking Back, Looking Forward
Day 5: Learning to Remember
Day 6: The Mountaintop
Day 7: Slavery and Beyond
Day 8: Lessons to Bring Home
Day 9: Final Lessons