Chancellor's Scholar Keenan Receives HIA Fellowship
Issue Date:
April 27, 2008
Third consecutive year that Pitt competed successfully in Humanity in Action program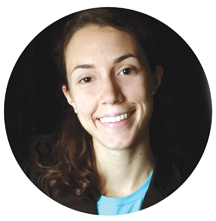 Tanya E. Keenan, a Chancellor's Scholar in the University of Pittsburgh Honors College, has been selected to receive a 2008 Humanity in Action (HIA) summer fellowship. Keenan, a political science and neuroscience major in the University's School of Arts and Sciences, is among only 59 undergraduate students chosen from American colleges and universities. This summer, she will participate in the Dutch Program in Amsterdam.
This is the third consecutive year that Pitt has competed successfully in the HIA Fellowship program.
American fellows join European fellows for five weeks in Denmark, France, Germany, The Netherlands, Poland, and the United States for intensive study of contemporary minority and human rights issues.
A Phoenixville, Pa., native, Keenan received a Barry M. Goldwater Scholarship in 2006 for exceptional independent research in the science and engineering disciplines. Under the direction of Anthony Grace, a Pitt professor in the Department of Neuroscience, Keenan has performed a variety of neurophysiological techniques to understand the role of neural circuitry in such psychiatric disorders as schizophrenia, addiction, and depression. Keenan's particular interest is the basolateral amygdala (BLA) area of the brain's involvement in heightened emotional states. She has completed experiments that probe the circuitry between the prefrontal cortex and the BLA.
Keenan presented her BLA research at the Society of Neuroscience annual meeting in fall 2006. Keenan's long-term career goal is to be a neuroscientist who is both a committed investigator at a major research institution and an active participant in the global scientific community.
During the 2006-07 academic year, Keenan took part in the National Institute of Mental Health (NIMH) Undergraduate Fellowship Program in Mental Health Research, which provides NIMH support to students from Pitt and Carnegie Mellon to conduct supervised research in clinical and educational activities.
In addition to pursuing her research, Keenan spent four weeks in the summer of 2006 studying in the People's Republic of China through the Pitt-in-China program. Last summer, Keenan received the Women's International Club Grant from the University's Nationality Rooms and Intercultural Exchange Program. She studied HIV/AIDS, health care, clinical interventions, and community development with Children's Family Health International in Durban, South Africa.
Participation in the HIA's core programs provides the foundation for further involvement with HIA. Upon completion of summer fellowships, participants may proceed to international internships to continue their training in human rights issues. Past fellows have used their experiences with HIA to further careers in such fields as education, civil service, journalism, law, and art.
HIA was founded in 1997 to guide student leaders in the study of human rights. Fellows are selected on the basis of high academic achievement, evidence of leadership ability, and demonstrated commitment to human rights issues.
Other Stories From This Issue
There are no stories for the issue at this time.
On the Freedom Road

Follow a group of Pitt students on the Returning to the Roots of Civil Rights bus tour, a nine-day, 2,300-mile journey crisscrossing five states.
Day 1: The Awakening
Day 2: Deep Impressions
Day 3: Music, Montgomery, and More
Day 4: Looking Back, Looking Forward
Day 5: Learning to Remember
Day 6: The Mountaintop
Day 7: Slavery and Beyond
Day 8: Lessons to Bring Home
Day 9: Final Lessons