Chancellor Names 2008 Staff Excellence Awardees
By Anthony M. Moore
Issue Date:
February 11, 2008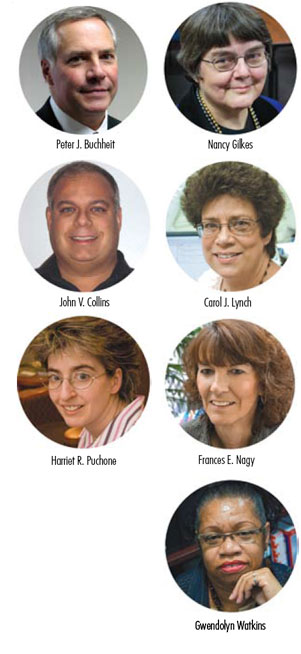 Chancellor Mark A. Nordenberg has named the winners of the 2008 Chancellor's Awards for Staff Excellence in service to the community and to the University.
Each awardee will receive a $2,500 cash prize and will be recognized during Pitt's 32nd annual Honors Convocation on Fri., Feb. 29. Their names will also be inscribed on plaques to be displayed in the William Pitt Union.
The four winners of the Chancellor's Award for Staff Excellence in Service to the Community are:
Peter J. Buchheit, director of facilities management at the University of Pittsburgh at Bradford;
John V. Collins, parking operations manager in Pitt's Department of Parking and Transportation;
Harriet R. Puchone, coordinator for the Office of Education and Curriculum in the School of Dental Medicine; and
Gwendolyn Watkins, special events coordinator for Pitt's Office of Governmental and Community Relations.
The three winners of the Awards for Staff Excellence in Service to the University are:
Nancy Gilkes, benefits relationship manager for the Department of Benefits;
Carol J. Lynch, assistant to the associate dean for undergraduate studies in the School of Arts and Sciences; and
Frances E. Nagy, graduate student coordinator in the Department of Chemistry.
Excellence in Service to the Community
Buchheit frequently offers his expertise in facility management to the Bradford community through volunteer work with professional and community organizations.
He has been a member of the Bradford Township Volunteer Fire Department for almost 20 years, serving in a number of positions, including president, station captain, and treasurer.
While serving on the board of directors of the Bradford Family YMCA, Buchheit guided the organization through a $4 million renovation and expansion project. Buchheit is very involved with the St. Bernard Catholic Church in Bradford and received the Knighthood of St. Gregory the Great—the highest honor a lay person can receive from the Roman Catholic Church.
In a letter supporting Buchheit's nomination, Rev. Leo Gallina, pastor of St. Bernard's, wrote, "Peter is one who gives of his time, his talents, and abilities whenever needed and is so generous to do so. He is willing to help out and never counts the time, which he gives so freely."
Collins, who came to Pitt in 1993, is not only a well-respected professional but a humanitarian whose causes have enriched the lives of people in the local community.
Collins is president of the Pennsylvania Parking Association and a member of the International Parking Institute (IPI). He completed IPI's Certified Administrator of Public Parking certificate program, a rigorous program requiring a minimum of two years of study.
Collins has volunteered with charitable organizations, including the Plum Boro Athletic Association, the East Suburban YMCA, and The Businessmen, a well-known local musical group.
The Businessmen perform at a number of charitable events throughout the year and donate all proceeds from their performances and CD sales to charity. Through his work with The Businessmen, Collins has helped to raise more than $150,000 for groups such as Children's Hospital of Pittsburgh of UPMC, The Autism Society of Westmoreland County Conductive Education, and The Westmoreland County Alzheimer's Association.
Puchone, who joined Pitt in 2001, has displayed a remarkable commitment to others in her relatively short time at the University.
Also a student in Pitt's College of General Studies (CGS), Puchone chose to include an internship with the Make-A-Wish Foundation. She devoted more than 250 hours to her internship project, "Light Up A Child's Life"—twice the number that is normally required to earn three credits. In addition to her work with the Make-A-Wish Foundation, she has volunteered at the Pittsburgh Downtown Partnership Light-Up Night, Phipps Conservatory, Project Bundle-Up, and Special Olympics.
In addition, Puchone mentors fellow students, volunteers at numerous CGS events, and serves as vice president for Alpha Sigma Lambda, a national honor society for nontraditional students. She was nominated for the Chancellor's award by a Pitt dental school student and a School of Arts and Sciences student.
Watkins has used her skills in community relations to serve people in the Pitt and Pittsburgh communities.
Watkins began working at Pitt in 1970 and her service to the University includes having served two terms as vice president of steering for the Staff Association Council, where she was a driving force in raising funds and other financial awards for Pitt students whose parents or guardians are members of the Pitt staff. She serves as coordinator of the University's Volunteer Pool and has organized blood drives, free holiday dinners for the homeless and needy, and collections of winter clothing for the homeless. She also served as organizer of Pitt's annual Kennywood Day, overseeing everything from ticket sales to catering to door prizes and games.
Watkins uses her considerable talents in service to her church, the Rodman Street Missionary Baptist Church, and the Lott Carey Foreign Mission. As Katim Brown, minister of music at the church, observed, "[Watkins] is one to share whatever she has with those in need. She is just that kind of person. It makes her happy to see others happy."
Excellence in Service to the University
Gilkes has touched the lives of countless employees and retirees through her position as benefits relationship manager within the Department of Benefits.
In choosing Gilkes for this honor, the selection committee described her dedication to the University as "legendary." In a relationship with Pitt that spans more than 40 years of study and service, Gilkes has displayed both the highest quality of work in the benefits department as well as a genuine concern for the well being of those who rely on the offices' services.
Nomination letters on Gilkes' behalf detailed how she often goes above and beyond her duties, working late hours and often hand-delivering information to the offices or homes of employees and retirees.
In his nomination letter, John Kozar, director of benefits at Pitt, described Gilkes as, "an individual who devotes her professional life to serve others in a respectful manner and in the best interests of all."
Lynch, who came to Pitt in 1973, is known for embracing unique challenges in her position as the assistant to the associate dean for undergraduate studies for the School of Arts and Sciences.
Because a new associate dean for undergraduate studies is appointed every three years, Lynch is responsible for helping new deans acclimate to their position. However, Lynch routinely goes beyond the requirements of her job description. Lynch was instrumental in designing and implementing a Web-based application system for reviewing scholarship applications, streamlining what had once been a time-consuming review of more than 500 hand-written applications, and in the process, making the review process more equitable.
Lynch also serves on the Tina and David Bellet School of Arts and Sciences Teaching Excellence Awards Committee, which recognizes outstanding and innovative teaching in undergraduate studies in Pitt's School of Arts and Sciences.
Nagy has affectionately been given the nickname "Chemistry Mom" in her position as graduate student coordinator in the Department of Chemistry. She began at the University in 1992.
Nagy is responsible for more than 200 graduate students, helping them with the department's application process and facilitating their matriculation in the program once they are enrolled.
The nickname "Chemistry Mom" is well deserved. The selection committee was particularly impressed by an incident in which Nagy learned that a potential Pitt student's arrival would be delayed by inclement weather. Concerned that the applicant's flight would arrive and find no ground transportation to Pittsburgh, Nagy left her Cranberry Township home and headed to the airport. There, she circled until 2 a.m., heading home only after learning that the student's plane had been rerouted to Detroit. The next morning, she came into the office at her regular starting time to rearrange the applicant's new travel arrangements.
Paul Floreancig, a Pitt chemistry professor, hailed Nagy as "tireless in her service for the University, and she manages to accomplish her multiple tasks with a good nature that students appreciate."
Other Stories From This Issue
There are no stories for the issue at this time.
On the Freedom Road

Follow a group of Pitt students on the Returning to the Roots of Civil Rights bus tour, a nine-day, 2,300-mile journey crisscrossing five states.
Day 1: The Awakening
Day 2: Deep Impressions
Day 3: Music, Montgomery, and More
Day 4: Looking Back, Looking Forward
Day 5: Learning to Remember
Day 6: The Mountaintop
Day 7: Slavery and Beyond
Day 8: Lessons to Bring Home
Day 9: Final Lessons