Chancellor Nordenberg Tells Graduates to Aim High, Work Hard
Issue Date:
May 5, 2014
This is the printed version of Pitt Chancellor Mark A. Nordenberg's commencement speech, which he delivered on April 27, 2014, at the Petersen Events Center.
Let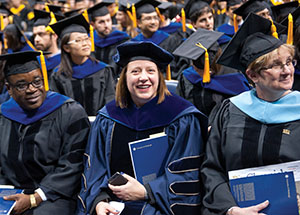 me begin by thanking our board chair, provost, senior vice chancellor and each and every one of you for permitting me to share in such a special way in such a special day. Being in your company, having been invited to address you, and having received an honorary degree that makes me a member of your graduating class all are very high honors.
Though you cannot see it through these thick robes, my heart is bursting. And, since I just introduced you to three Pitt healthcare heroes, I had better be clear in stating that my reference to an exploding heart is offered in a symbolic, nonclinical, and entirely positive, sense. No emergency medical help is required.
I came to Pitt in the summer of 1977, traveling with my wife, our daughter, our dog, and my sister, who had come along to help them and who is here today to witness her daughter's receipt of a second Pitt degree. We arrived with all of our worldly possessions comfortably loaded into the back of a small U-Haul truck. And we drove through the tunnels into the beauty of Pittsburgh and into the richness of a life that none of us could have anticipated.
For me, the richness of that life has been tied directly to the fact that I have shared it with my wife, Nikki, who not only has been a source of love but of support, encouragement, and good advice since we met at the tender ages of 19 and 17. I am very glad that she and our son Michael, who is one of the nicest and most talented people I know, and my mother—who has known me and my shortcomings longer than anyone else but still is not talking about them—are here to share this day.
Pitt has been my professional home for nearly 37 years, but it was not supposed to be that way. As a visiting professor, I essentially was hired as a substitute teacher, asked to plug a hole in the law school's curriculum for nine months. Then, I was to be on my way, but things unfolded quite differently. Not only was I invited to stay, but over the years, Pitt has afforded me the chance to do many wonderful things.
Given the time-limited nature of that initial appointment, my most important achievement may be that I still have a job at Pitt. And given the number of jobs that I have held here, some might wonder if the University has been an enabler, ushering an employee with performance issues into a succession of new positions, one step ahead of the proverbial pink slip. But nearly 19 years as chancellor—a long tenure by modern standards—at least should have put that last notion to rest.
Serving as chancellor of the University of Pittsburgh has been the greatest privilege of my professional life. It has given me a unique opportunity to work with extraordinary people—people like you—on a range of interesting and important matters. It also has positioned me to advance a mission in which I believe and in a university that I love. It does not get much better than that.
Those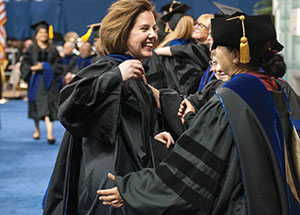 19 years also have been a special time for the University. One of our goals was to build a record that would make our chapter in Pitt's long and proud 227-year history one of its very best. Another was to build the kind of institutional stature that would propel Pitt into any reasoned discussion of the best public research universities in America. If we have not fully achieved these goals, we have come a long way.
To counter-balance the overly kind accolades just extended to me more personally, though, I need to make clear that Pitt's recent record of remarkable progress is the product of a collective effort, involving tens of thousands of people. Last month, I delivered our American Experience Lecture and was introduced by Dick Thornburgh—two-term governor of Pennsylvania, United States attorney general under two presidents, a Pitt Law graduate and an active Pitt trustee. As the governor was concluding a gracious introduction, he stated that he was proud to have played a very small role in building the record of accomplishment forged at Pitt during the Nordenberg years. I could not have said it better myself. That is, I, too, am proud to have played a small role in building the record of what the governor chose to call "the Nordenberg years."
I have consistently and sincerely advanced the well-informed belief that Pitt has the world's best trustees, senior leaders, faculty, staff, students, alumni, and friends. It is the members of these groups who deserve credit for what we have accomplished.
And what is it about this record that should be a source of pride for all of these "people of Pitt?" I am tempted to say, "Just look around. We built the Petersen Events Center at a time when Pitt was viewed by many as a university that could not push any big project forward." But instead, let me highlight three examples tied directly to our missions of education, research, and community commitment.
First, since our days as a frontier academy, we have been devoted to education. And as is so clear from the rows of graduates who have gathered today, garbed in academic regalia, that remains true. Still, an external review commissioned by our own Board in 1995 raised concerns about our undergraduate programs—that we were not attracting enough students, that we were not attracting sufficiently well-qualified students, and that we were not appropriately concerned with our undergraduate students.
What has happened since then? Applications to the undergraduate programs on this campus have nearly quadrupled. Average test scores have risen by nearly 200 points. And our students have built a remarkable record of success in national and international competitions—competing effectively against the very best students from the country's best universities.
Speaking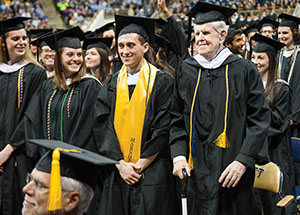 more broadly, from 1995 through today, Pitt will have awarded more than 147,000 degrees—in our graduate, undergraduate, and professional programs. Each of those degrees represents an opportunity provided by Pitt to an individual student to use the power of higher education to build the foundation for a better life, while also enhancing our society's collective strength. Anyone who has earned one of those degrees or supported a student who has earned one of those degrees has every reason to be proud.
Second, as is so clear from the amazing records of Drs. Fisher, Starzl, and Youngner, throughout its modern history, Pitt has been home to researchers of extraordinary impact. In terms of our collective research strength, in 1995, Pitt was ranked 24th among all American universities by the National Science Foundation in terms of the federal research support competitively attracted by members of our faculty. That already was an enviable position. But fifteen years later, we had moved into the top five nationally, passing each of these outstanding universities as a part of that historic climb: Arizona, Berkeley, Colorado, Columbia, Cornell, Duke, Harvard, Minnesota, MIT, North Carolina, Penn State, Stanford, UCLA, UC San Diego, UC San Francisco, USC, Washington University in St. Louis, Wisconsin and Yale. I am unaware of any other university that has moved upward, so far and so fast, within the ranks of this country's very best research universities.
Third, this campus is located in what long has been regarded as one of America's great cities, built on a foundation of manufacturing might. But 30 years ago, the bottom fell out of the region's economy when the steel industry collapsed and unemployment topped 18 percent. Today, Pittsburgh has received global attention as a model of 21st-century economic transformation. The "eds and meds"—with Pitt sitting at their center—have been a principal driver, now accounting for more than 20 percent of the region's total employment.
A city once considered to be down and out has been reborn, to the point that it recently has been ranked as America's Most Liveable City and Smartest City and Most Affordable City. It also has been named a top U.S. city for achieving the American dream and for brain gain, business relocations, low business costs, commercial real estate, economic strength, social mobility, quality of living and—pay particular attention to this one— as a best city for recent graduates.
Together, then, we have created a university that attracts and nurtures hard-working, high-achieving students; that is one of the world's great centers for pioneering research; and that has stimulated economic growth and social vitality within its home region. But beyond celebrating these advances, are there lessons to take from our collective experiences as you march forth to do good things, while pursuing your own dreams, with your Pitt degrees in hand?
Since I am not a stranger brought in to deliver a commencement address, if all of what I say now seems totally new, then I have been a communications failure over the longer period of time that we have been together. But let me share—or, in some cases, re-share—just a few basic thoughts.
Aim High! First, just as your University has done, aim high! In whatever you do, strive to be among the best. As I have said in the past, one of Pitt's most basic goals is to provide all of our students with the chance to be the best that they can be in everything that they do, knowing that if we are successful, some of our best will become among the best that anyone can be.
That also is our hope for our alumni, and their record is amazing. Just since the beginning of the new century, Pitt graduates have received the Nobel Peace Prize, the Nobel Prize in Medicine, the Pulitzer Prize for Fiction, the National Book Award for Poetry, the National Medal of Science, the Fritz Medal in Engineering, the Shaw Prize in Medicine, and the MacArthur Foundation Genius Award, among many other honors.
You are about to take your place within that distinguished group, and their examples should be both instructive and inspiring. After all, not long ago, these national and international award-winners were just like you—new graduates moving into the world and wondering what work-of-impact they could do, building on their Pitt educations. These are the words spoken by Wangari Maathai when she returned to Pitt from her native Kenya after having been awarded the Nobel Peace Prize:
I feel as though I am back home. I am deeply grateful for the gift that this institution gave to me. I felt I was prepared to go forth, ready to serve the world.
Mission Matters! As anyone who ever has held any kind of job knows, not all work is equally interesting or stimulating. But any form of work directed to a good end is work of worth. Take our recent "big anniversary" theme—that Pitt has been building better lives for 225 years. A person whose efforts are advancing that noble goal, or one that is similarly compelling, will work harder and take from that work a much higher level of satisfaction, whatever his or her particular duties might be. So invest your time and talent in some good cause to which you can be committed.
Work Hard! One of the most appealing things about Pitt and Pittsburgh is that there is no culture of entitlement here. What we seek is the opportunity to earn things. I have spent my entire life looking for a substitute for hard work and have yet to find it. If any of you makes that discovery, please let me know. Though I am stepping down as chancellor, I still have enough work years left to make good use of it.
Work Smart! In the days of my youth, the prevailing wisdom was that if you got a solid education and worked hard, good things would come your way. It was not true then, and it is less true now. A world of wonderful opportunities awaits you. However, it is also a world of rapid change, intense competition, and slow economic growth —which means that you have got to deploy your talents and do your work in thoughtful ways. You almost certainly cannot plan out your entire life, but you can thoughtfully structure next steps that will preserve and open opportunities.
Keep Building! As some of you have heard me say, everyone at Pitt will cringe if, at any future point, you say that your years here were the best years of your life. We do hope that your years at Pitt have been great years. But your basic mission has been to use the power of higher education to build the foundation for a future that consists of a succession of even better years. We all build in different ways, and we all live through years that are not so good. But you ought to be moving forward with excitement, not looking longingly back.
Believe in the basic goodness of other people. In saying that, I am not asking you to suspend reality. You just heard me express almost unconditional respect and affection for the "people of Pitt." But we have more than 300,000 alumni, more than 35,000 students, and more than 13,000 employees. Just as a matter of statistics, it seems unlikely that every member of that massive group is a good person always engaged in good things. And sometimes our experience is less statistical and more direct. One example would be the bomb threat siege that we endured together not that long ago. But remember that even in that case, good did prevail—as good people here supported, encouraged, and cared for each other as we met the challenges of that difficult time.
Be nice yourselves! Whomever said that "nice guys finish last," got it wrong. Nice people, who also are committed and capable people, almost always prevail in the end, and bad people most often find some way to self-destruct. It costs nothing to be kind and considerate. But a commitment to kindness can produce priceless returns, including the fact that it will make you feel better about yourself.
In the midst of everything else, find ways to make yourself happy! In offering this final piece of advice, I also am giving some of you a bit of a memory test. Those of you who are undergraduates and who attended freshman convocation and who actually were listening when I spoke (which may be a small group) heard me say that one of my favorite books ends with the following two-sentence passage:
Happiness is like everything else.
The more experience you have, the better you get at it.
We certainly have been very happy to share this important part of your life with you. We also hope that frequent and wide-ranging experiences with happiness have been one key part of your time as Pitt students. And now, it is our most fervent wish that life, with your determined help, brings you the best of everything— including good health, professional success and satisfaction, and great happiness—as you move forward, to our applause on this, your commencement day.
Congratulations, and best wishes!
Other Stories From This Issue
There are no stories for the issue at this time.
On the Freedom Road

Follow a group of Pitt students on the Returning to the Roots of Civil Rights bus tour, a nine-day, 2,300-mile journey crisscrossing five states.
Day 1: The Awakening
Day 2: Deep Impressions
Day 3: Music, Montgomery, and More
Day 4: Looking Back, Looking Forward
Day 5: Learning to Remember
Day 6: The Mountaintop
Day 7: Slavery and Beyond
Day 8: Lessons to Bring Home
Day 9: Final Lessons