By Matt Cichowicz
Issue Date:
December 7, 2015
For the 10th consecutive year, Pitt will provide meals, along with winter essentials for all and gifts for children, to those in need from across the region on Christmas day.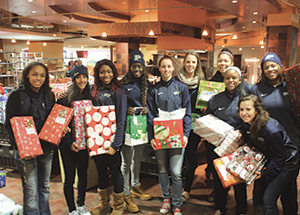 A partnership between the University, food services provider Sodexo, and the Salvation Army of Western Pennsylvania, Christmas Day at Pitt has grown steadily over the years, becoming a tradition for many of the guests and the volunteers. Last year, the event served 2,300 meals, offering generous amounts of ham, several vegetables, dinner rolls, eggnog, desserts—and 800 pounds of turkey.
In addition to the meal, there will be live music, decorations, and an appearance by Santa and his elves. All of the festivities will take place from 11 a.m. to 2 p.m. Dec. 25 at Market Central in Litchfield Towers, which can seat 1,000 people at a time. The event is the largest in the area and has received extremely positive feedback each year.
"When people get there, they don't want to leave," said John Wilds, assistant vice chancellor for community relations at Pitt. "You'll notice a family gathering at one of the tables, and that might be the only time they all have to be together on Christmas."
The Salvation Army will coordinate guest registration by working with local service organizations. Volunteers from Sodexo will prepare the food Dec. 24. Then, about 225 Pitt volunteers will arrive by 8 a.m. Christmas Day to prepare the large dining hall for dinner and other festivities. They will remain to assist in various duties until long after the last meal is served.
"We provide instruction cards so volunteers know exactly what they need to do, but a lot of returning volunteers don't need them," said Abdou Cole, resident district manager of Sodexo.
In preparation for the dinner, Pitt's Office of Community and Governmental Relations organizes drives for winter apparel and Christmas gifts. The Winter Essentials Drive places 17 collection boxes across the Pitt campus, and new this year, donors can contribute directly through an online Amazon Wish List. More information can be found at cgr.pitt.edu/winterdrive
Every guest receives some combination of winter apparel and other essentials, and children receive Christmas gifts.
"You would think it would be a challenge for people to come out on Christmas day, but we always have plenty of volunteers, some with their families," said Kannu Sahni, Pitt's director of community relations. "It's a wonderful message to send on Christmas that instead of just being home and delighting in your own gifts, you are volunteering to serve the community. Our Pitt senior leadership sets the example by serving at the event."
Other Stories From This Issue
There are no stories for the issue at this time.
On the Freedom Road

Follow a group of Pitt students on the Returning to the Roots of Civil Rights bus tour, a nine-day, 2,300-mile journey crisscrossing five states.
Day 1: The Awakening
Day 2: Deep Impressions
Day 3: Music, Montgomery, and More
Day 4: Looking Back, Looking Forward
Day 5: Learning to Remember
Day 6: The Mountaintop
Day 7: Slavery and Beyond
Day 8: Lessons to Bring Home
Day 9: Final Lessons