Class of 2018 Begins Its Journey
Issue Date:
September 8, 2014
Pitt Chancellor Patrick Gallagher, acknowledging his "freshman" status as Pitt's new CEO, welcomed about 4,000 students during the Aug. 20 Freshman Convocation in the Petersen Events Center.
About 500 faculty and staff lined the Petersen's upper and lower entrance walkways, cheering for the students as they walked to convocation in large groups assembled by residence halls. Some of the students enthusiastically slapped the outstretched hands of Pitt people forming the friendly gauntlet; others smiled, waved, or laughed among themselves at the loud outpouring of well wishes.
"This is a really special day, and the reason it is so special is because today, starting right now, everything is about to change," the chancellor told the students during his address.
"… This transformation is a process, and we're going to do it together, and I'll tell you why. Because even though I was a graduate student at Pitt, and I spent five years of my life here—five great years—I never experienced Pitt as an undergraduate. So, this is my first year, too, and I'm a freshman."
Gallagher, an alumnus who earned his graduate degrees in physics at Pitt, offered a number of observations about adapting to new environments and handling increased freedom. And while he connected with his young audience as he acknowledged the fear that the unknown engenders, his comments surely distinguished him as the wisest "freshman" in the Pete that afternoon.
Several excerpts from his speech follow, as do photographs from Pitt's New and Transfer Student Orientation 2014, which concluded Aug. 24.
"Don't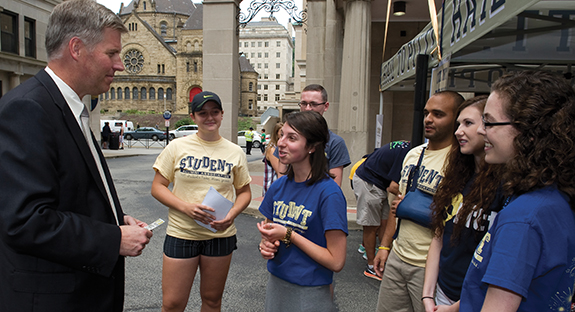 forget to live according to your failures, because your character is as important to your success as your skills and your integrity, your honesty, your humor, your kindness, and your humility. They matter, too, and they get better with practice."
"First, be responsible to yourself. This sounds trivial but it's really important. The basics matter. You worked hard to get here. You were already high achievers. We want you to thrive, so get your sleep, take care of yourself, eat right, get some exercise, make some friends, and balance your time. It's important to be social, but you should also have solitary time."
"As individuals, we are all going to face some touch choices. And I don't know how you feel, but I'd rather have a group behind me that has my back, that is helping me to make wise decisions, that is making good choices, and that is going to look after me and protect me. So, I ask you to look after each other, help each other, protect each other—and even reach out to somebody who's having a hard time adjusting, because we are stronger together than we are alone, and we are Panthers."
"You
have to dig in. We want you to immerse yourself in this University and you can start today, right now this afternoon. Get to know your fellow students. Do it with a sense of urgency. This is your Number 1 top priority and your first homework assignment. I promise you the more you dig in, the sooner you will feel like you are really settling in and belong to this University."
"You are at a stage now that you will begin learning, not only in the classroom but by doing new things. You need to be active scholars, debaters, collaborators, teammates, researchers, athletes. We want you to go out and experience things so that what you learn in the classroom is relevant. That's what makes a university so special."
"This institution—including all of the faculty, all of the staff, and University leadership—our job is to help you. That's why we're here, and we can be an enormous asset for you if you let us, and so I ask you to ask for help if you need it. If you have a question, ask the question. If we're providing advice or guidance, listen to it respectfully."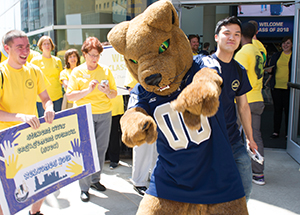 Other Stories From This Issue
There are no stories for the issue at this time.
On the Freedom Road

Follow a group of Pitt students on the Returning to the Roots of Civil Rights bus tour, a nine-day, 2,300-mile journey crisscrossing five states.
Day 1: The Awakening
Day 2: Deep Impressions
Day 3: Music, Montgomery, and More
Day 4: Looking Back, Looking Forward
Day 5: Learning to Remember
Day 6: The Mountaintop
Day 7: Slavery and Beyond
Day 8: Lessons to Bring Home
Day 9: Final Lessons