Classic Play Strikes Modern Chords
By Sharon S. Blake
Issue Date:
October 8, 2007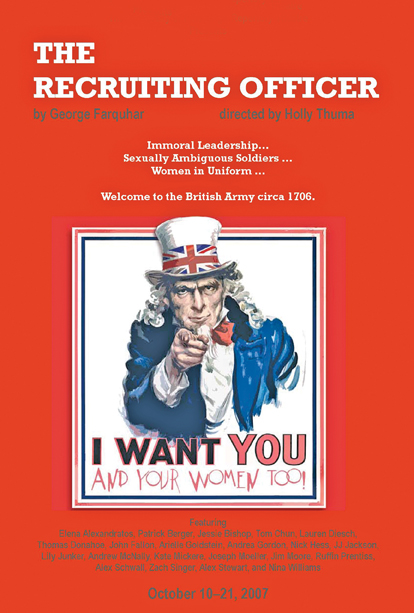 It's a tale that could have been captured by the hidden cameras of a TV newsmagazine: Slick-talking recruiting officers desperate to meet their quotas are swindling poor country kids into joining the military. But this story is more than 300 years old.
The University of Pittsburgh Repertory Theatre's revival of The Recruiting Officer by George Farquhar opens Wednesday and runs through Oct. 21 at the Henry Heymann Theatre in the Stephen Foster Memorial.
The Recruiting Officer is set in England during the era of King William III, who reigned from 1689 to 1702. With the nation embroiled in war with France and faced with rebellions in Ireland and Scotland, military service was compulsory, and officers scoured the countryside in search of new recruits.
"The Recruiting Officer pokes lighthearted fun at the class system and at the military's voracious cunning in recruitment of the poor," said director Holly Thuma, a Pitt teaching artist. She said the revival stays faithful to Farquhar's comedic values while exploring the play's contemporary implications.
The play tells the story of Captain Plume and his clever sidekick, Sergeant Kite, who breeze into a provincial town to swindle menfolk into military service and womenfolk into service of a different sort. Considered a comic masterpiece, the play provides all of the familiar Restoration gags—cross-dressing disguises, foppish aristocrats, country bumpkins, and mixed-up messages—but its relevance spans centuries of recruiting officers employing silver-tongued salesmanship and empty promises to lure the lower classes into joining up.
Though Farquhar wanted to expose the abuses of these officers, writers of the 1700s had to temper their satire. Instead of acting as a "whistleblower," Farquhar cited abuses matter-of-factly; contemporary audiences were expected to read between the lines.
The production's ensemble features local actress Elena Alexandratos, a teaching artist in Pitt's Department of Theatre Arts, as well as student actors.
Performances are Tuesdays through Saturdays at 8 p.m. and Sundays at 2 p.m. The Oct. 14 matinee includes a question-and-answer session with the actors after the show. Ticket prices are $22 for general admission; $19 for Pitt faculty, staff, alumni, and senior citizens; and $12 for Pitt students.
For additional information, contact Sloan MacRae at 412-624-0933 or sloanm@pitt.edu.
Other Stories From This Issue
There are no stories for the issue at this time.
On the Freedom Road

Follow a group of Pitt students on the Returning to the Roots of Civil Rights bus tour, a nine-day, 2,300-mile journey crisscrossing five states.
Day 1: The Awakening
Day 2: Deep Impressions
Day 3: Music, Montgomery, and More
Day 4: Looking Back, Looking Forward
Day 5: Learning to Remember
Day 6: The Mountaintop
Day 7: Slavery and Beyond
Day 8: Lessons to Bring Home
Day 9: Final Lessons