Issue Date:
May 12, 2008
Marino Tells Graduates to "Go After Your Passion," "Nurture Your Relationships," "Touch Someone's Life in a Positive Way"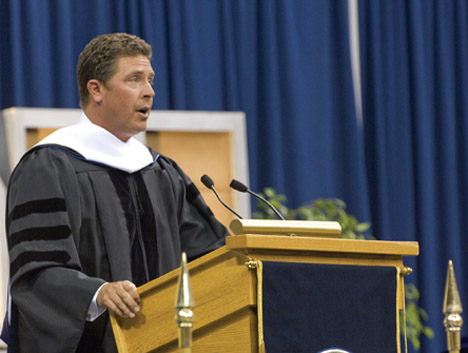 This is the printed version of the April 27, 2008, commencement address delivered by Pitt alumnus and football Hall of Famer Dan Marino at the University of Pittsburgh on the occasion of his receiving an honorary Pitt doctorate in broadcast journalism.
Chancellor Nordenberg, Board of Trustees, faculty, the University community, and, especially, the graduates of the 2008 class: It's my honor to speak to you today. I graduated in '83. Do the math. Twenty-five years later. Wow!
When I came to Pitt as a freshman, I had two goals. One was to be the starting quarterback. The other, I made a promise to my mother that I would graduate just like all of you today. I accomplished both goals. I was very proud of that, and all of you should be very proud to be Pitt graduates.
But never in my wildest dreams did I imagine receiving a doctorate in broadcast journalism. Now that I have one, I'll be sure to let my colleagues at the CBS NFL Today show—Shannon, Boomer, James Brown, and Coach Cowher—know that I will demand that they now call me "Dr. Dan."
Chancellor, thank you for the honor. I think I'm going to ask CBS for a raise!
How many of you watch the show? It's on Sundays in the fall at noon. Please do me a favor. Please watch. Keep the ratings as high as possible, so this Pitt grad can keep his job.
I'm an Oaklander, so this is truly a homecoming for me. As some of you might know, I grew up with the Cathedral of Learning—only a short walk from my family's home. As a kid, I played football and baseball in Schenley Park and also on the grass of the Cathedral of Learning. To be honest, there wasn't much grass on my street, Parkview Avenue in south Oakland.
I always thought Parkview was a funny name—there was no park and definitely no view. My entire family, going back to my great-grandfather, lived in Oakland. He was a street cleaner. My grandmother worked for a dentist on Atwood Street. My grandfather worked at J&L Steel, which is now the UPMC Sports Complex. My dad worked as a truck driver for the Pittsburgh Post-Gazette.
I grew up eating hot dogs at the Dirty O and Primanti Brothers sandwiches. So, I'm a city boy and yes, I am a true Oaklander.
We're here today at the Petersen Center, on the site of the old Pitt Stadium. As a teenager, I never had tickets to games but knew some guys from my neighborhood, family friends, that worked on the grounds crew. They'd sneak me into games. I remember watching Tony Dorsett and the '76 team that won the national championship. I can still see Tony walking on campus with his Pitt letterman jacket. That's when I really became a huge Pitt fan. I have so many great memories as a student athlete…going to four Bowl Games and especially the '82 Sugar Bowl.
Coming from behind against Georgia was one of our biggest wins. I'll never forget standing here, as a freshman, when this was the old football field—my first game against Kansas.
My first pass was intercepted. That wasn't a good memory. But my second pass was a touchdown. So no matter how you look at it, I was two-for-two with a touchdown. Pretty good start!
But my fondest memories were not only the games I played here in front of my family and friends, but my dad actually sitting in the stands watching me practice almost every day.
Now, today, 25 years after graduating, I'm standing here before you graduates. And I'm supposed to offer some thoughts as you go into what my dad used to call (finger quotes) "the real world...."
My dad never graduated from college, but he knew what the real world was all about. It was about family, hard work, and passion for what you do. He'd always say, "You only get out of life what you put into it." Little did he or I know, the real world today would be a technology-driven society full of computers, text messaging, e-mails, video games, multitasking, and my personal favorite, YouTube.
But as much as the environment and the atmosphere of this campus have changed, the core values of life and success remain the same: Hard Work/Passion/Integrity. And, most important, family.
Family is especially appropriate today. All of you have someone in your life that has instilled these values and helped you get to this moment right now sitting here in your caps and gowns.
In fact, before this day is over, before all the fun and the celebrating, make sure you thank your parents, your brothers and sisters, and whoever helped you get to this day—whoever helped with this achievement of graduating and moving on in life.
Of course, the best way to thank them is to make use of the degree that you've worked so hard for. And, to me, one of the most important things as you enter the real world is to find what you love to do.
When I think back, I was lucky. I found my love for sports at a young age. And whether it was baseball or football, I found my true talent. I could throw it. All the hours on the practice field, all the days studying film, and all the years of working on my game—it didn't seem like work to me. Because it was fun. It's what I loved to do.
It may take some of you longer, but it's worth the search to find your passion.
There will be obstacles. There always are to anything important. If you find a path with no obstacles, it probably doesn't lead anywhere. So whether it's education, the arts, business, medicine, or politics, I encourage all of you find what you love.
So go after your passion—not simply a paycheck. It doesn't have to be about the money. I guarantee you this: If you love your life's work, the financial reward will take care of itself.
Just last week there was a report from careerbuilder.com that 84 percent of people are unhappy at work. I look at that and think it's pretty sad. So find what you love to do and have a passion for what you choose to do. Also, I want you to keep the personal touch in life. As I said before, you've grown up in the Internet age with text messaging and e-mails, and how you learn today is incredibly different from how people learned 10 or 20 years ago.
But the real world's about relationships and life skills. Looking people in the eye when you shake hands. Treating people as you want to be treated. It's about dealing with people and finding people you can trust. Know those you work with—who they are, what their interests are. Learn about their families.
It's easy to live in a world behind computer screens. Working with people is a reality in whatever you do. Looking back at my career here at Pitt and with the Miami Dolphins, football is the perfect example. It's the ultimate team game. There were dozens of players and coaches with different personalities and different backgrounds in different roles on the team. But working together every day on every play for a common goal was the key to our success.
So don't lose the personal touch in life. Nurture your relationships, and they will come back to you 1,000 times over. The personal relationships you make will carry you through life.
And I also urge you today to make a difference in your community. Wherever life takes you, give something back. It doesn't have to be money.
Give your time. Give your expertise. Give something of yourself.
For me, this hit home in 1992 when my son Michael was diagnosed with autism. Seeing what he had to go through opened my eyes to the needs of families and children with developmental disabilities. That led my wife, Claire, and I to start a children's hospital in Florida and a developmental center, which today sees over 6,000 kids a month.
I played 17 years in the NFL and set every passing record possible. But you know what? A lot of them have been broken. But when you touch someone's life in a positive way, it lasts forever. Believe me, nothing feels better than having parents come up to me and say, "You're making a difference in my child's life."
It was once said, "A great use of life is to spend it for something that outlasts it." Giving back to your community will last forever.
Today we talked about finding what you love to do and having a passion for whatever you do. We talked about how important family and relationships are. And having an impact on your community in a positive way. How the core values of life and success never change.
It's been 25 years since I left Pitt, and the time has gone fast. You only come this way once. When you look back, only you will know what your potential was, because only you will know in your mind and heart whether you got the maximum out of your potential. Only you will know if you cut corners along the way or if you did just enough to get by in life.
So 25 years from now when you look in the mirror, don't look back and say, "I wish I had … I wish I had worked harder. I wish I had followed my passion and dreams. I wish I made a difference in my community." You want to look back and say, "I was the best I could be." That, "I worked hard and followed my dreams." That, "I made a difference in people's lives."
If you can do that, then you will have peace of mind no matter what you achieve in life.
You may even be surprised by where your dreams take you. I'm a perfect example.
As I said, when I came to Pitt I just wanted to be the quarterback and get my degree. Now look at me. I'm Dr. Dan. Good luck, Class of 2008.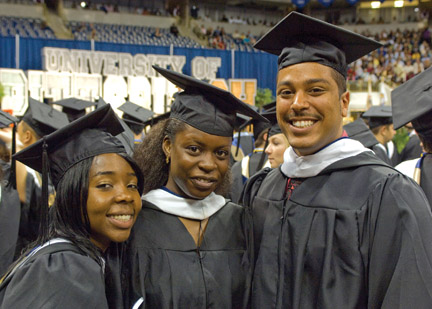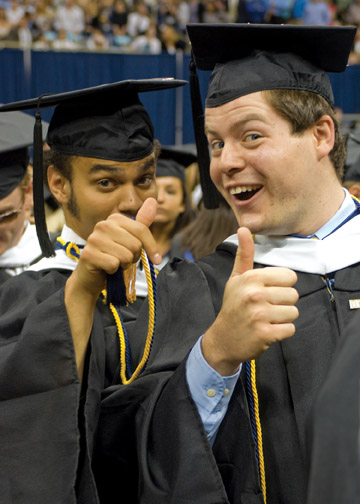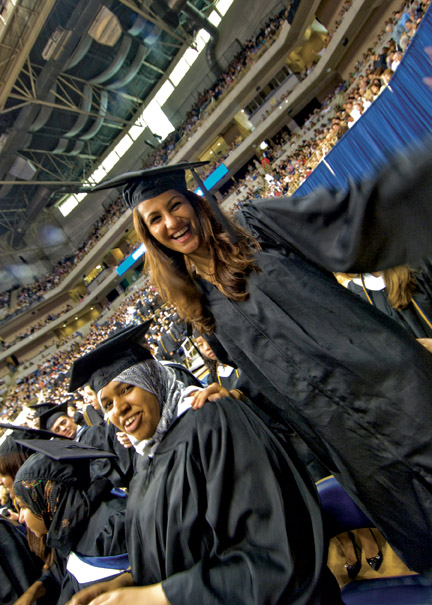 Other Stories From This Issue
There are no stories for the issue at this time.
On the Freedom Road

Follow a group of Pitt students on the Returning to the Roots of Civil Rights bus tour, a nine-day, 2,300-mile journey crisscrossing five states.
Day 1: The Awakening
Day 2: Deep Impressions
Day 3: Music, Montgomery, and More
Day 4: Looking Back, Looking Forward
Day 5: Learning to Remember
Day 6: The Mountaintop
Day 7: Slavery and Beyond
Day 8: Lessons to Bring Home
Day 9: Final Lessons