Contestants Get Creative With Cathedral of Learning Replicas
By Micaela Fox Corn
Issue Date:
April 19, 2017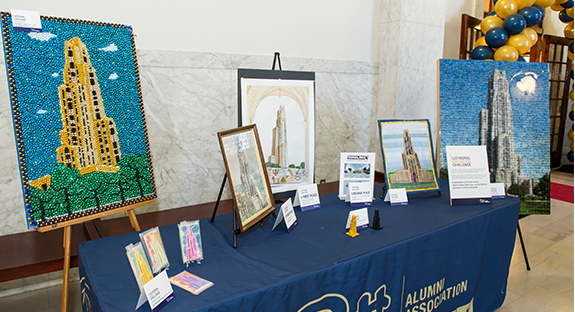 As a tribute to the Cathedral of Learning's 80th anniversary of its 1937 dedication, the Pitt Alumni Association called for the whole Pitt family to show some love for its most distinguished structure.
The first annual Cathedral Innovation Challenge saw dozens of replicas, including Cathedral cookies, a chess set with Cathedral-shaped bishops, a mosaic photo and a 3-D picture made entirely of Mardi Gras beads. Nearly 1,000 alumni participated in judging the entries online, and 10 finalists were selected.
First place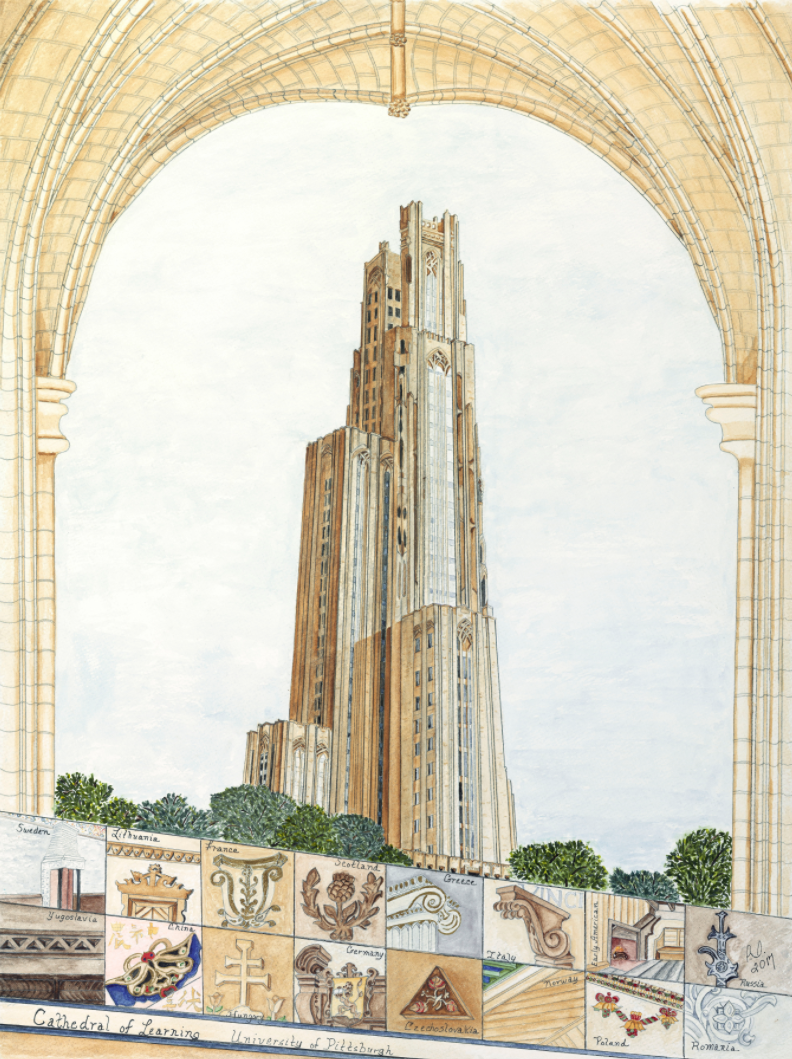 The top award went to Patricia Irrgang, for her delicate watercolor painting of the Cathedral and accents from 16 of its Nationality Rooms. Irrgang is a staff member in Pitt's Computing Services and Systems Development office and a Pitt alum three times over. Her grand prize was a private dinner for eight in the Babcock Room on the Cathedral's 40th floor.
Second place
Adam Lucas had already completed his replica when he first heard about the Cathedral Innovation Challenge. In fact, he'd been working at it off and on for about a year. When the senior double-majoring in history and philosophy of science and philosophy — with a classics minor and certificate in Medieval and Renaissance studies — needs a break from the books, he frequently turns to the video game Minecraft to create intricate and interactive digital worlds.
His Minecraft replica of the tallest educational building in the Western hemisphere was built to scale (1 virtual block = 1 cubic meter). He also customized a Pitt Pathfinder in classic blue and gold rugby shirt, as well as some hidden features like mazes, treasures and secret rooms "to spice things up," he says. But he took special care in recreating the Cathedral Commons, floor G-3 and the University Honors College floor. The digital building includes working elevators and the Cathedral's surrounding lawns, Heinz Memorial Chapel, Stephen Foster Memorial, the famous log cabin and even Forbes and Fifth avenues.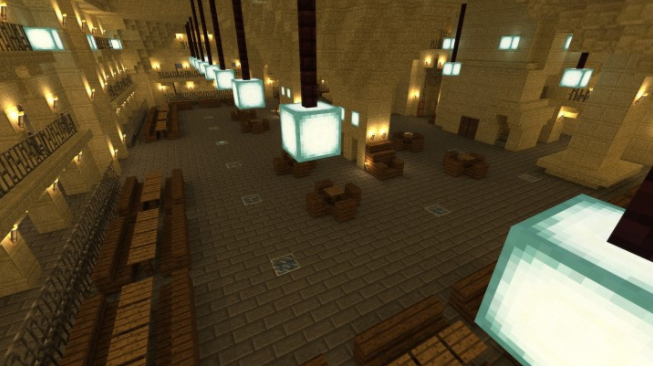 He hopes others will view and play in his world and get similar enjoyment out of it. "That customizability is one of my favorite parts of Minecraft, so I made the map to work for all kinds of game modes. If someone wants [to] fight zombies in Cathy, explore hidden dungeons beneath it or just walk around and go to class, they can."
Honoring a tradition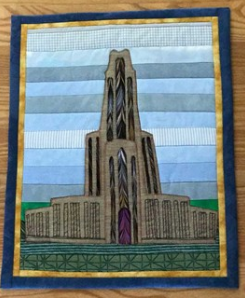 Nursing alumna Gail Nixon Rowles turned to textiles for her notable depiction. In 1964, Rowles had a scheduling conflict that kept her from attending her Lantern Night ceremony, but, for all the intervening years, she kept the dress she'd planned to wear. Upon hearing about the Cathedral Innovation Challenge this year, she got it out and dusted it off. "Western Pennsylvania has a huge quilting tradition so it seemed fitting to make one for this," she said in her submission note. With other strips of found fabrics, the blue madras dress makes up the back of the 14-by-18-inch quilt. While her entry didn't take top prize, Rowles is happy that "now it gets a larger life."
See the rest of the Cathedral Innovation Challenge finalists and honorable mentions here.
Other Stories From This Issue
There are no stories for the issue at this time.
On the Freedom Road

Follow a group of Pitt students on the Returning to the Roots of Civil Rights bus tour, a nine-day, 2,300-mile journey crisscrossing five states.
Day 1: The Awakening
Day 2: Deep Impressions
Day 3: Music, Montgomery, and More
Day 4: Looking Back, Looking Forward
Day 5: Learning to Remember
Day 6: The Mountaintop
Day 7: Slavery and Beyond
Day 8: Lessons to Bring Home
Day 9: Final Lessons