A Conversation With Marc L. Harding, Pitt's New Chief Enrollment Officer
Issue Date:
August 21, 2012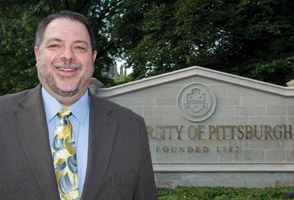 With nearly 30 years of higher education admissions experience at four major public universities, Marc L. Harding is known as one of the nation's leading enrollment specialists. He began serving as Pitt's chief enrollment officer on July 15, assuming responsibility for attracting and retaining highly talented, diverse classes of students as the leader of Pitt's Office of Admissions and Financial Aid. The Pitt Chronicle's John Fedele conducted this e-mail conversation with Harding earlier this month.
Why did you want to come to the University of Pittsburgh?
The position of chief enrollment officer provided an incredible opportunity to continue my work in higher education in service to an extraordinary university situated in a vibrant community. I've been impressed by how faculty, staff, and students seem to have a genuine passion for the University. The students I've met are amazing—they all express great enthusiasm for Pitt and the opportunities to live and work in such a great city. My predecessor [Betsy Porter] had a lengthy and distinguished career at Pitt. I have the privilege of building on her successes and joining a talented and dedicated admissions and financial aid team in leading the University of Pittsburgh's efforts to recruit and enroll undergraduate students. Finally, I wanted to work for, serve, and learn from excellent leaders such as Chancellor Nordenberg and Provost Beeson. I'm proud to join such a strong leadership team and excited about the future
Are there any admissions issues unique to a university like Pitt that differ from those at the four other universities where you have worked?
I believe there are, but I haven't been at Pitt long enough to comment. The basic mechanics of admissions and financial aid are the same everywhere. What differ are factors unique to Pitt, including culture, community, demographics, business processes, organizational structure, available resources, goals, aspirations, leadership, etc. An understanding of these factors is critical in building admissions, recruitment, and a financial aid process that differentiate Pitt from the competition and help meet enrollment goals.
What are your goals at Pitt?
The primary goal as chief enrollment officer is to serve Pitt by attracting, recruiting, and enrolling the quality, diversity, and number of undergraduate students that meet University enrollment goals and objectives. At the same time, I will seek to advance the University's aspiration of clearly and consistently demonstrating that Pitt is one of the finest and most productive universities in the world.
What are the three main issues that dominate university admissions processes today?
There are so many that it's tough to come up with a top three. I had the privilege of being invited to participate in the recent "Symposium on Admissions in the 21st Century" sponsored by the College Board. The symposium brought together secondary and postsecondary leaders from around the country to review the work of the Task Force on Admissions in the 21st Century and prioritize the issues to guide the future work of the College Board's Advocacy and Policy Center. Great insight into the issues that dominate admissions and financial aid operations can be found online at http://admissions21.collegeboard.org/.
That being said, three big issues worthy of making the list, in no particular order, are:
• Academic preparedness and predicting student success;
• Cost, affordability, accessibility, and student debt; and
• Demographics and diversity.
What have been the biggest changes in the enrollment field since you began 30 years ago?
There have been tremendous changes. Admissions started out largely as a records function and was allied most closely with the Office of the Registrar. The field of enrollment management, as it has come to be known, has evolved into a campuswide and holistic enterprise that includes recruitment, admissions, financial decisions, retention, and marketing. The use of data and analysis of factors influencing enrollment have become critical. Advising and counseling services have become critical factors for student success, as has the need to create and maintain the most student-centered and responsive campus environment possible.
A more specific example of a big change in the enrollment field is the use and impact of technology. How students and families communicate with each other and conduct their business has dramatically changed how colleges and universities build and maintain relationships, systems, and business processes. Customization and personalization of campus visits, recruitment materials, etc. is now the norm. Quick response times to transactional business and inquiries are expected. As such, there has been a big increase in customer demands from a service perspective.
How have students' and their parents' expectations of higher education changed in terms of academics, accommodations and social life, and life and career skills?
Academics have always been at the core of recruitment. Students and their parents are interested in the quality of academic programs and faculty. Students want and need to choose a college that encompasses their academic interests. And they certainly want to choose a college that has the accommodations, social life, and environment that best fit their needs and vision of what a college experience means to them. One of the biggest changes, particularly during the past decade, has been that students and families are increasingly focused on outcomes. The state of the economy and the rising cost of college have played a big role in this change. Students and their families are understandably more concerned about how the investment of time and money translates to landing a job or going to graduate school. There is a far greater interest in the quality and availability of advising, counseling services, career services. There are new online tools and services available to prospective students and families that attempt to provide information to help families compare factors between colleges and universities such as retention rates, graduation rates, average starting salaries, and average debt upon graduation. Students and families are comparing and scrutinizing accommodations and the quality of facilities, as well as the friendliness and helpfulness of staff and faculty ... constantly evaluating and ultimately deciding whether the price they will pay for the college they choose is worth the value they will receive.
How have computers and the Internet changed recruiting?
It's hard to imagine a life without the Internet, let alone cell phones or even smart phones. Yet the Internet most of us are familiar with has only been around for 19 years, Facebook for seven years, and the iPhone for five. Recruiting has always been about relationship building. Computers and the Internet have changed how relationships are developed and maintained. Pre-Internet high school guidance staff were the gatekeepers of college information. There was greater importance placed on visiting high schools and attending college fairs in order to connect with counselors, students, and families. The Internet has allowed students and families to access a world of information at their fingertips. Colleges and universities can now manage the flow of information, create more customized content, and better position and promote their brands. The advent of mobile computing, smart phones, tablets, and faster computing speeds and the emergence of social and digital media have resulted in prospective students and their families becoming both gatekeepers and more discriminating and demanding consumers. A student can apply to a college or university with a wealth of knowledge about that school at his or her fingertips and receive feedback from others through social/digital channels about things like the quality of academic programs, average student debt, and social life without that college or university ever knowing about the applicant. The advent of mobile devices and greater computing speed have resulted in greater customer expectations in terms of providing online services, transactional speed, accountability, and transparency and sparked interest in dynamic and vibrant online content such as videos, pictures, and blogs.
What are your expectations about living in Pittsburgh?
I have lived in two other metropolitan areas and can't wait to become fully immersed in everything Pitt and Pittsburgh! I feel fortunate and excited to be moving to such a dynamic city, which was named by National Geographic Traveler as one of 20 places to experience in its "Best of the World 2012." Art, music, culture, history, sports, education, medicine, research, diversity, great food, and great people—Pittsburgh seems to have it all. I look forward to exploring every aspect of this magnificent city and finding ways to become part of the fabric of the community.
What do you like to do when you're not working?
I like to explore and learn about new things and places. I love to travel, go to museums, garden, motorcycle, watch movies, bake (especially fudge!), spend time with family, smile, and laugh.
Other Stories From This Issue
There are no stories for the issue at this time.
On the Freedom Road

Follow a group of Pitt students on the Returning to the Roots of Civil Rights bus tour, a nine-day, 2,300-mile journey crisscrossing five states.
Day 1: The Awakening
Day 2: Deep Impressions
Day 3: Music, Montgomery, and More
Day 4: Looking Back, Looking Forward
Day 5: Learning to Remember
Day 6: The Mountaintop
Day 7: Slavery and Beyond
Day 8: Lessons to Bring Home
Day 9: Final Lessons