Creativity on the Wyoming Prairie
By Sharon S. Blake
Issue Date:
January 27, 2014
A
world away from the University of Pittsburgh's urban campus, four Pitt students reveled in their findings on Wyoming prairie: ammonite fossils, short-horned lizards, the twisted shards of wood in an old eagle's nest, a 140-million-year- old dinosaur bone.
Accompanied by Pitt Department of Studio Arts Chair and Professor Delanie Jenkins, the students were participants in Pitt's Summer 2013 Studio Arts Field Study, a 17-day program based at the Allen L. Cook Spring Creek Preserve—4,700 acres of land rich with dinosaur fossils and Native American archaeology that was donated to Pitt in 2005 by Wyoming rancher Allen Cook. Both the studio arts program and a broader field study—for students who want to study paleontology, geology, and more—are overseen and offered annually by the University Honors College.
Pitt junior Theresa Baughman and seniors Julia Betts, Megan Kopke, and Kristi Werkheiser labored in nearby Rock River's hot, windy climate to turn their visions, impressions, and inspirations into sculpture, prints, drawings, and photos—many of which are on display in the Frick Fine Arts Building's University Art Gallery through Feb. 7.
Titled Summer 2013 Creative Research Exhibition, the exhibition also includes art made in Pittsburgh by two Pitt Studio Arts Research Fellows, seniors Nicole Somplatsky and Troy Novak.
As in prior years, the Wyoming artists set up a makeshift art studio in a 1919 bank building, and the nearby Longhorn Lodge provided rooms and a kitchen. Sometimes the group pitched tents to sleep on Spring Creek Preserve.
Jenkins, who has taken a cohort of students on the field study trip for the past five years, said this year's artists were very receptive to Big Sky Country.
"They were so open to everything we did," she said. "They just dove in headfirst."
The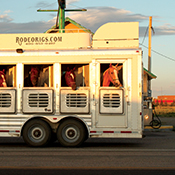 young artists learned how the elements—heat, wind, and low humidity—can affect their work. Baughman, who works often with plaster, said a mold that would take 45 minutes to dry in Pittsburgh was taking just five minutes in Wyoming.
"I needed a new way to challenge myself, so I stepped back and looked at my surroundings and made do with what I had," she said. One result is her piece, Waking, that displays a group of damaged and rusted aluminum cans lined up on a white pedestal. The Pitt group passed an enormous mound of cans along the road one day, nearly buried in desert sand.
For Kopke, inspiration came from a simple map of Wyoming, displaying roads clustered around cities and wide-open spaces.
"I wondered how the map would be interpreted if I cut out all the land and city names from the map and left only the roads," she said. Her fragile and delicate papercutting of the state of Wyoming, Take Me Back to Rock River, is the result.
The students would work from 8:30 a.m. until 5 p.m. in their studio, breaking to return to the lodge where Jenkins had prepared dinner. Frequently, the students returned to the studio, working on their projects late into the night.
"A student struggling with her art all day in a gritty makeshift studio, not distracted by other classes, the internet, or a social life … you can't get that experience on campus," said Jenkins.
Gallery hours are Monday through Friday, 10 a.m. to 4 p.m. The artists will discuss their projects at noon on Jan. 29.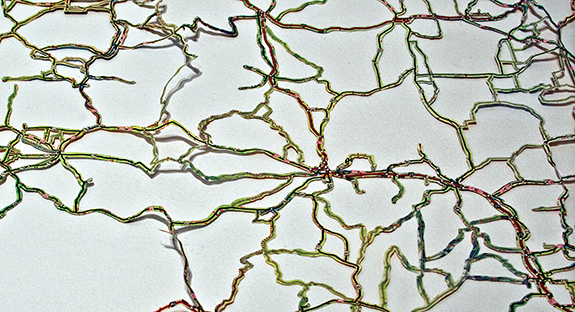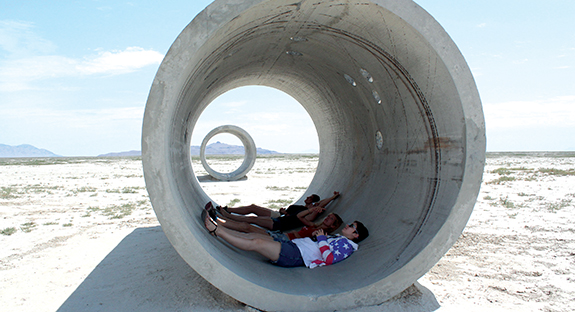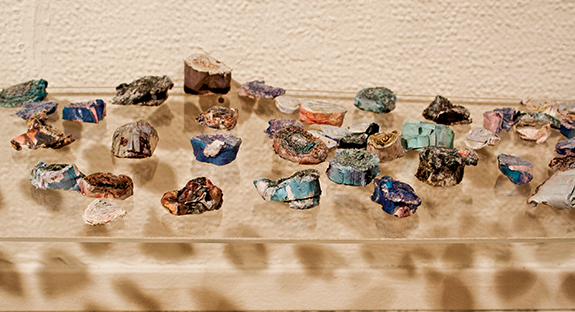 Other Stories From This Issue
There are no stories for the issue at this time.
On the Freedom Road

Follow a group of Pitt students on the Returning to the Roots of Civil Rights bus tour, a nine-day, 2,300-mile journey crisscrossing five states.
Day 1: The Awakening
Day 2: Deep Impressions
Day 3: Music, Montgomery, and More
Day 4: Looking Back, Looking Forward
Day 5: Learning to Remember
Day 6: The Mountaintop
Day 7: Slavery and Beyond
Day 8: Lessons to Bring Home
Day 9: Final Lessons