Crossing Barriers: Pitt alum Lois Dougan Tretiak Blazes Trail in the Far East
By Adam Reger
Issue Date:
April 15, 2013
Pitt alum Lois Dougan Tretiak blazes trail in the Far East, becoming one of the foremost experts on foreign firms operating in China
Lois Dougan Tretiak (A&S '61)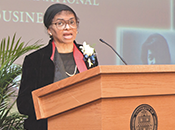 first visited China for a month in 1972. She and her husband left Beijing about 10 days before then-president Richard Nixon arrived, famously "re-opening" China to the West.
China's capital city has changed dramatically since then, as the view from Tretiak's 44th-floor apartment in eastern Beijing reveals. On a clear day, Tretiak can see venues and hotels that were constructed for the 2008 Olympics, perhaps the most potent symbol of China's arrival as a world economic power.
Tretiak, like her adopted home, has undergone a transformation, changing from the college student who never thought she'd even see China to the professional woman who has built an impressive career as one of the foremost authorities on how to do successful business in China's fast-changing political, economic, and operating conditions. Tretiak is one of the longest-serving China business analysts from the United States. In fact, her first book on Sino-foreign joint ventures was one of the earliest studies of the subject in English. She is a beloved alumnus of Pitt, where she majored in Far Eastern Region Studies.
Tretiak received a 2012 Distinguished Alumnus Award from the University of Pittsburgh's African American Alumni Council. In March 2013, she traveled to Shanghai, where Pitt Provost and Senior Vice Chancellor Patricia E. Beeson presented her with a Pitt 225th Anniversary Medallion in recognition of her accomplishments.
Even in 1972, Tretiak was already well acquainted with living abroad. In 1962, Tretiak—then Lois Dougan—and her future husband, Daniel Tretiak, used a scholarship to study Chinese in Hong Kong through the Honolulu-based East West Center, which offered Americans a year of study in Asia. They later extended their year to two and were married in Hong Kong in 1964. Her husband is a veteran business consultant who earned a PhD in political science from Stanford University and taught Chinese politics at York University in Toronto.
When her husband's sabbatical came in 1977, they moved to Hong Kong. It would be their home for the next 21 years.
From Pittsburgh to Hong Kong
Asia was a long way from home for the Pittsburgh native, but the trajectory that brought Tretiak there was "a straight line," she said, and it began at one decisive moment during her first semester at the University of Pittsburgh, in the fall of 1957.
James T. C. Liu (A&S '50G), then a Pitt professor of Chinese history who died in 1993, visited a history class that Tretiak was taking, and he began discussing Pitt's then-relatively new Far Eastern Region Studies Program. "After talking to Dr. Liu privately, I went home to my parents—who wanted me to be a doctor—and announced that I would be studying Chinese and taking courses about China and Japan," Tretiak said. Her parents supported her, and the young student dove into studying Asian cultures, in addition to learning Chinese. Liu also introduced Tretiak to the then-newly founded East West Center in Hawaii. It was in a Chinese class there that she met her future husband.
Tretiak was nudged toward her future career, too, by her service in Pitt's Quo Vadis, the group that provides guided tours of the Cathedral of Learning's Nationality Rooms and still operates today. "Taking people from room to room and explaining the history and customs of the countries gave me an early start in public speaking," she said, citing skills she's used and greatly sharpened over several decades as an in-demand speaker and moderator. And it was a Nationality Rooms scholarship that enabled Tretiak to take her first trip abroad, traveling to Western Europe in the summer of 1959.
Her Career
In Hong Kong, Tretiak began work in 1977 for Business International, a New York-based company with offices in Europe and Asia. So began a career partnership that would span nearly 30 years, bridging the 1986 acquisition of Business International by The Economist Group and lasting until Tretiak's retirement in March 2006. She edited The Economist Group's newsletter Business China, and when she became head of the company's China Division, she created China Hand, a monthly reference work on China that helped guide executives doing business there. In the early 1980s, soon after China opened its doors to foreign investment, she began to convene in Hong Kong a small group of senior multinational company executives to discuss China business issues. This series of regularly held meetings grew into the Economist Corporate Network, which has bases in Hong Kong, Beijing, Shanghai, Tokyo, and Singapore.
Tretiak channeled her developing expertise on doing business in China into a coauthored book, Joint Ventures in the People's Republic of China (Business International, 1985), as well as a coauthored follow-up, Operating Joint Ventures in China (Economist Intelligence Unit, 1993).
Tretiak's reflections on her 1985 book offer a glimpse into one of several historical shifts she has witnessed during her career in Asia. "In 1978, we in Hong Kong began to hear rumors that China was interested in inviting foreign firms to participate in joint ventures in the country," Tretiak said. "We were astounded. Joint ventures in Communist China? No, surely not. By mid-December, the rumors firmed into fact." Soon after, the first joint business ventures began.
The change from a business-wary to a business-savvy China is mirrored in other cultural shifts as well, Tretiak said. There was no advertising when she and her husband first visited Beijing, she recalled, just Mao quotes in white characters on red backgrounds. "There were no foreign products," she said; "not a McDonald's in sight." There were no neon lights, and no skyscrapers—"Buildings were only as high as you could walk up," Tretiak said. It's a far cry from today's Beijing, where Tretiak and her husband live in a 50-story building.
"There were virtually no taxis and, for that matter, no real traffic," Tretiak said, noting the choked traffic below her Beijing apartment.
Beginning in 1993, after years of prodding central government authorities to agree to participate, Tretiak developed and chaired 10 roundtable discussions with officials from the government of the People's Republic of China. During those meetings, senior business executives from outside the country and Chinese officials discussed central government policies. Tretiak served as vice president and China director for The Economist Group and was the Group's chief representative in Beijing and Shanghai. Though she retired in 2006, Tretiak maintained a connection to the Group until 2011.
These days, Tretiak continues to present her perspectives on China to a variety of audiences. Earlier this year in Beijing, she talked about today's—and tomorrow's—China to a group of undergraduate engineers mostly from Pitt. She told her audience that absent major crises (but even with some lower-order events and disturbances), China in 2020 is very likely to have an economy almost as large as that of the United States—and international muscle that comes with such size. China, large and ambitious, will use the size of its domestic market—and of its appetite for natural resources—to achieve political goals worldwide and in its interaction with the United States.
Other Stories From This Issue
There are no stories for the issue at this time.
On the Freedom Road

Follow a group of Pitt students on the Returning to the Roots of Civil Rights bus tour, a nine-day, 2,300-mile journey crisscrossing five states.
Day 1: The Awakening
Day 2: Deep Impressions
Day 3: Music, Montgomery, and More
Day 4: Looking Back, Looking Forward
Day 5: Learning to Remember
Day 6: The Mountaintop
Day 7: Slavery and Beyond
Day 8: Lessons to Bring Home
Day 9: Final Lessons