David and Dawne Hickton Endow Pitt School of Law's Elder Law Clinic
Issue Date:
November 25, 2013
David and Dawne Hickton, two of the most distinguished graduates of Pitt's School of Law, have made a major commitment to one of its most important programs by creating a $1 million endowment for the Elder Law Clinic. The clinic will be named in honor of David Hickton's late mother, Gloria McDermott Hickton, and will be known as the "Hickton Elder Law Clinic."
In commenting on this gift, David Hickton said, "The Pitt Law School has been an incredibly important part of our lives. Dawne and I met there and made lifelong friends there. We also built the foundation for our careers there, and we decided that we wanted to give back by contributing to the future strength of the school. By supporting the Elder Law Clinic, we will be investing in the education of the next generation of lawyers, while also positioning clinic students to help meet the very real legal needs of a growing segment of the population."
In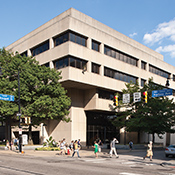 describing her late mother-in-law, Dawne Hickton added, "Gloria Hickton was an exceptional woman who was an inspiration to those who knew her. Her own passion was acting. However, her marriage to Dave's father, who was a lawyer, provided her with extensive insights into the legal profession. When I was a member of Pitt's law faculty and teaching in its clinics, Gloria combined those two parts of her background by volunteering to role play in simulated exercises, adding to the educational experiences of the participating students. She also had a deep commitment to helping others and would be very pleased to know that assistance was being provided in her name to senior citizens facing legal problems."
In reflecting on their time as students in the School of Law, the Hicktons emphasized the special mentoring role played by the late W. Edward Sell, then Dean Emeritus and Distinguished Service Professor of Law. "Ed Sell was everything any young person could have wanted in a teacher and inspiring role model," Dawne Hickton said. "He taught both Dave and me the law of corporations and served as a coach to both of us as members of the school's national moot court team. As graduates, we stayed closely connected to him, as a friend and respected advisor, on both professional and personal matters, until his death."
In making this gift, the Hicktons also emphasized their desire to support the leadership now being provided by School of Law Dean William M. Carter Jr. "Particularly because Dawne chairs the Board of Visitors of the School of Law, we have come to know Dean Carter very well and are impressed with the energy and insights that have characterized his leadership as he works to guide the school through challenging times. Adding further strength to the school's clinical programs is one of his priorities, and we are pleased to help advance it."
In thanking the Hicktons, Dean Carter noted that a gift of this magnitude is a commitment to advancing Pitt Law in a way that will benefit its students while serving the needs of older members of the Pittsburgh community. "This gift will advance two of the primary goals that I identified for the law school from the very beginning of my deanship: strengthening and increasing our range of experiential learning programs and furthering the law school's already-strong commitment to community service and access to justice," said Dean Carter. "In clinical education—a field in which Pitt Law has been a leader for nearly two decades—students learn by doing. Law clinics provide hands-on training of law students in the competencies necessary to become successful legal professionals, while simultaneously providing direct legal service to underserved individuals. We are grateful for the support of such dedicated alumni, and I am deeply moved by their decision to fund this important initiative."
Another professor who taught both Hicktons is Chancellor Mark A. Nordenberg, who then was a young faculty member in the School of Law and who later became a close friend. "No one could have predicted the precise professional paths that Dawne and Dave would follow. However, they were special students, both in terms of their abilities and in terms of their human qualities, and it was easy enough to predict that they would build outstanding professional careers, which they each have done. Beyond that, they are respected as exceptionally capable and tirelessly committed leaders of this community. Having the Hickton name associated with the Elder Law Clinic is a real honor for Pitt, and because of my own long and strong feelings of respect and affection for Dave and Dawne, this is a very special development for me."
Following his graduation from the Pitt Law School in 1981, David Hickton served as a law clerk to Judge Gustave Diamond of the United States District Court for the Western District of Pennsylvania. He then practiced law with the Pittsburgh firm of Dickie, McCamey & Chilcote, before cofounding the firm of Burns, White & Hickton, which grew from five lawyers in a single office to more than 100 lawyers in nine offices across five states. David is an elected Fellow of both the American College of Trial Lawyers and the Academy of Trial Lawyers of Allegheny County. He has been included in the peer-reviewed publication Best Lawyers in America and has been named a "Pennsylvania Super Lawyer."
In 2010, David was nominated by President Barack Obama to serve as United States Attorney for the Western District of Pennsylvania. The President praised him for his "honor, character, integrity and commitment," and he was unanimously confirmed by the United States Senate. Today, he leads an office dedicated to prosecuting federal crime, defending civil rights, protecting our most vulnerable citizens, and combating cybercrime.
David's many civic involvements have included leadership positions in Big Brothers Big Sisters of Greater Pittsburgh, the Children's Neurosurgery Project, the Pittsburgh Cultural Trust, and the Pittsburgh Public Theater. He was appointed by President Bill Clinton to the President's Advisory Committee on the Arts for the John F. Kennedy Center for the Performing Arts.
Dawne Stepanski Hickton graduated from Pitt's School of Law in 1983 and began her career as a trial attorney at U.S. Steel. She remained at U.S. Steel, with increasing responsibilities, until 1994, when she returned to the Pitt Law School as a clinical faculty member and director of its corporate counsel clinic. At that time, she also was affiliated with Burns, White & Hickton. In 1997, she was recruited by RTI International Metals as the company's vice president and general counsel. From 2005 until 2007, she served as senior vice president of administration and chief administrative officer. In 2007, she was promoted to the position of vice chair, president, and chief executive officer.
Dawne serves on the boards of the International Titanium Association, the Aerospace Industries Association, and the Federal Reserve Bank of Cleveland (Pittsburgh Branch). She also is a member of the board and executive committee of the Allegheny Conference on Community Development.
She has been recognized both as one of the Top 100 Women Leaders in STEM and as one of the Top 100 CEOs in the world in STEM. She was elected to the Pitt Board of Trustees in 2008 and serves on its audit, nominating, and student affairs committees. She also serves on the advisory boards for the McGowan Institute for Regenerative Medicine and the University of Pittsburgh Cancer Institute and chairs the Board of Visitors of the School of Law.
Dawne and David Hickton became the first wife and husband to be honored as Pitt Legacy Laureates earlier this fall. They both also are recipients of the University's 225th anniversary medallion and are life members of the Pitt Alumni Association. Through an earlier gift, they established the Loren H. Roth, MD Summer Research Program in Pitt's School of Medicine.
The Pitt Elder Law Clinic focuses on the needs of Allegheny County's aging population and serves both elderly individuals with legal needs and family members working to assist them. The clinic has represented elderly individuals contesting petitions seeking to declare them incapacitated and also has represented family members seeking the legal authority to make decisions on behalf of an incapacitated relative. In all of these cases, clinic students advise their clients about less restrictive alternatives to guardianship and limited guardianship. The clinic also assists clients with settling small estates, advises individuals about the eligibility requirements for Medical Assistance coverage for nursing home care, and provides education to caregivers, social workers, physicians, and aging service providers as to the legal standard for incapacity, the guardianship process, and alternatives to guardianship.
Other Stories From This Issue
There are no stories for the issue at this time.
On the Freedom Road

Follow a group of Pitt students on the Returning to the Roots of Civil Rights bus tour, a nine-day, 2,300-mile journey crisscrossing five states.
Day 1: The Awakening
Day 2: Deep Impressions
Day 3: Music, Montgomery, and More
Day 4: Looking Back, Looking Forward
Day 5: Learning to Remember
Day 6: The Mountaintop
Day 7: Slavery and Beyond
Day 8: Lessons to Bring Home
Day 9: Final Lessons