David Bartholomae Honored as Pennsylvania Professor of the Year
By Anthony M. Moore
Issue Date:
November 18, 2013
University of Pittsburgh English professor David Bartholomae has been named the 2013 Pennsylvania Professor of the Year. Bartholomae, Pitt's Charles Crow Chair in English, received the honor Nov. 14 at an awards luncheon and congressional ceremony in Washington, D.C.
The U.S. Professors of the Year Awards Program recognizes faculty members nationwide who have excelled at teaching and positively influencing the lives and careers of students. Sponsored by the Council for Advancement and Support of Education and the Carnegie Foundation for the Advancement of Teaching, it is the only national program to recognize excellence in undergraduate teaching and mentoring.
"The ability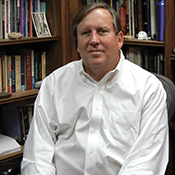 to write clearly and effectively is one of the most valuable skills that an individual can develop, and through his work as a teacher, researcher, and editor, David Bartholomae has helped countless undergraduate students at Pitt and beyond flourish as writers," said Pitt Provost and Senior Vice Chancellor Patricia E. Beeson. "Just as his essays like 'Inventing the University' helped shape the field of composition studies, his efforts on behalf of undergraduate writing—as well as his focus on teaching undergraduate writing—have helped shape Pitt's distinguished program in composition and pedagogy. Taken together, Professor Bartholomae's work provides an exemplary model of the lasting impact that university professors can have and makes him a wonderful choice for Pennsylvania's Professor of the Year."
During a career as a Pitt faculty member spanning more than 35 years, Bartholomae has played a major role in the development of the University's composition program, which is nationally regarded as exemplary. He was among the first scholars in the country to promote the value of writing in the undergraduate curriculum. He argued that students not only needed to develop their writing skills in introductory composition courses, but in courses in their fields of study. Under his direction, the Writing in the Disciplines program was established in the Kenneth P. Dietrich School of Arts and Sciences to support faculty from all academic departments with teaching writing-intensive courses in their subjects.
"As a teacher of undergraduates, my goal is to prepare students to engage meaningfully with the forms of knowledge we value as academics and as intellectuals. This means challenging students with texts they are not yet prepared to read and intellectual work that is beyond their immediate grasp," Bartholomae said. "I would also say it has been my job to prepare the academy— professors in and out of English—to value the writing of young adults and to respond to it with the same care and attention we give to any serious written work."
Bartholomae teaches within all of Pitt's undergraduate English programs. In the literature program, he teaches general education classes and courses for majors; in the writing program, he teaches courses in nonfiction writing and journalism; and in the composition program he regularly instructs a section of Pitt's standard first-year composition course, Seminar in Composition.
He has been a member of Pitt's Department of English since 1975. Prior to becoming the Charles Crow Chair in 2009, he served as the department chair from 1995 to 2009 as well as director of the composition program from 1980 to 1989. He also served as a center associate for Pitt's Learning Research and Development Center from 1979 to 1989.
Bartholomae's awards and distinctions include receiving Pitt's coveted Chancellor's Distinguished Teaching Award in 1995. He has been honored with both the Association of Departments of English Francis Andrew March Award as well as the Mina Shaughnessy Award from the Modern Language Association of America in 2008 and 2005, respectively. Bartholomae also is the recipient of the 2006 Exemplar Award from the Conference on College Composition and Communication, the 1992 Distinguished Alumnus Award from Ohio Wesleyan University, and the 1987 Distinguished Achievement Award from the Educational Press Association of America.
He has held a variety of prominent positions in national professional organizations, including serving as president of the Association of Departments of English from 2003-2006, member of the executive council of the Modern Language Association of America from 1997-2002, and chair of the Conference on College Composition and Communication from 1985-1989.
Bartholomae is the author of three books, including his collection of essays Writing on the Margins: Essays on Composition and Teaching (Bedford/St. Martin, 2005). He also has served as the coauthor of several books, including the highly regarded textbook series Ways of Reading, which is soon to be published in its 10th edition. In addition, he has served as coeditor of the award-winning University of Pittsburgh Press Pittsburgh Series in Composition, Literacy, and Culture. Bartholomae is the author of more than 50 articles in such scholarly publications as College Composition and Communication, Critical Quarterly, and PMLA, the journal of the Modern Language Association of America.
Bartholomae earned a Bachelor of Arts degree at Ohio Wesleyan University in 1969 and a PhD degree at Rutgers University in 1975.
Other Stories From This Issue
There are no stories for the issue at this time.
On the Freedom Road

Follow a group of Pitt students on the Returning to the Roots of Civil Rights bus tour, a nine-day, 2,300-mile journey crisscrossing five states.
Day 1: The Awakening
Day 2: Deep Impressions
Day 3: Music, Montgomery, and More
Day 4: Looking Back, Looking Forward
Day 5: Learning to Remember
Day 6: The Mountaintop
Day 7: Slavery and Beyond
Day 8: Lessons to Bring Home
Day 9: Final Lessons