Dean Holder, Goldwater Scholar Gordon Win Engineering Awards
By Morgan Kelly
Issue Date:
February 25, 2008
Swanson School Sweep: Lifetime Achievement Award for Holder, $5,000 George Washington Prize for Gordon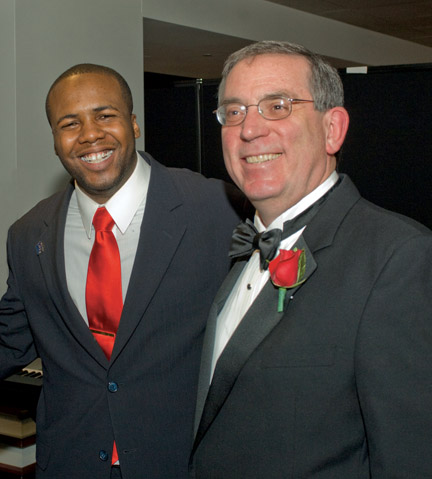 Two of Pitt's most visible engineers—one an established authority, the other an up-and-coming graduate student—were among the region's foremost engineers recognized by the Engineers' Society of Western Pennsylvania (ESWP) during its 124th Annual Banquet Feb. 20 at Heinz Field.
Gerald D. Holder, the U. S. Steel Dean of Pitt's Swanson School of Engineering, received the ESWP's signature 2008 William Metcalf Award for lifetime achievement in engineering. Pitt engineering graduate student and 2007 Barry M. Goldwater Scholar Benjamin Gordon received the inaugural George Washington Prize, a $5,000 award to be presented annually to a promising Pitt engineering senior to help further that student's engineering education. (Gordon was a senior in the Swanson School and University Honors College when nominated for the award.)
With its history of invention and creation, Western Pennsylvania remains an established center of skilled and innovative engineering. Founded in 1880, ESWP is among the nation's oldest and largest engineering societies. Its 124th banquet drew more than 600 people to Heinz Field's East Club Lounge, where towering floor-to-ceiling windows framed the iconic towers and bridges of Downtown Pittsburgh built by engineers past and present. The imposing Downtown vista, its lights burning through the snowy night, provided a fitting backdrop as Holder accepted the Metcalf Award.
"Who would not be proud to be recognized by this great profession and by this great engineering society in this great city?" asked Holder, the award's 46th recipient since it was established in 1963 in honor of ESWP's first president, William Metcalf. "Perhaps Pittsburgh's most important contribution has been its engineering firms, some of the best in the world, producing iron, steel, glass, aluminum, and coal for the entire globe.
"The Metcalf Award acknowledges not just my contributions, but also the contributions of all engineers," he said. "Engineers have allowed an extraordinarily high standard of living in this country and in many countries throughout the world. Because of engineers, the average American can travel thousands of miles in a few hours. Because of engineers, we can instantly communicate with each other from anywhere in the world. Through engineering, we live in comfortable homes with clean water systems that have added years to the average life span of each American."
Now in his 27th year at Pitt, Holder is a renowned authority on gas hydrates, a potential energy source composed of gas molecules trapped in hydrogen-bonded water molecules. He has served on more than 20 national committees and panels, including the Congressional Advisory Panel on Methane Hydrates, which advises Congress on the potential future use of gas hydrates for energy. Holder earned his PhD degree in chemical engineering from the University of Michigan in 1976. That same year, he joined the chemical engineering faculty at Columbia University; then he left Columbia for Pitt in 1979.
Since becoming the ninth dean of Pitt's engineering school in 1996, Holder has overseen a period of unprecedented growth at the school in enrollment, reputation, and resources. In 1996, the average SAT score was 1195 and only 32 percent of incoming engineering students were in the top 10 percent of their graduating high school classes. In 2007, more than 450 freshmen enrolled, with a class average SAT score of 1312 and with more than half of the students having graduated in the top 10 percent of their high school classes.
Also during this time period, research grants awarded to engineering faculty jumped from less than $20 million in 1996 to currently more than $55 million, and more research is leading to successful new technologies and companies. The engineering school also has generated unprecedented philanthropic support under Holder's leadership. The school now has a $98 million endowment—up from $48 million in 2000—and it successfully met a $100 million campaign goal, which has been expanded to a goal of $175 million. In December 2007, the school was renamed the Swanson School of Engineering in honor of John A. Swanson, founder of Canonsburg-based ANSYS, Inc., and a 1966 Pitt PhD engineering graduate who has supported the school with more than $41.3 million, all during the course of Pitt's current $2 billion capital campaign.
In light of these milestones, Holder, in his speech, attributed his and the Swanson School's success to the students and faculty members who earn the school its accolades.
"The faculty, the students—including our alumni here tonight—and the staff at the Swanson School also have won this award," Holder said. "Pitt has produced many great engineers and they have been the role models I hold up to prospective engineering students. Our staff have built one of the world's leading international engineering programs, allowing our students to study not just anything, but engineering, around the world. They have built a volunteer co-op program that produces exceptionally advanced new engineers that the market competes for relentlessly."
Earlier in the evening, Pitt engineering graduate student Benjamin Gordon received the George Washington Prize, named after the United States' first president—who also was being celebrated as America's first engineer during National Engineers Week (Feb. 17-23). The prize is intended to advance the engineering field by enabling promising students to further their education. Each year's recipient also will be offered a $5,000 Dean's Fellowship from The Swanson School should he or she pursue postgraduate education at the University.
Gordon is a graduate student in the Swanson School's Department of Mechanical Engineering and Materials Science. As a Pitt undergraduate, he was a student in both the Swanson School and the University Honors College. He graduated from Pitt with a bachelor's degree in mechanical engineering in December 2007 and was the sole speaker at the Swanson School's graduation ceremony. He has engaged in undergraduate research since his sophomore year. In 2007, he presented a technical paper at a joint conference on structural dynamics hosted by engineering's leading organizations, including the American Society of Mechanical Engineers. He has received numerous academic honors from the Swanson School and, last year, was named to the National Dean's List. Gordon plans to earn a PhD degree in mechanical engineering and become an engineering professor, teaching and researching smart structures applications.
Gordon grew up in a community plagued with poverty and crime, and, at age 15, had adult independence thrust upon him when his mother died. His mother had stressed that a proper education was one of the keys to improving a community. In that vein, Gordon has exhibited particular devotion encouraging young African Americans to pursue engineering careers.
From 2006 to 2007, Gordon chaired and served as a mentor for the National Society of Black Engineers' (NSBE) GEMSTONE program, which helped engineering freshmen at Pitt transition to college life and achieve academic success. Gordon also served as a peer mentor in Pitt's Reaching Inside Your Soul for Excellence, or RISE, program, helping to strengthen the academic performance and retention of students at Pitt. Minority Opinion magazine recognized his efforts with its 2007 Black Achievers Award.
The banquet also featured as keynote speaker Pennsylvania Governor Edward G. Rendell, and as guest speaker Pittsburgh Steelers owner Dan Rooney.
Rendell called on engineers to push for and lead a massive renovation of the United States' civic infrastructure, often portrayed as derelict, particularly in Pennsylvania, which leads the nation in structurally deficient bridges. Rendell formed the coalition Building America's Future with California Governor Arnold Schwarzenegger and New York City Mayor Michael Bloomberg to encourage federal investment in infrastructure.
"It's time to do what every industrialized nation has done and have a massive upgrade of infrastructure. The longer we wait, the worse and more expensive the problem gets—we can't wait," Rendell said, drawing applause from the audience.
He also called on engineers and engineering schools to recruit and mentor more women. Engineering and the other technical sciences are generally male-dominated, with women comprising less than 20 percent of the field in some cases.
"If you eliminate the spouses here tonight, there are very few females among you. We used to lead the world in engineering graduates. Now China and South Korea graduate far more than we do—and India is hot on their heels," Rendell said, citing a high percentage of female graduates within those nations.
"We are no longer on schedule to be the dominant economic power, because we're not inventing new technology, we're not creating new devices. We used to do that," Rendell continued. "Until we unleash half of our gene pool into the computer and technical sciences, we'll continue to get crushed."
On a lighter note, the soft-spoken Rooney recounted his life with the Steelers with anecdotes about famous players and his father, Steelers founder Art Rooney. Dan Rooney, who originally wanted to be an architect, said he had learned much about engineering from a lifetime of overseeing the construction of stadiums—though perhaps not as much as he thought.
"When we were building Heinz Field, I told [construction manager and Pitt engineering alumnus] Jack Mascaro and [other planners] that I knew more about engineering, design and architecture than they did—so they threw me out," Rooney said, drawing laughter from the audience. "So, I left that to them and went back to football. That was all right."
Other Stories From This Issue
There are no stories for the issue at this time.
On the Freedom Road

Follow a group of Pitt students on the Returning to the Roots of Civil Rights bus tour, a nine-day, 2,300-mile journey crisscrossing five states.
Day 1: The Awakening
Day 2: Deep Impressions
Day 3: Music, Montgomery, and More
Day 4: Looking Back, Looking Forward
Day 5: Learning to Remember
Day 6: The Mountaintop
Day 7: Slavery and Beyond
Day 8: Lessons to Bring Home
Day 9: Final Lessons