Department of Economics' Wallace, Wolfe Awarded Ampco-Pittsburgh Prize
By Michelle Hebert
Issue Date:
December 9, 2013
Jane Wallace and Katherine Wolfe, undergraduate student advisors and lecturers in the University of Pittsburgh's Department of Economics, have been chosen to receive the 2014 Ampco-Pittsburgh Prize for Excellence in Advising.
The $4,000 cash award—to be divided between the two awardees—recognizes outstanding faculty academic advising of undergraduate students in Pitt's Kenneth P. Dietrich School of Arts and Sciences. The award was established in 2007 by the Ampco-Pittsburgh Corporation.
Wallace and Wolfe, who work as a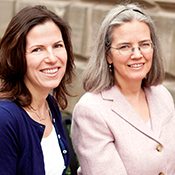 team in advising the department's 550 economics majors and 200 economics minors, were nominated for the Ampco-Pittsburgh Prize by Jean-Francois Richard, Distinguished University Professor and Department of Economics chair, and Shirley Cassing, senior lecturer in economics and associate chair for undergraduate studies.
Richard wrote in his nomination letter that Wallace and Wolfe "have implemented a number of widely successful initiatives that extend well beyond their job descriptions and provide our students with a truly unique and rewarding undergraduate experience at Pitt."
Among those initiatives, Richard wrote, are the two advisors' completion of questionnaires and personal interviews with each student to familiarize themselves with the student's goals. The women work to ensure that students are aware of the resources available to help them succeed. They reach out to struggling students, offering assistance to get them back on track, and they guide students who are excelling academically to take advantage of all opportunities.
Wallace and Wolfe manage the department's social media, including its Facebook page, which helps to keep students well informed about internships, scholarships, fellowships, jobs, summer programs, speakers, workshops, and research opportunities. Through their use of LinkedIn, the professional networking Web site, the two advisors help the department remain in contact with graduates and aid students in connecting with alumni for advice as well as job and internship opportunities.
Nearly every graduating senior meets with Wolfe or Wallace for career planning, Richard wrote. Despite the tough economy, the advisors have built a strong record of helping students obtain jobs, admission to graduate schools, positions in selective programs such as Teach For America and the Peace Corps, and highly competitive scholarships such as the Goldwater Scholars program.
Richard added that the women's professional backgrounds give them particular insight into the students' concerns. "They both have invaluable experience inside and outside academia, which they share with students who are considering graduate schools, business or public service careers."
Before joining Pitt in 2001, Wallace was employed for several years by Federated Investors, most recently as a senior systems administrator. She earned a Bachelor of Science in mathematics and economics from Pitt's Dietrich School in 1992 and a master's degree in economics in 2000. She is a member of Phi Beta Kappa and Omicron Delta Epsilon, the International Economics Honor Society. Among the courses she has taught at Pitt are Introduction to Microeconomics, Introduction to Health Economics, and Economic Development of Africa. Wallace oversees the Undergraduate Economics Society and serves on the faculty Undergraduate Committee.
Wolfe earned a Bachelor of Arts in economics from Princeton University in 1985 and served in the Peace Corps in Samoa from 1991 to 1993. She went on to earn a master's degree in economic and social development from Pitt's Graduate School of Public and International Affairs in 1996. She was awarded the Pitt Department of Economics' Slesinger Prize in Economics, a first-year graduate fellowship, in 1996. Wolfe's research interests include behavioral and experimental economics, and she has taught Introduction to Game Theory, Game Theoretic Principles, and Introduction to Public Finance, among other courses. She is a faculty advisor for Pitt's Undergraduate Economic Society and faculty cosponsor for Omicron Delta Epsilon.
On annual internal surveys, Pitt students have consistently awarded Wallace and Wolfe top marks, recently ranking the "overall effectiveness of advising in economics" a 4.7 on a 5-point scale.
In letters supporting the nominations of both advisors for the Ampco-Pittsburgh Award, students lauded the women's dedication. "I've met with a total of four advisors at Pitt, and Katherine Wolfe has made more of an impression on me than the rest combined. I really cannot stress enough how phenomenal I think she is," one student wrote.
For more information visit www.as.pitt.edu/teaching/ampco-pittsburgh-prize.
Other Stories From This Issue
There are no stories for the issue at this time.
On the Freedom Road

Follow a group of Pitt students on the Returning to the Roots of Civil Rights bus tour, a nine-day, 2,300-mile journey crisscrossing five states.
Day 1: The Awakening
Day 2: Deep Impressions
Day 3: Music, Montgomery, and More
Day 4: Looking Back, Looking Forward
Day 5: Learning to Remember
Day 6: The Mountaintop
Day 7: Slavery and Beyond
Day 8: Lessons to Bring Home
Day 9: Final Lessons