Devlin, Michalopoulos, Needleman Named American Association for the Advancement of Science Fellows
By Kristin Beaver
Issue Date:
January 12, 2009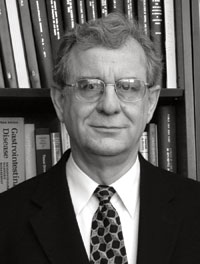 Three faculty members from the University of Pittsburgh School of Medicine have been named fellows of the American Association for the Advancement of Science (AAAS).
Bernie Devlin, a professor of psychiatry and human genetics; George K. Michalopoulos, the Maud L. Menten Professor and chair of the School of Medicine's Department of Pathology; and Herbert L. Needleman, professor of psychiatry and pediatrics, were selected for their scientifically or socially distinguished efforts to advance science and its applications.
Devlin, Michalopoulos, and Needleman are among the 486 AAAS members who will be formally inducted as fellows on Feb. 14, during the organization's annual meeting in Chicago.
Devlin was elected as an AAAS fellow in the organization's Section of Statistics. His research has two major foci: the development of statistical methods to analyze genetic data and the implementation of those methods to discover the genetic basis of disease and related phenotypes. Among his research projects are studies to identify the genetic basis of schizophrenia in Oceanic Palau, an international collaboration on autism, and a local collaboration on nephropathy associated with Type 1 diabetes.
Michalopoulos was elected as a fellow in AAAS's Section on Medical Sciences for his contributions to understanding the pathways of growth factors that lead the liver to regenerate. In 1989, Michalopoulos's laboratory, along with two others labs, independently discovered Hepatocyte Growth Factor (HGF), a protein that is a major driver of the regeneration of liver and other tissues. The labs subsequently identified the receptor for that protein.
Needleman is one of the nation's leading researchers on the effects of lead exposure on children's health. He was elected as a fellow in AAAS's Section on Neuroscience for his exemplary commitment to translating scientific findings to public policy, particularly as it influences child health. Needleman conducted influential and groundbreaking research on the impact of low lead exposure on children's intellectual development and behavior. His findings played a key role in the elimination of lead in gasoline and in the federal Centers for Disease Control and Prevention lowering its blood lead standard for children.
The AAAS is an international, nonprofit organization dedicated to advancing science around the world by publishing the journal Science as well as many scientific newletters and books, and spearheading educational programs. The AAAS fellowship tradition began in 1874 and is an honor bestowed upon AAAS members by their peers.
Other Stories From This Issue
There are no stories for the issue at this time.
On the Freedom Road

Follow a group of Pitt students on the Returning to the Roots of Civil Rights bus tour, a nine-day, 2,300-mile journey crisscrossing five states.
Day 1: The Awakening
Day 2: Deep Impressions
Day 3: Music, Montgomery, and More
Day 4: Looking Back, Looking Forward
Day 5: Learning to Remember
Day 6: The Mountaintop
Day 7: Slavery and Beyond
Day 8: Lessons to Bring Home
Day 9: Final Lessons