Diplomatic Games: Weaving Cultures Into the Fabric of a New Home
By Ervin Dyer
Issue Date:
January 20, 2014
The two players are facing each other, hunched over the game board centered on the table with the blue cloth. One player reigns over a set of white chips. The other, over a set of black. A white chip is nudged near the middle of the board, joining others already in a line there. The player with the black chips needs a minute. What is his next move, he wonders, in this game of Go, the Chinese "encircling" game of strategy that's designed to have one player win by surrounding the chips of the other.
The contemplative drama of the game, long considered a Chinese cultivated art, unfolds in its modern incarnation an ocean away from its 2,500-year-old roots. In the William Pitt Student Union's Kurtzman Room, it's the first International Board Games Night.
T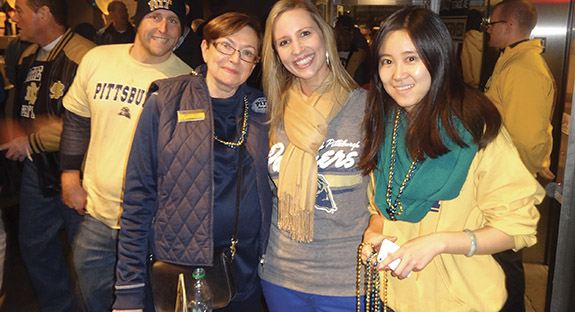 he evening took place the week before Thanksgiving and its organizer, Yahui Lin, 23, a Beijing native and a graduate student in Pitt's School of Education, was only three months new to the United States.
What Lin quickly realized is that there are scores of students like her at Pitt—new to campus, new to the United States, and newly immersed in Western culture. How do you make them feel a part of life in the States, particularly at a holiday when so many people draw nearer to family and friends, and newcomers can feel alienated from the sharing?
An intern at the time with the Pitt Alumni Association, Lin contacted the Student Alumni Association after deciding she wanted to merge traditions and cultures and have an evening when international students could enjoy the games of their homeland, but also give participants a taste of America's Thanksgiving.
In addition to Go, there were nine other board games, including Monopoly from the United States; backgammon from the Middle East; Mancala, a count-and-capture game popular on Africa's east coast; and a slightly revised Twister, with Panther claws and Cathedrals of Learning for touch spots.
Sixty-five people came out for the "world games." Lin felt the nations' home games gave the international students a sense of pride, as they looked around the room and saw pieces of a culture with which they were familiar. It was like the University telling them that Pitt is their home and that they belong here, she said.
In addition, the participants were treated to an early Thanksgiving, with all the trimmings. On a nearby table were holiday classics: turkey, with stuffing; cranberry sauce; and pumpkin pie.
Lin's own journey to International Board Games Night began more than a decade ago, when her first opportunities to travel abroad stirred something in her, making her realize that the more she got to know different cultures, the better she came to know herself.
Lin grew up in Beijing, admiring the night sky, reading Harry Potter novels, and dreaming of England. In high school, she spent a year in Geilenkirschen, a small German village near Cologne. She marveled at how everyone greeted each other in the street and, as the only Chinese person there, she studied and grew to appreciate her own culture more, as she had to answer queries on geography and tradition from curious villagers interested in what life was like in Beijing. While in Germany, she traveled to Hamburg and Berlin, getting the opportunity to also go to France and the Netherlands.
As an undergraduate at Beijing Institute of Technology, Lin spent a semester in Taipei, Taiwan, desiring to understand why the Taiwanese saw themselves as separate people from mainland China—and she noticed tolerance for democracy, religious expression, and language differences.
For all of her international experiences, America remained a great mystery. She'd get a chance to see some of its riddles up close when she was accepted at Pitt's Graduate School of Education, studying for a master's degree in administrative and policy studies. She is a season ticketholder to Pitt football games and enjoys pierogies and how Pitt is woven into the communities that surround it. In Beijing, she said, most schools are walled off.
Her experiences have awakened Lin to knowing that it is important to go "outside" and acquire knowledge on what other cultures are like. The International Board Games Night was a chance to interact with American students and customs, while celebrating other global cultures, said Lin. "When you can share through games and food, it is like diplomacy."
Other Stories From This Issue
There are no stories for the issue at this time.
On the Freedom Road

Follow a group of Pitt students on the Returning to the Roots of Civil Rights bus tour, a nine-day, 2,300-mile journey crisscrossing five states.
Day 1: The Awakening
Day 2: Deep Impressions
Day 3: Music, Montgomery, and More
Day 4: Looking Back, Looking Forward
Day 5: Learning to Remember
Day 6: The Mountaintop
Day 7: Slavery and Beyond
Day 8: Lessons to Bring Home
Day 9: Final Lessons