Director John Goldsmith's Tonal Memories
By Amy Whipple
Issue Date:
March 24, 2014
The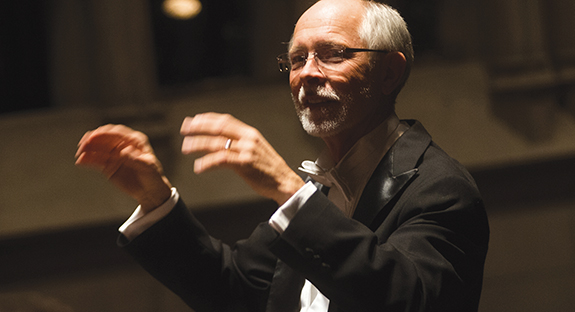 Heinz Chapel Choir found itself up against an entirely new problem during a 1994 holiday concert: how would the performers move from the chapel's balcony at the start of the program to the first-floor altar stage by the end? There were 550 people in the audience, crowded into the pews, and more sat on the floor down the center aisle and in front of the first pew. Audience members also stood three-deep on the sides, packed the lobby, and still more waited hopelessly on the outside steps.
"We had to walk over bodies just to get up there to sing," recalls Heinz Chapel Choir Director John Goldsmith. That, of course, was a wonderful problem to have.
The secret to the packed house wasn't glitzier musical selections or a blitz marketing campaign. No, the secret to the packed house was to have an exceptional choir director. And to be an exceptional director, you also had to be an exceptional teacher.
Above all else, Goldsmith—who is now in his 25th and final year with the choir—is a really good teacher.
Every year, in four hours of rehearsal a week during the fall and spring semesters, Goldsmith transforms a group of roughly 45 to 53 undergraduates who enjoy singing into the unified Heinz Chapel Choir, a much admired a cappella group that performs concerts on campus, regionally, and sometimes internationally. Most of the students do not major in music; their primary academic interests range from literature to biological sciences to engineering.
When he first arrived at Pitt to direct the Heinz Chapel Choir in 1989, Goldsmith wanted his student singers to develop a tonal memory, which requires "thinking," he says. "That's the key word."
Often, traditional choirs warm up by vocalizing low to high in a major key, using the piano as a guide. Instead, to encourage thinking and tonal memory, Goldsmith put the whole warm-up into a minor key, with the notes moving from medium to high to low so as not to strain or tire the voice. And the piano? Gone.
"I wanted to hear just the voice. I love the voice," explains Goldsmith about his approach to developing an internationally recognized student choir.
He also wanted his singers to be able to hear the notes in their heads. "Now sing the third note," he'd tell them. Then he'd ask that they shift down a half step. "Now sing the fourth note," he'd coach. No one got to hum or semi-sing their way there. The process required thinking and precision. The ability to sing the required notes precisely, Goldsmith explains, is tonal memory.
A good tonal memory allows for quicker music memorization as well as the ability to sing consistently in key. This strength also means that Goldsmith's choir is full of singers who can handle a range of musical challenges equally well, and he is able to reposition his singers vocally instead of separating them into traditional parts such as soprano, alto, etc. This enables him to enrich the group's overall sound quality and complexity.
For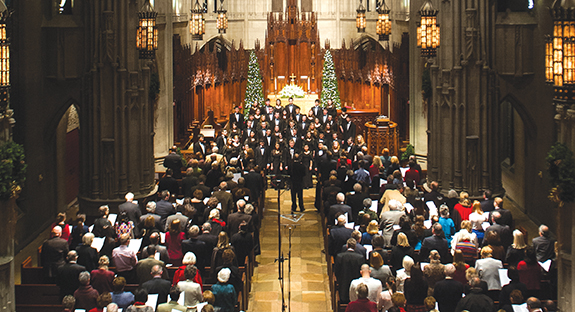 several decades, the Heinz Chapel Choir has performed six packed holiday concerts annually in addition to two featured seasonal programs. The funds from the four ticketed holiday shows, which always sell-out, help fund a tour abroad every three years. Goldsmith keeps in his office a stand of small flags from each of the countries the choir has visited. When he retires later this year, the choir will have visited 26 countries, including this summer's tour to Bulgaria and the Balkans, on the choir's tenth international tour.
Those are all countries far from Goldsmith's childhood in an Ohio farming community. As a preschooler, he taught himself to read music using the church hymnal after realizing that his parents were singing two different parts. When he tired of that, he pushed forward and eventually alternated the four vocal parts every other measure. He learned to play the piano and the French horn (his fourth-grade girlfriend played it). He started college as an instrumentation/education major, but switched to vocal/education when he discovered his love of choral singing. Eventually, he says, "My goal was to have an a cappella choir that memorized its music, so we didn't have to bother with anything but pure singing."
Post-college life found Goldsmith directing a high-school choir and two professional choirs as well as performing in Chanticleer, the world-renowned male vocal a cappella ensemble, which describes itself as "an orchestra of voices" and the New Yorker magazine has called "the world's reigning male chorus." He enjoys both performing and directing.
Goldsmith says that even in his early days with the Heinz Chapel Choir, when he was still developing his own approach and the choir's skills, he loved having the opportunity to be working in Heinz Chapel with its hard stone and wood surfaces that provide the perfect amount of reverberation. Since those early days in 1989, Goldsmith has directed lots of singers, and he's kept in touch with many of them, too.
When he retires in August, he said he plans to travel and "empty my bucket list." And, of course, he'll continue to love the sound of voices in song.
Other Stories From This Issue
There are no stories for the issue at this time.
On the Freedom Road

Follow a group of Pitt students on the Returning to the Roots of Civil Rights bus tour, a nine-day, 2,300-mile journey crisscrossing five states.
Day 1: The Awakening
Day 2: Deep Impressions
Day 3: Music, Montgomery, and More
Day 4: Looking Back, Looking Forward
Day 5: Learning to Remember
Day 6: The Mountaintop
Day 7: Slavery and Beyond
Day 8: Lessons to Bring Home
Day 9: Final Lessons