A Discussion with Film Studies Professor Marcia Landy
Issue Date:
March 24, 2014
Marcia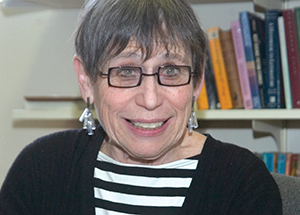 Landy is widely regarded as one of the nation's preeminent experts on Italian films.
With a career in higher education that has spanned more than 55 years, Landy is a Distinguished Professor of English and Film Studies with a secondary appointment in Pitt's Department of French and Italian Languages and Literatures. She is the author of 12 books on cinematic criticism and theory, including Fascism in Film: The Italian Commercial Cinema 1931-1943 (Princeton University Press, 1986), The Folklore of Consensus: Theatricality in Italian Cinema (SUNY University Press, 1998), Stardom Italian Style: Screen Performance and Personality in Italian Cinema (Indiana University Press, 2008), and the upcoming Cinema as Counter History (Indiana University Press). Her essays have appeared in numerous anthologies and in such journals as Screen, Quarterly Review of Film and Video, boundary 2, Historical Review of Film, Radio, and Television, and Cinema Journal.
Landy recently sat down with the Pitt Chronicle's Anthony M. Moore to discuss her thoughts on notable films and her career as an educator.
What makes for a notable film?
I have a personal preference for films that know how to use the visual medium intelligently through thoughtful, experimental uses of images as well as through the uses of camera, editing, and sound. In short, films that make the viewer think and feel about their world.
What was the last film with which you connected emotionally?
There was a recent film directed by [Italian film maker] Matteo Garrone, Reality, a satire on Italian politics, social classes, commodity culture, and television, that I found to be aesthetically and intellectually engaging through its humorous treatment of what passes for contemporary reality.
What attracted you to studying Italian films and Italian filmmaking?
Italian cinema has always been a major interest of mine. I suppose I attribute this to both its varied, often conflicted uses of history and politics on and through film, as well as its ongoing and self-conscious commitment to the forms of comedy in drama and film.
In confronting conventional histories of cinema, I was aware that there was a 20-year absence of critical literature in films from the mid-1920s to mid-1940s, the years of Fascism, and I wanted to know what kind of films were produced in that era. I was able to get a grant to go to Italy and to view a large number of films that enabled me to pursue this question that resulted in my first book, Fascism in Film.
For the novice watcher of Italian films, what two would you recommend to a layperson, and why these two?
Since the Italian-American connections are quite strong, I would recommend, but only as a beginning, that novice viewers take a look at a documentary by Martin Scorsese entitled My Voyage to Italy. The film covers many of the major moments and films of Italy. However, my personal choice would be a 2008 film directed by Matteo Garrone, Gomorra, that offers a very different and visually compelling portrait to the usual romanticized Mafia films. I would also recommend a film by [Italian film maker] Pier Paolo Pasolini, Mamma Roma, for its complex treatment of the city of Rome, the portrait of youth, and its view of Italian life from the periphery.
Who are some of your favorite filmmakers?
I'm attached to certain types of directors—international film directors who are not exactly considered mainstream—Pier Paolo Pasolini; [French filmmaker] Jean-Luc Godard, both his early and later works; the films of [Austrian filmmaker] Michael Haneke; and those of [Chinese filmmaker] Wong Kar-wai. Their films exploit the potential of cinema to affect our attitudes toward reality through the cinematic medium.
At what point in your life did you know your professional direction?
When I graduated from Ohio University as an undergrad, I made the decision to be an actress, but, alas, I had to face reality and find a profession. Initially, this involved getting a PhD and teaching 17th century literature. Later, I was able to gratify my interest in teaching and writing about cinema through the establishment of the Pitt Film Studies Program.
What do you think has been your greatest success as an educator?
I think my greatest success—in and out of the classroom—has been my unwavering interest in continuing to learn and my ability to mature and confront disappointment, without compromising my commitment to social change through intellectual work.
Other Stories From This Issue
There are no stories for the issue at this time.
On the Freedom Road

Follow a group of Pitt students on the Returning to the Roots of Civil Rights bus tour, a nine-day, 2,300-mile journey crisscrossing five states.
Day 1: The Awakening
Day 2: Deep Impressions
Day 3: Music, Montgomery, and More
Day 4: Looking Back, Looking Forward
Day 5: Learning to Remember
Day 6: The Mountaintop
Day 7: Slavery and Beyond
Day 8: Lessons to Bring Home
Day 9: Final Lessons