By Amanda Leff
Issue Date:
February 25, 2008
Black History Month Profile: William Simmons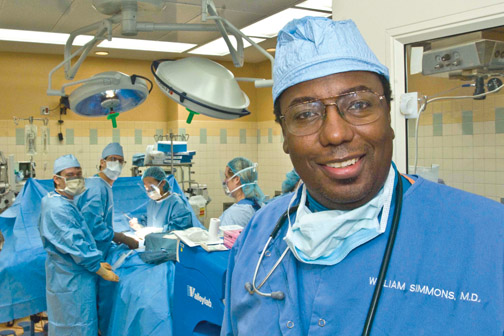 When many children his age were playing with toy tractors, William Simmons was driving real ones on his grandfather's farm in rural South Carolina. His grandfather was one of the largest Black landowners in Charleston County, S.C., and he farmed semicommercially from the 1940s through the '60s.
Simmons said he has always had big dreams for himself, but he credits his grandfather, Oliver Simmons, with helping those dreams become a reality by stressing the value of education.
"He was one of the biggest advocates for me to get an education," Simmons says. "My grandfather emphasized that we could do anything we set our minds to. Our future was unwritten as far as he was concerned."
Today, Simmons is a University of Pittsburgh visiting clinical associate professor and an attending anesthesiologist at UPMC Shadyside. He received a bachelor's degree in biology from Carleton College in Northfield, Minn., and a medical degree from the Mayo Medical School in Rochester, Minn. He also was among the first Black chief residents in Georgetown University Hospital's pediatric residency program.
After the Georgetown pediatrics residency, Simmons completed an anesthesiology residency at George Washington University Hospital. In 1986, he got his first taste of Pittsburgh and completed both a pediatric critical care fellowship and a pediatric anesthesiology fellowship at Children's Hospital. Still craving more education, Simmons completed a mini-MBA program at the University of Rochester's Simon Business School in 2002.
Andrew Herlich, chief of anesthesia at UPMC Mercy, worked with Simmons for nearly 10 years, at the Pittsburgh Eye and Ear Hospital and Temple University Health Science Center School of Medicine. Herlich describes Simmons as an upbeat, hard worker who would go above and beyond what was expected of him.
"He was very detail-oriented, a hard worker and kind to his patients," Herlich said.
Herlich also remembers Simmons as a natural computer whiz. "During a time when most other doctors were more comfortable using a typewriter, Bill was creating a groundbreaking database for quality assurance in anesthesiology."
Simmons was not only a dependable colleague, Herlich recalled, but a good friend who opened his home to Herlich and his family at Thanksgiving when they first moved to Pittsburgh.
Simmons enjoys teaching residents, fellows, and medical students. "I get to interact with young minds all of the time," he says.
Aside from teaching, Simmons says, the most rewarding part of his career is establishing a rapport and trust with his patients in the brief time before their procedures. He also enjoys evaluating the ever-changing needs of his patients.
"Every patient is different," he says. "I find the mental exercise of determining their needs incredibly fascinating and stimulating."
Simmons' road to success began on his grandfather's farm. As a child, Simmons woke up early to feed the chickens and pigs, and he tended to the fields once he returned from school.
But even during the busy harvest season, his grandfather never let him or his brother stay home from school to help.
As Simmons grew, so did his career aspirations. And while his hopes as a young Black man were sometimes met with skepticism, he forged ahead, aided both by his own determination and by a program that eventually took him off the farm.
In 1968, during Simmons' 8th grade graduation ceremony, the teachers at his school couldn't contain their laughter when they announced that a student had declared he was going to be a doctor. That student was, of course, Simmons.
"It was a laughing matter to them because no one from the local high school I was able to attend had ever gone to college."
And then in 1969, amidst busing, segregated schools, and South Carolina's reluctant attempts at desegregation, a group called the Earl Jackman Relocation Program would move Simmons to the heart of New York City. The program tested thousands of students throughout the Southern states with the goal of relocating potentially high-achieving students to families and better schools in the North and West.
Simmons was one of 40 Black students selected. So just before the start of 10th grade, he packed his bags to continue his high school career in New York City.
"Leaving home at the age I did wasn't something that was easy to do," Simmons says. "I had to convince people that it would be a good opportunity and I would be safe."
Simmons spent his 10th grade year at Seward Park High School. He lived on the Lower East Side of Manhattan with the Colberts who, though they came from a Jewish background, were practicing Quakers. The mother, an English and math teacher in the public school system, exposed Simmons to the culture of New York City, including Broadway performances, museums, a variety of ethnic cuisine, and rallies for many causes. She also tutored Simmons in English and math well beyond his grade level. At the conclusion of his sophomore year, he passed the New York State Regents exams for math, science, and English, thanks to his hard work both inside and outside of the classroom.
The relocation program moved him to Bozeman, Mont., for his final two years of high school. Simmons lived with Presbyterian minister Mac McCullough, his wife, and their three sons.
On the very first day of Simmons' junior year, the school's athletic coaches tried to convince the newly arrived student to join their teams. Instead, he joined the speech and debate team, which was among the best in the state, says Simmons.
Not only was he an excellent debater, but Simmons excelled in curricular academics as well. He graduated in the top five percent of his class of about 700. A photo of Simmons proudly wearing his National Honor Society pin on his lapel was displayed for many decades in McCullough's home, next to photographs of McCullough's sons.
The Earl Jackman Relocation Program ended with Simmons' graduation from high school. Heated debates regarding nature versus nurture and the psychological effects of placing the students in families of a different race led to the program's demise. Not all of the 40 students in the program graduated from high school. Some couldn't tolerate being away from home and couldn't make the adjustment, Simmons says.
While in medical school, Simmons learned that Earl Jackman, the program's founder, was living in Wooster, Ohio. "I went to see him and personally invited him to my medical school graduation in 1981, and he accepted," says Simmons. Members from all three of his families were present at his graduation—the Simmonses, the Colberts, and the McCulloughs.
Because of Simmons' successes, he has been able to support not only his daughter's college education, but also that of several children of family and friends who otherwise may not have been able to afford a college education. He also has encouraged countless other youths to pursue higher education.
"My biggest accomplishment wasn't being the first to go to college in my family, but not being the last," says Simmons.
Simmons has spoken at high schools where children are at high risk of not going to college. "I make sure they understand the importance of an education," he says.
"Like my benefactor, Dr. Earl Jackman, who witnessed my graduation from medical school, I get invited to witness hearwarming graduations of those coming after me.
"The discussions at my family reunions are now about new jobs, promotions, first homes, and plans for marriage," he said. "The young ones talk about college as a given—not as a hope—and definitely not as a laughing matter."
Other Stories From This Issue
There are no stories for the issue at this time.
On the Freedom Road

Follow a group of Pitt students on the Returning to the Roots of Civil Rights bus tour, a nine-day, 2,300-mile journey crisscrossing five states.
Day 1: The Awakening
Day 2: Deep Impressions
Day 3: Music, Montgomery, and More
Day 4: Looking Back, Looking Forward
Day 5: Learning to Remember
Day 6: The Mountaintop
Day 7: Slavery and Beyond
Day 8: Lessons to Bring Home
Day 9: Final Lessons