Educators Convene at Pitt for "Voices Across Time: Teaching American History Through Song"
Issue Date:
July 5, 2011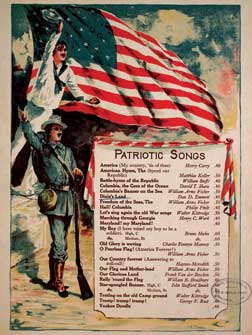 Twenty-three educators from throughout the United States are on the University of Pittsburgh campus through July 29 for "Voices Across Time: Teaching American History Through Song"—an institute developed by Pitt's Center for American Music that trains teachers to use American music as a medium to educate young people in a variety of subjects.
Funded through the National Endowment for the Humanities, the institute has been held several times at Pitt and has been successful in teaching educators how to use American songs in K-12 classrooms. Previous Summer Scholars have reported that students responded to the teaching method with an enthusiasm that exceeded expectations.
With "Voices Across Time," education specialists, musicologists, historians, and songwriters provide teachers with materials and techniques to weave American music into their curricula and teach students about the life, language, ideas, and history of the nation. Lectures and discussions, field trips, and a number of live performances help teachers develop insights into the dynamic interaction of popular music and society.
"The sound of history is missing from our classrooms," says Pitt professor of music and institute codirector Deane Root, who is also director and Fletcher Hodges Jr. curator of the Center for American Music. Root says the institute provides participants with the meaning behind the facts they are teaching.
Past final projects generated by the Summer Scholars include using "He Was a Friend of Mine," rewritten by Jim McGuinn of The Byrds, to help students understand the impact the assassination of JFK had on the American public, and "The Homestead Strike" by Pete Seeger to analyze the controversy behind labor unions in the 19th century; and comparing the campaign songs of Andrew Jackson and John Quincy Adams as a way of understanding the contentious issues in the 1824 U.S. Presidential election. For more information, visit www.voicesacrosstime.org.
Other Stories From This Issue
There are no stories for the issue at this time.
On the Freedom Road

Follow a group of Pitt students on the Returning to the Roots of Civil Rights bus tour, a nine-day, 2,300-mile journey crisscrossing five states.
Day 1: The Awakening
Day 2: Deep Impressions
Day 3: Music, Montgomery, and More
Day 4: Looking Back, Looking Forward
Day 5: Learning to Remember
Day 6: The Mountaintop
Day 7: Slavery and Beyond
Day 8: Lessons to Bring Home
Day 9: Final Lessons