Eight New Legacy Laureates Named
Issue Date:
October 22, 2007
Alumni recognized for personal, professional achievements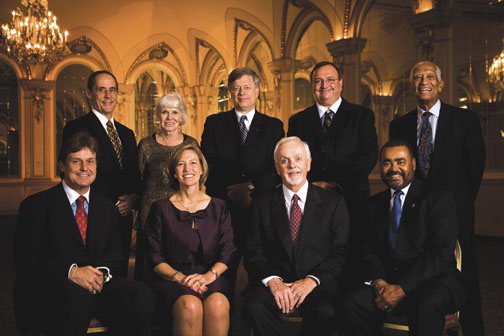 (From left, back row, Thomas M. Priselac, Audrey L. Holland, Pitt Chancellor Mark A. Nordenberg, Gary A. Amelio, and H. Raymond Primas Jr. From left, front row, John H. Pelusi Jr., Patricia D. Horoho, Bert W. O'Malley, and Douglas M. Browning.)
The University of Pittsburgh has named eight new Legacy Laureates, alumni recognized for their outstanding personal and professional accomplishments. The laureates were honored Thursday evening during Pitt's Homecoming festivities.
The Pitt Legacy Laureate program was launched in 2000. Following are brief biographies of this year's honorees.
Gary A. Amelio
Gary A. Amelio attended the University of Pittsburgh at Greensburg and received his BA degree from Pitt's School of Arts and Sciences in 1978 and his JD degree from the law school in 1981.
Amelio is an acknowledged leader in the fields of employee benefits, investment executive compensation, and asset management, and served as CEO of the Federal Retirement Thrift Investment Board. While there, he successfully directed the $125 billion U.S. federal employee Thrift Savings Plan, which provides benefits to more than three million workers. He currently serves as president of Retirement Services for ULLICO Inc., a Washington, D.C.-based holding company of The Union Labor Life Insurance Company.
Amelio has served on the advisory board of the University of Pittsburgh at Greensburg, the Board of Directors of the Golden Panthers, and the Executive Committee of the Pitt Alumni Association. He also serves as a member of the Leadership Council of the American Diabetes Association and on the development committee of the Cystic Fibrosis Foundation.
He has received numerous awards, including Federal Computer Week's Federal 100 Top Executives and UPG's Alumnus of Distinction Award.
Douglas M. Browning
Douglas M. Browning received his BA degree from Pitt's School of Arts and Sciences in 1972. An attorney, Browning is a senior vice president at Sandler & Travis Trade Advisory Services Inc., where he helps governments and multinational businesses modernize their customs and security procedures. He also is of counsel to the Miami-based international law firm of Sandler, Travis, & Rosenberg.
Browning's public service career spanned 27 years and included work with the U.S. Bureau of Customs and Border Protection and its predecessor, the U.S. Customs Service, for which he served as acting commissioner for eight months.
As deputy commissioner of Customs Service, Browning helped lead its merger with the U.S. Border Patrol and other federal agencies, integrating 42,000 employees and defining the new bureau's mission under the U.S. Department of Homeland Security.
His many awards and honors include a U.S. Senior Executive Service Presidential Rank Award, a Chevalier of the National Order of Merit from the French government, and a U.S. Coast Guard Meritorious Public Service Award.
Browning's continuing commitment to Pitt includes the establishment of the Douglas M. Browning University Honors College (UHC) International Field Study Award for undergraduates who participate in study-abroad programs administered by UHC.
Audrey L. Holland
Researcher, clinician, professor, and author, Audrey L. Holland received three degrees from the University of Pittsburgh: a BS in 1955, an MS in 1959, and a PhD in speech pathology and audiology in 1961.
Holland is known for the contributions she has made in the field of neurological communication disorders, with special emphasis on rehabilitation and the enhancement of quality of life for patients with aphasia.
As a professor, Holland taught at the University of Arizona, where she was named Regents' Professor Emerita of Speech and Hearing Sciences.
She served as a visiting professor at the University of Queensland, Australia, and Case Western Reserve University; professor of otolaryngology and psychiatry in Pitt's School of Medicine; and senior faculty member at the National Center for Neurogenic Communication Disorders.
She holds the Certificate of Clinical Competence in Speech Pathology and has authored more than 125 articles, textbooks, and the recently published Counseling in Communication Disorders: A Wellness Perspective (Plural Publishing, 2007).
Holland has received numerous awards, including the National Aphasia Association Aphasia Advocacy Award, Council of Graduate Programs in Communication Sciences and Disorders Professional Achievement Award, and Academy of Neurologic Communication Disorders and Sciences Clinical Achievement Award.
Patricia D. Horoho
U.S. Army Col. Patricia D. Horoho, who has a distinguished career in military health care administration, received an MS degree in nursing in 1992 from the University.
Enlisted as a staff nurse with the U. S. Army, Horoho became the first nurse and first woman to serve as commander of the Walter Reed Health Care System. While she was head nurse at Womack Army Medical Center's Emergency Department, the hospital was awarded the Superior Unit Citation for its heroic efforts in treating those injured in the Pope Air Force Base crash, one of the worst aircraft incidents in Air Force history.
The American Red Cross, Nursing Spectrum magazine, and Time-Life Publications also honored Horoho for her work in rescuing victims from Flight 77's crash into the Pentagon on Sept. 11, 2001.
Her many other military assignments have included helping to inspect medical facilities in Haiti during the 1994-95 Operation Uphold Democracy, the U.S.-led multinational military intervention to restore Haiti's democratically elected government.
Horoho's numerous honors include the Legion of Merit, the Meritorious Service Medal, the Army Achievement Medal, the Armed Forces Expeditionary Medal, and the Fort Bragg Supervisor of the Year award.
Bert W. O'Malley
Bert W. O'Malley, who received his BS and MD degrees from Pitt in 1959 and 1963, respectively, is a medical doctor renowned for his work in the fields of endocrinology, reproduction, genetic disease, and endocrine cancers. He has helped advance the field of molecular endocrinology by encouraging his colleagues to embrace molecular biology technology.
O'Malley currently serves as the Thomas C. Thompson Chair in Cell Biology and chair of the Department of Molecular and Cellular Biology in the Baylor College of Medicine (BCM). He also directs BCM's Center for Reproductive Biology and is associate director for basic science at the school's Dan L. Duncan Cancer Center.
O'Malley served as president of the Endocrine Society and was instrumental in establishing the journal Molecular Endocrinology, one of the most-cited peer-reviewed biomedical science journals. O'Malley has written more than 600 scientific and medical publications and holds 19 patents for special techniques and inventions related to molecular and cellular biology.
Pitt has honored O'Malley with the Dickson Prize in Medicine, the Philip S. Hench Distinguished Alumnus Award, and the Bicentennial Medallion of Distinction. O'Malley has received numerous additional honors, including the Academia Nazionale dei Lincei Antonio Feltrinelli International Prize for Biology and the Brinker International Award for Breast Cancer Research. He also was elected to the National Academy of Sciences and Royal Academy of Medicine in Ireland.
John H. Pelusi Jr.
John H. Pelusi Jr. received the BA degree from the School of Arts and Sciences in 1977 and the MPA degree in public management and policy from the Graduate School of Public and International Affairs in 1979.
Pelusi is executive managing director and managing member of Holliday Fenoglio Fowler, L.P., one of the world's largest real estate capital firms. Ernst and Young recognized his business acumen by naming him Entrepreneur of the Year for Upstate New York, Western Pennsylvania, and West Virginia in the financial services category.
The starting center on Pitt's 1976 national championship football team, Pelusi was voted to the All-East football team, was named Sports Illustrated Lineman of the Week, and earned honorable mention for the Kodak All-American football team. He is a member of the Pittsburgh Chapter of the Italian American Sports Hall of Fame.
Pelusi serves the University as a member of the Board of Trustees, chairing the Property and Facilities Committee and serving as a University director on the UPMC Board of Directors. He has provided generous financial support to the University, primarily through scholarships to assist student-athletes. He also provides civic and community leadership through the Holy Name Foundation and the Manchester Bidwell Corporation.
H. Raymond Primas Jr.
H. Raymond Primas Jr. earned the BS degree in 1946, the DDS degree in 1947, and the MPH degree in 1969, all from the University of Pittsburgh.
Following in the footsteps of his father, H. Raymond Primas Sr., who graduated from Pitt's dental school in 1924, Primas had a distinguished and lengthy career in dentistry. He demonstrated a vigorous commitment to aiding African countries that were struggling to free themselves from European rule during the mid-20th century. He solicited support from the United States through repeated requests to the U.S. government, including the Department of State and the newly elected president, John F. Kennedy.
In 1962, Primas led a State Department initiative to inventory and distribute supplies to Benin, Africa, and from 1970 to 1975, he directed a health education program for Pitt's Graduate School of Public and International Affairs that provided technical personnel in the African Nations of Cameroon, Central African Republic, and Chad.
Primas has served as a professor within GSPIA and as president of the National Dental Association. In 2007, he received the School of Dental Medicine Award of Appreciation at the Dean's Scholarship Ball.
Thomas M. Priselac
Thomas M. Priselac received his MPH degree from Pitt's Graduate School of Public Health in 1975.
Priselac has made lasting contributions to the field of health care administration in an impressive range of leadership roles; he currently serves as president and CEO of Cedars-Sinai Health System, one of the largest private hospitals and providers of health care services, medical education, and research in the United States.
He has been named chair-elect of the American Hospital Association, a national organization that serves 5,000 hospitals and health care systems, and serves as a trustee of the National Committee for Quality Health Care and the Charles R. Drew University of Medicine and Science. He also holds the Warschaw Law Endowed Chair in Health Care Leadership at Cedars-Sinai Medical Center.
Priselac has endowed The Thomas and Jody Priselac Endowed Fund for Health Care Leadership at the University.
He has received numerous awards, including the National Healthcare Leadership Award from the National Center for Healthcare Leadership, the Charles R. Drew University of Medicine and Science Board of Trustees Medal of Honor, the B'nai B'rith National Healthcare Leadership Award, and the Partners in Care Foundation's Mathies Award for Vision and Excellence in Healthcare Leadership.
Other Stories From This Issue
There are no stories for the issue at this time.
On the Freedom Road

Follow a group of Pitt students on the Returning to the Roots of Civil Rights bus tour, a nine-day, 2,300-mile journey crisscrossing five states.
Day 1: The Awakening
Day 2: Deep Impressions
Day 3: Music, Montgomery, and More
Day 4: Looking Back, Looking Forward
Day 5: Learning to Remember
Day 6: The Mountaintop
Day 7: Slavery and Beyond
Day 8: Lessons to Bring Home
Day 9: Final Lessons