Emiola Jay Oriola Helps Highschoolers 'Speak Up,' Prepares Them for College
By Renee P. Aldrich
Issue Date:
January 25, 2017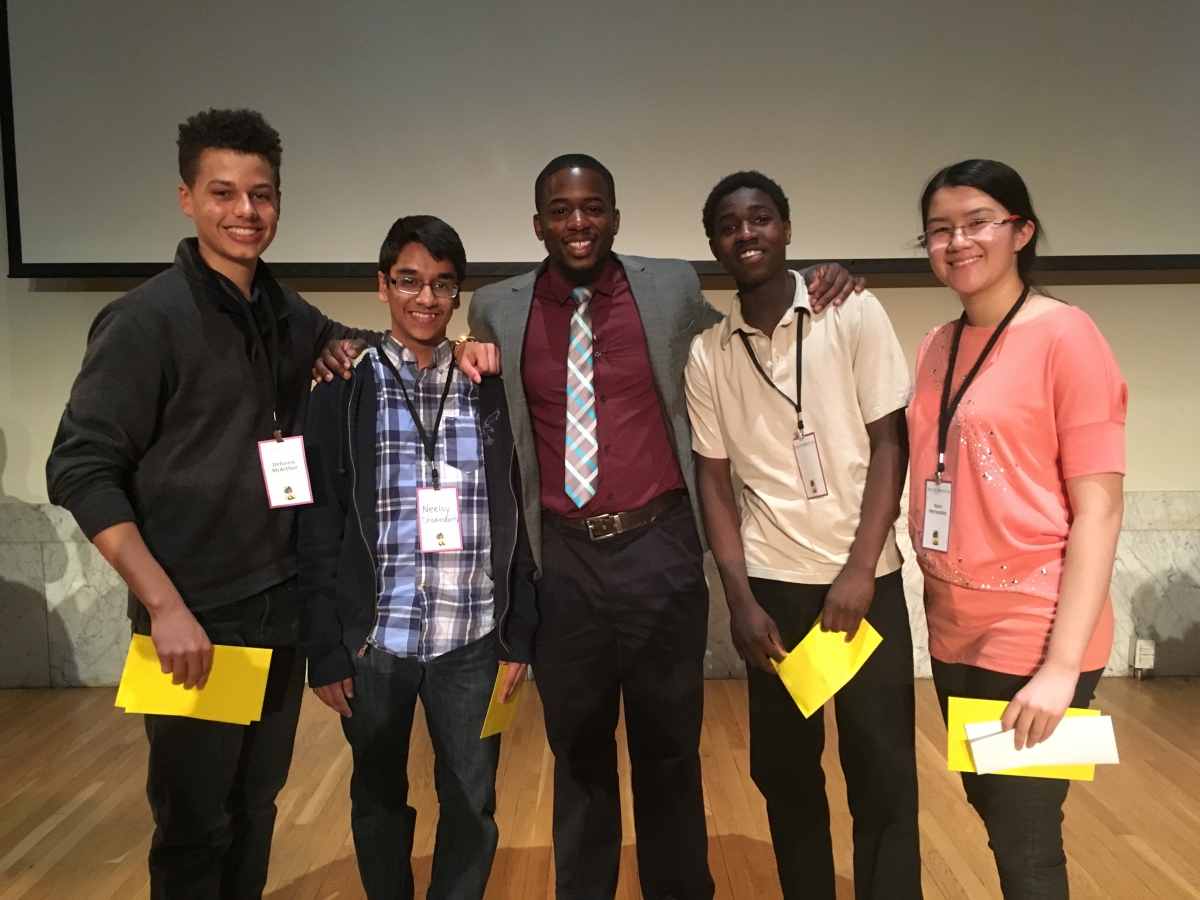 On a summer afternoon, high school students in dresses and ties gather in a basement room in Benedum Hall. The lights are dim. Here, they listen to hip-hop, they dance, they tell jokes — anything to loosen up. In a few minutes, they will go upstairs into the spotlight of an auditorium and dance, sing, recite poetry, and pour their hearts out.
Pitt's Emiola Jay Oriola is here loosening up, too. He breaks out in impromptu poetry. In a cadence as riveting as a beat on a snare drum, he shares his original piece "Dr. Jekyll or Mr. Hyde." The poem asks listeners to consider their own power, to determine if they're builders or destroyers of dreams for themselves and other people. He wants to show the kids there's no magic to expressing themselves. You just do it. He tells the shy kids the time is now. He tells all the kids to be themselves.
Oriola and the kids are preparing for the third annual Speak Up, a public presentation dreamed up by Oriola for students in INVESTING NOW, the highly acclaimed University of Pittsburgh mentoring and college preparatory program. Since its founding 28 years ago, INVESTING NOW has created a pipeline for high achieving but traditionally underrepresented students to enter college and pursue science, technology, engineering, and math (STEM) majors and careers.
INVESTING NOW events like Speak Up are designed to give students a voice, build their public speaking skills and confidence, and be a forum in which they can share their passions with their parents and their peers.
Part of it, for Oriola, is teaching the participants that engineering "is not something they perform or do," it's who they are as problem-solvers and critical thinkers. Speak Up is a way of getting the students to express all of who they are.
In poetry, short story, and even dance, students express their views on inequity in education, Black Lives Matter, their love of STEM, and other topics. In an extension of Speak Up, the students are working to create a blog documenting their lives as young scholars.
Oriola has been with INVESTING NOW for three years, and the Pitt psychology graduate was promoted to its associate director a year ago. In addition to the program's day-to-day operations, Oriola is responsible for creating life skills workshops, a student advisory committee, community volunteerism, and career awareness that strengthen the minds and hearts of the students.
"I believe that service is the rent we pay for the privilege of living on earth; so I am making sure I pay and give what needs to be given, and I urge everyone to do the same. What I do is not special, it's needed," he says.
Many educators, says Oriola, are focused on pouring information into young people. But true education, he believes, must be reciprocal, enabling students to find their own gifts and then use those gifts to teach others. Speak Up is designed to allow students to own their learning process.
When the program is over, parents and guests stand and applaud. No one is beaming more than Oriola, their program leader. He knows the performance is a small step to take the kids to a higher level of understanding themselves and having the courage and know-how to express themselves in front of others. "Well done," he nods.
Oriola himself is a seven-time Spoken Word Champion for the City of Pittsburgh and a featured speaker at scores of slam-poetry events in the region. In the summer of 2016, he was recognized by Pittsburgh Magazine as one of its "40 Under 40" — people making a difference through community service and professional achievement. A parent of an INVESTING NOW student nominated him because she was touched by how Oriola pushed her child to trust himself and confront his insecurities.
Since INVESTING NOW originated at Pitt, a pre-college diversity program in the Swanson School of Engineering, parents, leaders in the faith community, and youth guidance organizations have applauded its winning formula of pushing high school students toward excellence and college enrollment.
In 2016, all of INVESTING NOW's students had enrolled in college, and 54 percent chose a STEM major.
Alaine Allen, director of the Swanson School's College Diversity Programs, first met Oriola when he presented at a 2011 University panel on African American males and the media. She was impressed with his story of perseverance and invited him to be a part of INVESTING NOW.
The more Allen came to know Oriola, the more she came to understand how his history shaped his positive outlook on life.
Fourteen years ago, as a middle-school student growing up in Washington, D.C., Oriola had to miss two years of school. Because of complicated laws of residency, if you could not show a permanent address, you were not allowed to enroll. Oriola lived with his mom, and because they moved from place to place, he had to drop out of the eighth grade.
Oriola recalls that the time alone was "kind of like being in prison." To fill the void, he exercised and read a lot, but mostly he spent a lot of time inside his head, thinking. The roots of his faith came from his mother. "In my dark times, she was like the sun in human form," he says. Because she believed the family would survive its challenges, he did too.
He went back to school in tenth grade and wasted no time catching up — or in leaving behind his once-mediocre study habits. Now, grateful to be back in class, he threw himself into learning. But he also began to read books, many of his own choosing, and think more critically about society.
After attending three different high schools, Oriola graduated in 2008 at the top of his class, and was asked to be a graduation speaker. It was his principal, James Fernandez, a Pitt alum, who steered him to the University of Pittsburgh.
His turn toward being a proactive learner is something he encourages the INVESTING NOW students. "My hope," he says, "is to see these bright students owning their education, and not just eating what is fed to them." He adds, "I want them to be able to forage for their own food and not just eat what others are feeding them."
Now, Oriola feels his calling is service, to help cultivate young people and help them find their voices. It's his way of getting them to speak up.
Other Stories From This Issue
There are no stories for the issue at this time.
On the Freedom Road

Follow a group of Pitt students on the Returning to the Roots of Civil Rights bus tour, a nine-day, 2,300-mile journey crisscrossing five states.
Day 1: The Awakening
Day 2: Deep Impressions
Day 3: Music, Montgomery, and More
Day 4: Looking Back, Looking Forward
Day 5: Learning to Remember
Day 6: The Mountaintop
Day 7: Slavery and Beyond
Day 8: Lessons to Bring Home
Day 9: Final Lessons