English Department, The Pitt News to Host Panel Discussion on Acquiring Mass Media, Public Relations Internships
By Anthony Moore
Issue Date:
October 1, 2007
Al McDowell Scholarship to be presented at Oct. 18 event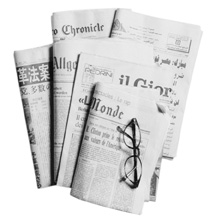 Pitt's Department of English and The Pitt News will host a panel discussion titled "How to Get an Internship in the Media-PR World: Meet the Professionals," from 7:30 to 9:30 p.m. Oct. 18 in the William Pitt Union's Kurtzman Room.
In addition to the panel discussion, the annual Al McDowell Memorial Scholarship, named in memory of the Pittsburgh broadcasting pioneer and 1952 Pitt School of Arts and Sciences graduate, will be presented to a Pitt undergraduate student in the English department's nonfiction writing program.
For more information on this free public event, contact Writing Internship Coordinator Caren Marcus at 412-624-1737 or caren@pitt.edu.
Information about the moderator and the discussion's panelists follows.
Moderator
David Shribman, Pittsburgh Post-Gazette executive editor, was awarded the Pulitzer Prize in Journalism in 1995 for his coverage of Washington and the American political scene. Before coming to Pittsburgh, he was the Washington, D.C., bureau chief of The Boston Globe. He also worked at various positions for The Wall Street Journal, The New York Times, The Washington Star, and The Buffalo Evening News. His column, "National Perspective," is syndicated to more than 50 papers nationally, and he is a contributing editor of Fortune magazine.
Panelists
Frank Gottlieb, news director for KQV Radio, served as a broadcast specialist with the U.S. Army in Vietnam. He has been working at KQV for 22 years and was WTAE-TV's first intern.
Mark Gruetze, administrative editor of the Pittsburgh Tribune-Review, oversees newsroom recruiting, compiles annual budgets, and runs the metro desk on Sundays. A journalist for 35 years, Gruetze was the managing editor of The Marietta Times and an assistant managing editor of the Danville, Ill., Commercial-News before coming to Pittsburgh in 1992.
David Johnson, coanchor for WPXI-TV Channel 11 News, is an award-winning journalist who has covered major national stories, including the 9/11 tragedy of United Flight 93 and the rescue of the Quecreek miners. Johnson is part of the longest-running news anchor team in Pittsburgh.
Pam O'Brien, associate director of Pitt's Public and Professional Writing Program (PPW), worked as vice president of an advertising agency for 15 years before coming to Pitt's English department. A visiting lecturer at Pitt, O'Brien is responsible for supervising PPW interns.
Margaret Sullivan, editor of The Buffalo News, was appointed vice president of the newspaper in 2001. A four-time Pulitzer Prize juror, Sullivan has written for The American Editor, Columbia Journalism Review, The Washington Post, and The Washington Monthly Magazine.
James Warren is managing editor of features for the Chicago Tribune and a political analyst, appearing regularly on Fox News Channel, MSNBC, and CNBC. Warren joined the Tribune in 1984 as a reporter specializing in labor and legal affairs before being named the national media reporter. Washington Magazine named him one of Washington, D.C.'s 50 most influential journalists.
Other Stories From This Issue
There are no stories for the issue at this time.
On the Freedom Road

Follow a group of Pitt students on the Returning to the Roots of Civil Rights bus tour, a nine-day, 2,300-mile journey crisscrossing five states.
Day 1: The Awakening
Day 2: Deep Impressions
Day 3: Music, Montgomery, and More
Day 4: Looking Back, Looking Forward
Day 5: Learning to Remember
Day 6: The Mountaintop
Day 7: Slavery and Beyond
Day 8: Lessons to Bring Home
Day 9: Final Lessons