Eva Tansky Blum: First Woman to Lead Pitt's Board
By Jane-Ellen Robinet
Issue Date:
July 6, 2015
Eva Tansky Blum, a highly accomplished and respected alumnus and benefactor of the University of Pittsburgh, has been elected chair of Pitt's Board of Trustees. She is the first woman to hold the position in Pitt's 228-year history.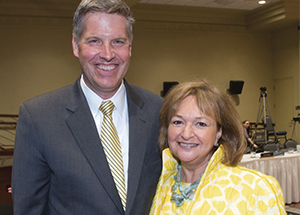 "The education I received here changed my life. Opportunities opened up that I never dreamed were possible. From the day I received a full scholarship to Pitt's Law School, I knew that I had a responsibility to help future students have those same possibilities. This is an extraordinary University …" said Blum (A&S '70, LAW '73), who retired in March 2015 from PNC Bank, where she was executive vice president, director of community affairs, and chair and president of the PNC Foundation.
"What a responsibility we all have, to make sure that Pitt will continue in the great tradition of educating our future students in such important ways. I am honored to become chair and to work with all of you as we support Chancellor Gallagher and help propel Pitt to even greater heights," Blum told the board.
Elected as a trustee in 2004, Blum has been one of the board's most active and committed members. She has served on several board committees, and she chaired the Chancellor's Search Committee in 2013-14. Blum, along with her brother, Burt Tansky, helped to lead the University's record-setting $2 billion capital campaign, including their own generous gifts to establish the William Pitt Union's Tansky Family Lounge and the Tansky Family Fund in the Department of Neurology.
"I am thrilled to have Eva as a partner, advisor, and friend, and we look forward to the amazing leadership she will bring to the board," said Pitt Chancellor Patrick Gallagher, after Blum's election during a June 19 Pitt board meeting.
"There has been much publicity about Eva serving as the first woman chair of our board, but what we are really proud of is that Eva has agreed to once again lend her time, expertise, and boundless enthusiasm to Pitt… Serving as the board chair is a tremendous commitment, one that requires devotion, energy, and talent," he added.
Blum held numerous executive-level leadership positions during her career at PNC, which spanned more than 35 years. She joined PNC in 1977 after practicing law at the U.S. Department of Commerce and USAir.
In 2012, Blum was among a select group of notable alumni presented with Pitt's 225th Anniversary Medallion, which recognized graduates whose achievements have brought honor to Pitt and whose efforts have contributed to the University's progress. She also was named a 2015 Distinguished Alumni Fellow, which is the University's premier alumni honor. Blum has been designated a Distinguished Alumnus by the University of Pittsburgh School of Law and was granted Pitt's Volunteer Excellence Award.
In addition to her Pitt-related accolades, Blum was named a Distinguished Daughter of Pennsylvania in 2009. She also has been honored with the Women of Spirit Award from Carlow University, the Tree of Life Award from the Jewish National Fund, and the Allerton Award for Lifetime Achievement from the YWCA of Greater Pittsburgh.
Blum has been a member of both the Pennsylvania and Allegheny County bar associations. She has served on the Board of Directors for the Business Civic Leadership Center, the Advisory Board of the Carnegie Science Center, and the Board of Trustees for the Jewish Healthcare Foundation.
Other Stories From This Issue
There are no stories for the issue at this time.
On the Freedom Road

Follow a group of Pitt students on the Returning to the Roots of Civil Rights bus tour, a nine-day, 2,300-mile journey crisscrossing five states.
Day 1: The Awakening
Day 2: Deep Impressions
Day 3: Music, Montgomery, and More
Day 4: Looking Back, Looking Forward
Day 5: Learning to Remember
Day 6: The Mountaintop
Day 7: Slavery and Beyond
Day 8: Lessons to Bring Home
Day 9: Final Lessons