Exhibition of Pitt Chief Executives' Portraits, Part of University's 225th Anniversary Celebration, Opens Sept. 11
By Sharon S. Blake
Issue Date:
August 21, 2012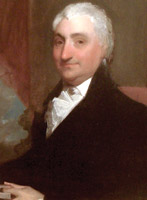 An exhibition of official portraits of chief executives of the University of Pittsburgh, some dating back to the era of Pitt's founding in 1787, will be open to the public from Sept. 11 through Oct. 14 in Pitt's University Art Gallery (UAG), located in the Frick Fine Arts Building.
Titled Faces to Names: 225 Years of Pitt Chancellors' Portraits (1787-2012), the free historical exhibition will be one of the principal features of Pitt's 225th anniversary celebration. A by-invitation-only opening reception will take place from 5 to 8 p.m. Sept. 10.
The UAG hours are 10 a.m.-4 p.m. Mondays through Fridays. The following special hours are for Pitt's Homecoming Weekend: Oct. 12, 10 a.m.-8 p.m.; Oct. 13 and 14, 10 a.m.-4 p.m.
Faces to Names represents the first time all of these portraits have been displayed for the public in the same space. It comprises 19 portraits of past chancellors and portraits of two of their wives. While it was customary for a Pitt chancellor to sit for his portrait after his service to the University was complete, there are no records of several chancellors having had their portraits done.
An array of watercolors of Pitt's Nationality Rooms as well as etchings and architectural drawings of the Cathedral of Learning will complement the display, as well as an original acoustical 78 rpm disc of the Philadelphia Orchestra under Leopold Stokowski performing Wagner's "Magic Fire Music" from Die Walkuere, which inspired Pitt Chancellor John Bowman and, through him, Philadelphia architect Charles Klauder to come up with the concept for the exterior design of the Cathedral of Learning. The recording comes from the collection of recording historians John Harvith, Pitt's senior associate vice chancellor for University News and Magazines, and his wife, Susan Edwards Harvith, a faculty member at Oasis.
Professor Kirk Savage, chair of Pitt's Department of History of Art and Architecture, said the selection of portraits of Pitt chancellors is more than an assortment of bygone individuals.
"Collectively, these pictures document the history of an institution and the history of the larger culture that gave birth to the institution and sustained it across more than two centuries," he said.
Faces to Names includes:
• An 1810 portrait of Hugh Henry Brackenridge (1748-1816), founder of the University of Pittsburgh, painted by Gilbert Stuart, most famous for his paintings of George Washington and the succeeding five presidents of the United States;
• A portrait of Brackenridge's wife, Sabrina Wolfe Brackenridge (1771-1845), painted by Rembrandt Peale, known for his portraits of George Washington and Thomas Jefferson that hang in the White House;
• A 1939 portrait of John Bowman (1877-1962), Pitt chancellor from 1921 to 1945, painted by Elizabeth Shoumatoff (1888-1980), best known for her unfinished portrait of Franklin D. Roosevelt, who was sitting for Shoumatoff's painting in Warm Springs, Ga., on April 12, 1945, when he collapsed and died from a cerebral hemorrhage; and
• Watercolor paintings of the interiors of some of Pitt's Nationality Rooms painted by Andrey Avinoff (1884-1949), Shoumatoff's brother, director of the Carnegie Museum of Natural History from 1926 to 1945, and designer of Pitt's Russian Nationality Room, who received an honorary doctorate from Pitt in 1927 and became affiliated with the University's Departments of Biology and Fine Arts.
As a complement to the Pitt 225th anniversary portrait exhibition, a panel discussion titled "Reading Hugh Henry Brackenridge" will take place from noon to 2 p.m. Sept. 28 in Pitt's Frick Fine Arts Auditorium. Pitt's founder was one of the first American novelists, a lawyer, a state legislator, a Pennsylvania Supreme Court justice, an educator, and founder of the Pittsburgh Gazette, now the Pittsburgh Post-Gazette. Three panelists, all Pitt faculty members, will discuss Brackenridge's satirical novel, Modern Chivalry, which is considered to be the first important fictional work about the American frontier—a frontier Don Quixote— and was completed a year before his death. They also will explore the early years of Pitt and Pittsburgh and notions of how a book can have something to say about the public's understanding and investment in law, politics, letters, and education.
Panelists will include Jean Ferguson Carr, director of the Women's Studies Program and a professor of English; Courtney Weikle-Mills, assistant professor of English; and Bernard Hibbetts, a professor of law.










Other Stories From This Issue
There are no stories for the issue at this time.
On the Freedom Road

Follow a group of Pitt students on the Returning to the Roots of Civil Rights bus tour, a nine-day, 2,300-mile journey crisscrossing five states.
Day 1: The Awakening
Day 2: Deep Impressions
Day 3: Music, Montgomery, and More
Day 4: Looking Back, Looking Forward
Day 5: Learning to Remember
Day 6: The Mountaintop
Day 7: Slavery and Beyond
Day 8: Lessons to Bring Home
Day 9: Final Lessons