First-Ever No. 1 Ranking for Pitt Men's Basketball Team
Issue Date:
January 12, 2009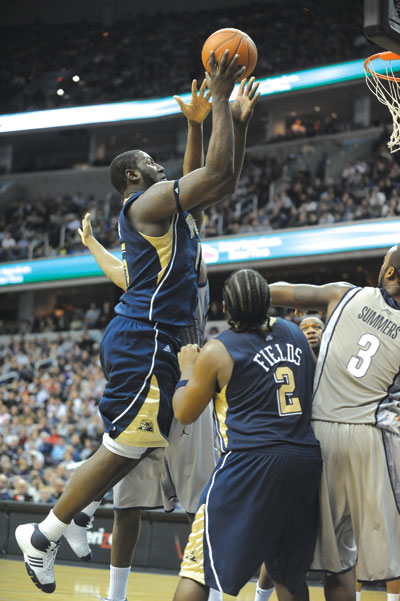 For the first time in school history, the University of Pittsburgh men's basketball program was ranked No. 1 in the weekly Associated Press and USA Today/ESPN coaches' polls, both announced Jan. 5.
Pitt ascended to the consensus No. 1 ranking after entering the week ranked No. 3 in both polls. On Jan. 5, No. 2-ranked Connecticut was defeated by No. 11-ranked Georgetown 74-63. No. 3 Pitt defeated both Rutgers (78-72) and Georgetown (70-54). No. 1-ranked North Carolina dropped an 85-78 decision to Boston College.
In the Associated Press poll, Pitt garnered 70 of the 72 first-place votes. The USA Today/ESPN poll saw Pitt earn 30 of the 31 first-place votes.
Pitt has held the No. 2 ranking on 16 different weekly occasions, the last being on Dec. 11, 2006. Since Jan. 7, 2002, Pitt has been ranked among the nation's top 25 teams in 117 of the previous 126 national polls. Additionally, Pitt has been ranked among the nation's top 10 teams in each of the last seven seasons (2002-08).
In addition, the Big East Conference set new weekly Associated Press and USA Today/ESPN coaches' poll records with nine programs ranked among the nation's top 25 teams. Those programs include Pitt, Connecticut, Syracuse, Georgetown, Notre Dame, Marquette, Villanova, Louisville, and West Virginia.
The men's basketball team becomes the first Pitt team to hold the No. 1 national ranking since the 1982 Pitt football season. The 1982 Pitt football team entered its season ranked No. 1 and held the top spot for three weeks during that year.
At 14-0, Pitt remains one of only four undefeated teams at the National Collegiate Athletic Association  Division I level. The other schools include Clemson (14-0), Illinois State (14-0), and Wake Forest (13-0).
Other Stories From This Issue
There are no stories for the issue at this time.
On the Freedom Road

Follow a group of Pitt students on the Returning to the Roots of Civil Rights bus tour, a nine-day, 2,300-mile journey crisscrossing five states.
Day 1: The Awakening
Day 2: Deep Impressions
Day 3: Music, Montgomery, and More
Day 4: Looking Back, Looking Forward
Day 5: Learning to Remember
Day 6: The Mountaintop
Day 7: Slavery and Beyond
Day 8: Lessons to Bring Home
Day 9: Final Lessons