Four Faculty Receive Provost's Award for Mentoring Excellence
By Adam Reger
Issue Date:
April 14, 2014
Four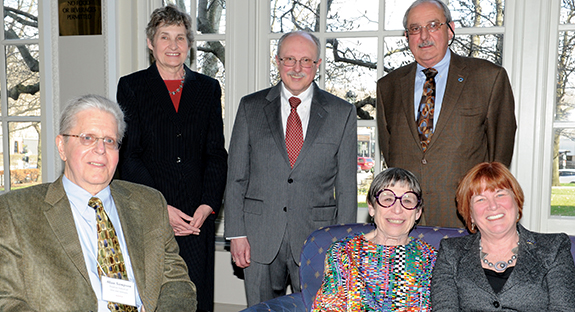 faculty members who have provided outstanding guidance to their doctoral students have received the 2014 Provost's Award for Mentoring. The honor, which carries a $2,500 cash prize, recognizes professors who have nurtured students' personal and professional development, providing a foundation for their careers long after their degrees have been granted. This is the award's ninth year.
The 2014 award recipients are Marcia Landy, Distinguished Professor of English and Film Studies; Stephen B. Manuck, Distinguished University Professor of Health Psychology and Behavioral Medicine; and Allan R. Sampson, a professor in the Department of Statistics, all within the Kenneth P. Dietrich School of Arts and Sciences; and Trevor J. Orchard, a professor in the Department of Epidemiology, Pitt's Graduate School of Public Health.
"These awardees have made special contributions to the personal and professional development of the individuals they have mentored," said Pitt Provost and Senior Vice Chancellor Patricia E. Beeson. "As outstanding scholars, Marcia, Stephen, Trevor, and Allan have not only contributed to their respective fields in positive ways, but as devoted mentors they have ensured that their legacies of excellence and meaningful impact will continue on through their students."
Marcia Landy is Distinguished Professor of English and Film Studies with a secondary appointment in the Department of French and Italian Languages and Literatures. A member of Pitt's faculty since 1966, Landy received the 2005 Chancellor's Distinguished Research Award in the Senior Scholar category. She has authored 12 books on cinema history, theory, and culture, including several studies of Italian cinema and the upcoming Cinema and Counter History, to be published by Indiana University Press. Her essays have appeared in numerous anthologies and in such journals as Screen, Quarterly Review of Film and Video, and boundary 2.
Stephen B. Manuck is Distinguished University Professor of Health Psychology and Behavioral Medicine. A member of Pitt's faculty since 1980, Manuck directs the Behavioral Physiology Laboratory in the Department of Psychology, which studies the role of behavior in the origins of cardiovascular disease and in aggression and impulse control. Manuck is also director of the University of Pittsburgh Adult Health and Behavior Project and of the Psychology Department's Initiative for Neurobehavioral Genetics. In 1999, he received the Outstanding Contributions to Health Psychology Award from the American Psychological Association and, in 2012, the Patricia R. Barchas Award in Sociophysiology of the American Psychosomatic Society. Manuck has been twice elected president of the Academy of Behavioral Medicine Research (1992-1993; 2012-2013).
Professor of Epidemiology Trevor J. Orchard joined Pitt's Graduate School of Public Health faculty in 1981 after beginning his career with the school in 1979 as a research physician in the Department of Epidemiology. With secondary appointments in the School of Medicine's Departments of Pediatrics and Medicine, Orchard is program director for the Cardiovascular Disease Epidemiology training program, and has served as medical director for Pitt's Nutrition Lipid Program since 1982. In 2008, Orchard won a Pitt Innovator Award from the Office of the Provost and Office of Technology Management, and in 1993 he was awarded the Kelly West Award from the American Diabetes Association for outstanding contributions to diabetes epidemiology. Orchard has also conducted a 25-year natural history study of childhood onset diabetes.
Professor of Statistics Allan R. Sampson joined Pitt's faculty in 1978 and has secondary appointments in the Department of Biostatistics and in the Clinical and Translational Science Institute. In 2012, he was elected a Fellow of the American Association for the Advancement of Science for his work in statistical methodology, advancing innovative statistical techniques in neuroscience and clinical trials, and fostering the study and teachin+6Z1of statistics. He is also a Fellow of the American Statistical Association and the Institute of Mathematical Statistics. His published research covers a broad spectrum from statistical methodology and theory to applications in biopharmaceuticals, psychiatry, and medicine.
Other Stories From This Issue
There are no stories for the issue at this time.
On the Freedom Road

Follow a group of Pitt students on the Returning to the Roots of Civil Rights bus tour, a nine-day, 2,300-mile journey crisscrossing five states.
Day 1: The Awakening
Day 2: Deep Impressions
Day 3: Music, Montgomery, and More
Day 4: Looking Back, Looking Forward
Day 5: Learning to Remember
Day 6: The Mountaintop
Day 7: Slavery and Beyond
Day 8: Lessons to Bring Home
Day 9: Final Lessons