Four University Professors Honored for Mentoring Excellence
By Micaela Corn
Issue Date:
April 11, 2016
The 2016 Provost's Award for Excellence in Mentoring has been given to four Pitt faculty members who have nurtured their doctoral students' professional and personal development, providing a strong foundation for the students' careers. The honor includes a $2,500 cash prize, and the awards were presented during an April 5 reception in the William Pitt Union.
"This year's faculty winners of the Excellence in Mentoring Awards have made exceptional contributions to their academic disciplines and to the development of our graduate students," said Pitt Provost and Senior Vice Chancellor Patricia E. Beeson. "This award honors faculty for the important impact they have made in the lives of graduate students they have mentored and the roles they play in ensuring the success of the next generation of scholars."
The award recipients follow.
George Reid Andrews is a Distinguished Professor of History in the Kenneth P. Dietrich School of Arts and Sciences. He is also the University Center for International Studies Research Professor of History. Andrews joined Pitt in 1981 as an assistant professor and has chaired the Department of History during several periods, including most recently from 2010-14. His research focuses on Latin America and comparative race.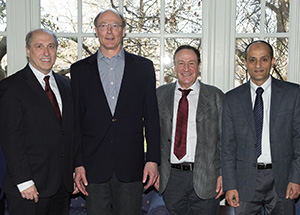 Richard Donato is a professor and chair of the Department of Instruction and Learning in the School of Education. He joined the University in 1989 as an assistant professor and now holds secondary appointments in the Department of Linguistics and the Department of French and Italian Languages and Literatures. His teaching and research focus on foreign- and second-language acquisition and sociocultural approaches to language instruction.
Dennis Galletta is a professor of business administration and director of the doctoral program in the Joseph M. Katz Graduate School of Business. He joined Pitt's faculty in 1985 as an assistant professor. Galletta teaches courses in human-computer interaction, information systems, and electronic commerce.
Abdus S. Wahed is a professor of biostatistics and director of the PhD graduate program in the Department of Biostatistics, Graduate School of Public Health. He is also a senior statistician in the Department of Epidemiology. Wahed joined Pitt's faculty as an assistant professor in 2003. His primary research interest is personalized medicine, and he has collaborated on the development of multi-stage depression treatment plans as well as a number of other projects.
Other Stories From This Issue
There are no stories for the issue at this time.
On the Freedom Road

Follow a group of Pitt students on the Returning to the Roots of Civil Rights bus tour, a nine-day, 2,300-mile journey crisscrossing five states.
Day 1: The Awakening
Day 2: Deep Impressions
Day 3: Music, Montgomery, and More
Day 4: Looking Back, Looking Forward
Day 5: Learning to Remember
Day 6: The Mountaintop
Day 7: Slavery and Beyond
Day 8: Lessons to Bring Home
Day 9: Final Lessons