Freedom House: Documentary Tells the Story of the Nation's First Paramedics—Trained by Pitt Physicians
Issue Date:
January 29, 2007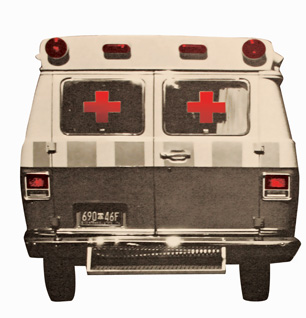 Pittsburghers who needed emergency medical care used to be transported to hospitals in the backs of police wagons. Their medical treatment began at the hospital door.
But that changed in 1967, with the establishment of the Hill District-based Freedom House Ambulance Service.
The service's members made history as the first ambulatory unit in the country trained in advanced emergency medical care, saving lives and paving the way for a new professional—the paramedic.
Weaving the concept of mobile emergency care into a local antipoverty initiative, city leaders combed the streets of the Hill District and the North Side, recruiting unemployed, so-called "unemployable," and largely uneducated Black men to serve as Freedom House drivers, dispatchers, and other attendants.
These men trained under Peter Safar (1924-2003), a Pitt anesthesiologist and medical visionary who had developed a method of cardiopulmonary resuscitation. The life-saving techniques performed on Pittsburgh streets and in local ambulances became the model for emergency medical care nationwide.
Then, almost as suddenly as this unlikely experiment began, it ended.
The story is told in Freedom House, a one-hour documentary by Gene Starzenski of GenaStar Productions of Los Angeles.
Marking the 40th anniversary of the founding of Freedom House Ambulance, and in celebration of Black History Month, Pitt will sponsor the world-premiere screening of the film at 6:30 p.m. Feb.15 in Oakland's Twentieth Century Club. The by-invitation event will include a prescreening reception, the premiere at 7:30 p.m., and an 8:45 p.m. après reception.
Chancellor Mark A. Nordenberg and Hill House Association President Evan S. Frazier will host the ceremony. Also attending will be former Freedom House employees, local dignitaries, and government and community leaders, along with Pitt faculty, staff, and students.
How the film came to be made is a story in itself.
Starzenski, once an attendant for a North Side-based ambulance company and an orderly in the South Side Hospital emergency room, witnessed the Freedom House attendants in action. He was awed by their high level of medical training and the sophisticated equipment in their vehicles.
In 1975, Starzenski landed a job in Los Angeles as a paramedic on film sets. But he did not forget the Freedom House Ambulance Service.
In 1984, he drafted a story, returning to Pittsburgh to interview the service's founders. Then Starzenski began showing his draft to producers and directors on movie lots.
Buoyed by their enthusiastic responses but lacking financial backing, Starzenski began filming the documentary in his spare time, using his own funds, in 2001.
Six years and many hurdles later, with financial support from Pitt's Office of the Chancellor and research help from the University's Office of Public Affairs, the paramedic/filmmaker finally will present this story on the screen.
Creation of the Freedom House Ambulance Service was proposed by Philip Hallen, president of the Maurice Falk Medical Fund, now The Falk Foundation. He convinced leaders of the fledgling nonprofit corporation Freedom House Enterprises to run the operation. Morton Coleman, who worked in the office of then-Mayor Joseph Barr and taught in Pitt's School of Social Work, suggested combining the ambulance service with a city program that trained unemployed men and women.
Safar, known worldwide as the "Father of CPR," devised the training, which included 300 hours of classroom and clinical work in anatomy and physiology, first aid, resuscitation, and medical ethics and legalities, as well as hands-on instruction in operating rooms, emergency rooms, maternity wards, and the morgue.
More than 50 people worked as Freedom House paramedics and dispatchers over the group's eight-year history. Caring for patients ranging from burn cases to gunshot victims and expectant mothers to drug-overdose casualties, Freedom House members handled upwards of 45,000 emergency calls.
The cry "Send Freedom House!" became familiar throughout Pittsburgh in those days, even among city police officers needing ambulances for their family members. But in 1975, the City of Pittsburgh launched its own professional ambulance service, absorbing Freedom House assets. The City did not continue or expand the Freedom House contract or give Freedom House staff special consideration—and few who got their start with Freedom House ultimately joined the City's ambulance service.
"For most of the Freedom House heroes, their amazing careers that began unexpectedly, ended unexpectedly," Starzenski noted. "They were back on the streets, and their accomplishments forgotten."
The paramedic/filmmaker said he persisted with making Freedom House "to salute a life-saving idea, to honor the heroes from the streets of the Hill, to enrich the history of Pittsburgh, to celebrate advances in paramedic care, to right some wrongs, and to spotlight the often-forgotten contributions of African Americans."
Other Stories From This Issue
There are no stories for the issue at this time.
On the Freedom Road

Follow a group of Pitt students on the Returning to the Roots of Civil Rights bus tour, a nine-day, 2,300-mile journey crisscrossing five states.
Day 1: The Awakening
Day 2: Deep Impressions
Day 3: Music, Montgomery, and More
Day 4: Looking Back, Looking Forward
Day 5: Learning to Remember
Day 6: The Mountaintop
Day 7: Slavery and Beyond
Day 8: Lessons to Bring Home
Day 9: Final Lessons