Gao Minglu: Illuminating the Avant-Garde
By Elizabeth Hoover
Issue Date:
November 17, 2016
"Chinese Apartment Art: Primary Documents from the Gao Minglu Archive, 1970s–90s," is on view at the University Art Gallery in the Frick Fine Arts Building through December 9. Hours are Monday through Friday, 10 a.m. to 4 p.m.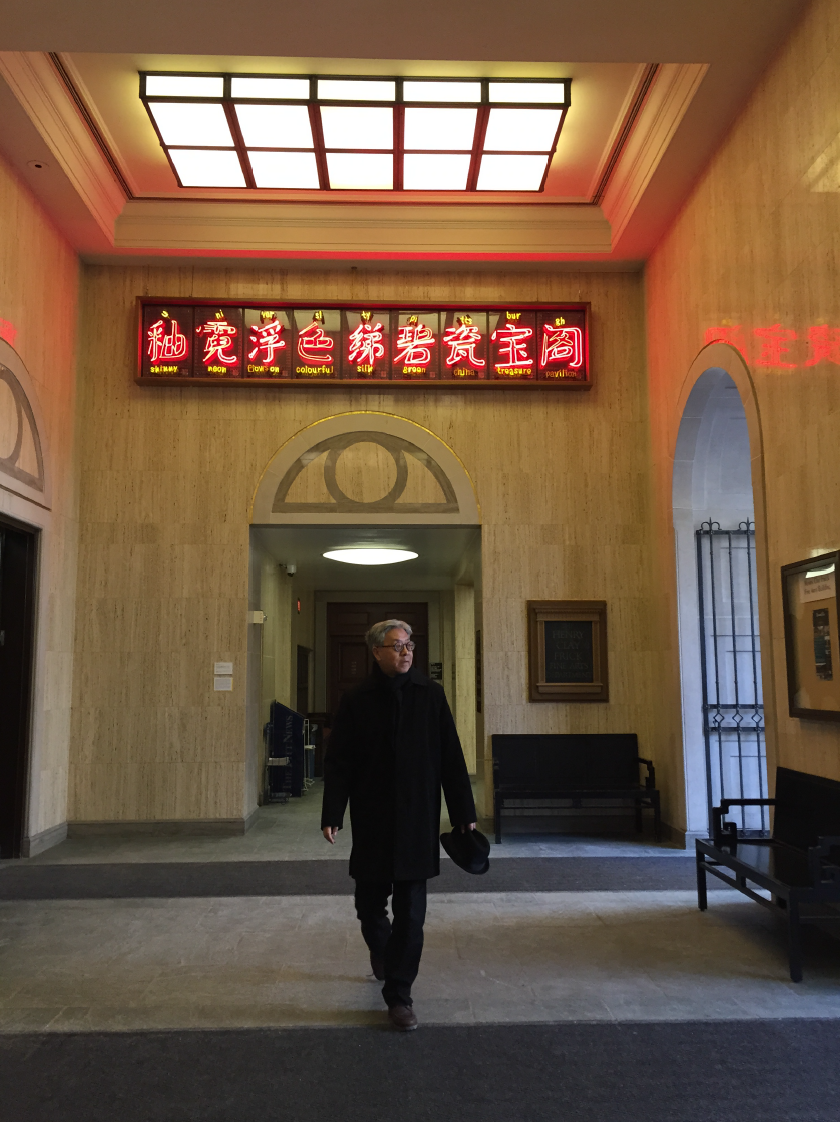 Four black banners stretched floor to ceiling in the lobby of the National Art Museum of China in Beijing, each with a white U-turn sign circled and crossed out in red. The artwork symbolized a turning point in Chinese contemporary art: the country's first exhibit of avant-garde art. The show was a stunning achievement for curator Gao Minglu, not only because he discovered and defined a new genre in China, but also because he persevered through a years-long struggle with Chinese bureaucracy to get permission for the show.
The triumph of the exhibition's opening was short-lived. Within hours, the police shut it down after an artist fired a gun into her own installation as an act of performance art. "That exhibition was like my son," Gao says. "I devoted too much to give up on it." So he started fighting, again, to re-open the show.
That show took place nearly 30 years ago, in 1989, but scholars are still wrestling with the implications of the art it presented. Now a research professor in Pitt's Department of History of Art and Architecture, Gao has dedicated his career to advocating for conceptual and experimental artists from China. "Gao is Chinese contemporary art," says Barbara McCloskey, a professor and chair of the department. "He has constituted it as a new field of research."
Gao never imagined such a possibility while studying for college entrance exams by oil lamp in a freezing yurt in Inner Mongolia. In 1968, 17-year-old Gao was sent to Mongolia as part of a government re-education program. "It was lonely," he says of the five years he spent herding cattle, far from his family. "I was just like a cowboy."
When the Cultural Revolution ended in 1976, educational opportunities reopened. Gao graduated from the China National Academy of Art in 1985 and became an editor of China's most important art magazine. During his tenure, he recognized a shared impulse among the artists: influenced by Western writings that had just become available, they integrated practices from Western conceptual art with Chinese aesthetics. Gao termed this the '85 Movement, referring to China's avant-garde movement that emerged in the mid-1980s.
He introduced the '85 Movement to the public in that 1989 show at the National Art Museum of China. Though it was initially shut down, the show ultimately reopened. "People didn't know about this phenomenon of conceptual art at all," Gao says. "They were shocked." A few months after the exhibition closed, protests erupted in Tiananmen Square and the government cracked down on freedom of expression.
Gao's boss ordered him to stay home and study Marxism. Instead, he worked on a book about ancient Chinese art. "I think I already knew Marxism," he says with a laugh. He eventually secured permission to travel to the United States, and in 2005, he came to Pitt, attracted to the Department of History of Art and Architecture's investment in international contemporary art. "I also imagined that when I retired I could sit in [Pitt's] East Asian Library and do my writing," he adds.
Gao has curated major exhibitions in the United States that introduced Western audiences to Chinese avant-garde art, and he also created a foundation for the study of the genre. Gao says that, early on, many American curators only knew a small sliver of Chinese art, namely pop art. "Pop is easily understood," he says. "I have to convince the other curators that there is diversity in Chinese art."
"I don't like Pop very much," Gao adds. "Personally I prefer a kind of profound, intellectual deep thinking."
Instead, he exhibits conceptual works like Song Dong's Printing on Water. For this performance piece, Song knelt in Tibet's Lhasa River, futilely stamping the water with a wooden seal carved with the character for "water." This ephemeral performance, captured in photographs, meditates on the nature of language.
Gao travels to China annually to document performances like Song's. In 2014, he curated an exhibit at Pitt's University Art Gallery featuring video art and videos of artists' performances from his vast archive. His archive holds more than 17,000 items, including artists' working notes, correspondence, and exhibition catalogues. "If those voices aren't preserved in Gao's archive, they aren't preserved at all," McCloskey says. In addition, Pitt students working with Gao learn how to install and exhibit unique materials.
Over the past two decades, Gao has seen a trend of Chinese artists becoming more concerned with the art market than with the big ideas that fueled the '85 Movement. However, he says, the avant-garde spirit is alive in something Gao calls "apartment art," or conceptual art created in artists' homes without support from the government or the market. Now through Dec. 9, Gao's curated exhibition of apartment art is on view at the University Art Gallery.
"The treasure of your art comes from individual creation or individual philosophy," he says. "You should have a sense that you made something that cannot be replaced."
The same can be said of Gao's scholarship, which forged new fields of inquiry in contemporary art and revealed the Chinese avant-garde to the world.
Other Stories From This Issue
There are no stories for the issue at this time.
On the Freedom Road

Follow a group of Pitt students on the Returning to the Roots of Civil Rights bus tour, a nine-day, 2,300-mile journey crisscrossing five states.
Day 1: The Awakening
Day 2: Deep Impressions
Day 3: Music, Montgomery, and More
Day 4: Looking Back, Looking Forward
Day 5: Learning to Remember
Day 6: The Mountaintop
Day 7: Slavery and Beyond
Day 8: Lessons to Bring Home
Day 9: Final Lessons