Generalovich, Hickton, and Marino Advanced As Pitt Trustee Candidates by Board's Nominating Committee
Issue Date:
June 23, 2008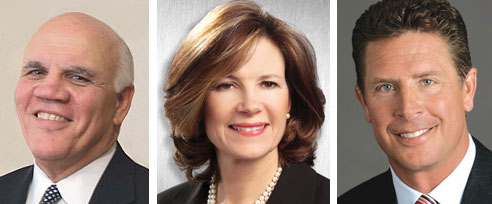 The Nominating Committee of the University of Pittsburgh Board of Trustees on June 20 advanced three individuals as new candidates for membership on the board: Brian Generalovich (Arts and Sciences '66, Dental Medicine '68), a dentist in private practice in Hermitage, Pa., and immediate past president (2006-08) of the Pitt Alumni Association; Dawne S. Hickton (Law '83), vice chair and CEO of RTI International Metals, Inc.; and College and Pro Football Hall of Famer Dan Marino (Arts and Sciences '83), in-studio cohost of CBS-TV's The NFL Today and president of the Dan Marino Foundation.
The full board of trustees will act on the nominations at its June 27 annual meeting.
Biographical information on the new candidates advanced by the Nominating Committee follows.
Brian Generalovich, a Pitt Volunteer of the Year in 2000, previously served as treasurer and vice president of the Pitt Alumni Association as well as director emeritus of its board of directors. As part of his volunteer work for the alumni association, he chaired the Alumni Center Committee and was instrumental in the creation of the Alumni Center in Alumni Hall and also in the creation of the Student Alumni Association, launched during his first term as alumni association president.
Generalovich attended Pitt on an athletic scholarship and played basketball from 1961 to 1964 and football in 1964; he was team captain of the men's basketball team and an Academic All-American for his final two seasons, was a two-time UPI-AP All-American, was voted Most Valuable Player in basketball for three successive seasons, graduated as the fifth all-time leading scorer in Pitt basketball history, and lettered in football. Drafted by the New York Knicks, the Boston Patriots, and the Pittsburgh Steelers after earning the Bachelor of Science degree at Pitt, he passed up these opportunities and instead attended Pitt's School of Dental Medicine, serving for two years in the U.S. Army Dental Corps following his receipt of the Doctor of Dental Medicine degree. While in dental school in 1965-66, he played in the Eastern Professional Basketball League. In 1993, Pitt named him a Varsity Letterwinner of Distinction.
Generalovich was inducted into the Pennsylvania Sports Hall of Fame's Western Chapter in 1986 and the Mercer County Sports Hall of Fame in 1996 and serves on the latter organization's board of directors. He also is a member of the Rocky Mountain Orthodontics Dentist Athletic Hall of Fame. He is a member of the American Dental Association, the Pennsylvania Dental Association, and the American Federation of Prosthodontists.
With more than 20 years of diversified metals experience, including more than 10 years in the titanium industry, Dawne Hickton was named in April 2007 to her current position as vice chair and CEO of RTI International Metals, a leading U.S. producer of titanium mill products and fabricated metal components for aerospace, defense, industrial, and other markets that recently moved its corporate headquarters to Pittsburgh; she was formerly senior vice president and chief administrative officer (CAO) at RTI. During her tenure as CEO, RTI has signed more than $4 billion in long-term agreements with such key corporate customers as Boeing, Airbus, and Lockheed Martin. RTI also has embarked on $400 million in facilities expansions intended to diversify its raw material sourcing and increase production capacity by more than 35 percent. As RTI's CAO, she had responsibility for audit, accounting, finance, treasury, human resources, investor relations, and legal matters; among the strategic issues she dealt with were the company's restructuring, international expansion, and labor relations.
Immediately prior to joining RTI, Hickton was assistant professor of clinical law at Pitt, where she taught trial advocacy and benefits law and directed a clinical corporate law program in conjunction with Carnegie Mellon University's business school. She was the founding president of what is now the W. Edward Sell Inns of Court chapter, which brings together judges, lawyers, Pitt law professors, and Pitt law students for programs and discussions on matters of ethics, skills, and professionalism. For a significant portion of her earlier career, she was employed at USX Corporation, where she worked not only for the parent organization, but also the U.S. Steel, American Bridge, and U.S. Steel Mining Company divisions. Before earning her JD degree at Pitt, she received the BA degree from the University of Rochester.
During one of the most accomplished college football careers in the sport's history, Dan Marino established several National Collegiate Athletic Association (NCAA) season and career records for pass attempts and completions, yardage, and touchdowns. His uniform number, 13, was formally retired by Pitt in December 1982, and, in 2003, Marino was honored for his outstanding NCAA career with induction into the College Football Hall of Fame.
Marino earned his Bachelor of Arts degree in communication at Pitt in 1983 and was drafted in the first round by the NFL's Miami Dolphins. He continued his athletic success as a professional, setting more than 20 individual-season and career passing records during his 17-year NFL career that culminated in his induction into the Pro Football Hall of Fame in 2005.
The respect and popularity Marino earned as a player led to his appearances in a number of Hollywood feature films. That same popularity also aided his transition into his current career as a broadcast sports commentator acclaimed for his ability to convey his analytical knowledge to a vast television audience, formerly as cohost of HBO's award-winning program Inside the NFL and now as cohost of CBS' The NFL Today.
Sensitized to a set of compelling health issues by a challenge within their own family, Dan and Claire Marino created the Dan Marino Foundation in 1992 to meet the need for comprehensive and integrated treatment programs for children with developmental disabilities and chronic medical problems. In November 2007, the Marinos received the Public Services Award for Outstanding Contributions to Public Health, one of the International Health and Medical Media Awards presented by MediMedia; and in January 2008, they were recognized by Nova Southwestern University with the President's Community Award for their outstanding contributions to the university and the South Florida community.
Earlier this year, Florida Governor Charlie Crist named Marino cochair of the Task Force on Autism Spectrum Disorders, which will deliver, by March 2009, recommendations on ways to address the growing health crisis autism presents. Marino delivered the address and received an honorary doctorate in broadcast journalism at Pitt's 2008 Commencement on April 27.
Other Stories From This Issue
There are no stories for the issue at this time.
On the Freedom Road

Follow a group of Pitt students on the Returning to the Roots of Civil Rights bus tour, a nine-day, 2,300-mile journey crisscrossing five states.
Day 1: The Awakening
Day 2: Deep Impressions
Day 3: Music, Montgomery, and More
Day 4: Looking Back, Looking Forward
Day 5: Learning to Remember
Day 6: The Mountaintop
Day 7: Slavery and Beyond
Day 8: Lessons to Bring Home
Day 9: Final Lessons