Geri Allen: Finding Creative Simpatico
By Ervin Dyer
Issue Date:
February 24, 2014
It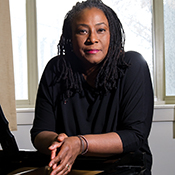 has been a whirlwind few years for internationally renowned pianist Geri Allen. She has played several collaborations at the historic Village Vanguard in New York City; attended a California tribute to Grammy winner Charlie Haden for his lifetime achievement in jazz; and toured in early fall with the collaborative ACS Trio—drummer Terri Lyne Carrington, bassist Esperanza Spalding, and Allen on piano.
Last year, the musician was busily planning Pitt's 43rd annual Pitt Jazz Seminar and Concert, held in November. Allen, who earned her master's degree in ethnomusicology at Pitt in 1982, is the new director of Pitt's Jazz Studies Program, replacing her mentor Nathan Davis, a professor emeritus who retired last summer.
Allen was 6 or 7 years old when she saw a Leonard Bernstein Young People's Concert on television and was mesmerized by the piano playing. As a teenager in Detroit, where she grew up, she came through a summer parks program that paired youths with professional artists. She learned from and reveled in the techniques and stories of trumpeter Marcus Belgrave.
In her adult life, Allen—who was named a 2008 Guggenheim Fellow in music composition—has worked with numerous jazz greats including Betty Carter, Ornette Coleman, and Dewey Redman. Last fall, with the New Jersey Symphony Orchestra, she composed a new work to mark the 50th anniversary of the Rev. Dr. Martin Luther King Jr.'s "I Have A Dream" speech. The result was Stones and Streams, a blend of jazz, blues, and African American spirituals. It was an ambitious project that took a year to complete, and what was she thinking she wanted to accomplish?
My first thoughts: How do I honor Dr. Martin Luther King, and the 50th anniversary of the March on Washington, as well as two other foundational moments: 1863, the sesquicentennial of the Emancipation Proclamation, and the present, with all of its promises and challenges. Where should I start?
I knew that maestro Jacques Lacombe was interested in a program highlighting African American composers, and I knew he wanted to focus on spirituals as a theme.
So, I had a place to begin.
The theme of my composition would draw from "Oh, Freedom," a 90-year-old spiritual that spoke passionately about redemption, and liberation. Like all African American spirituals, it comes out of the painful reality of slavery and reflects an Afro-Christian affirmation of hope and strength in the midst of one of our darkest times as Americans. The spiritual's text defiantly speaks to collective liberation, spiritual and physical, both in this world and in the next.
"And before I'd be a slave,
I'd be buried in my grave,
and go home to my Lord and be free."
In composing this piece, I usually worked very late into the night. It was my quiet space, uninterrupted. There, I would find inspiration in Dr. King's words while listening to a range of music across genre. I experimented with ideas about instrumentation, orchestration and the worlds of spirituals, the blues, jazz, and classical music. I wanted to find just the right creative simpatico in performance. I always found myself returning to Dr. King's rhythm and cadence, the shapes and meaning behind his phrases. This process organically informed the composition.
Other Stories From This Issue
There are no stories for the issue at this time.
On the Freedom Road

Follow a group of Pitt students on the Returning to the Roots of Civil Rights bus tour, a nine-day, 2,300-mile journey crisscrossing five states.
Day 1: The Awakening
Day 2: Deep Impressions
Day 3: Music, Montgomery, and More
Day 4: Looking Back, Looking Forward
Day 5: Learning to Remember
Day 6: The Mountaintop
Day 7: Slavery and Beyond
Day 8: Lessons to Bring Home
Day 9: Final Lessons