Giuliani, Thornburgh Help Dedicate Waldman Room
By Jason Togyer
Issue Date:
December 3, 2007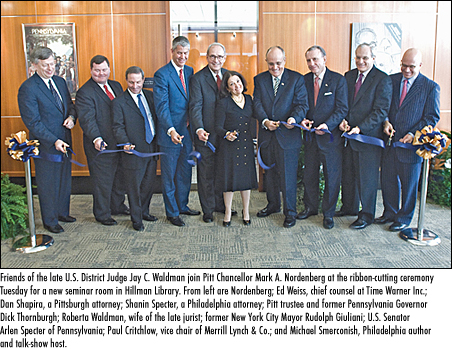 With laughter and a few tears, friends and family of the late U.S. District Judge Jay C. Waldman remembered his life during the dedication Tuesday of a new Hillman Library seminar room named in Waldman's honor.
The intentionally low-key ceremony was a surprise to Pitt students using the library, who got the unexpected chance to mingle with Republican presidential candidate Rudolph Giuliani. The former mayor of New York City interrupted his campaign to participate in the Waldman tribute.
A close friend of Waldman, Giuliani joined Pitt Chancellor Mark A. Nordenberg, U.S. Senator Arlen Specter, former Pennsylvania Governor Richard L. Thornburgh (LAW '57), and dozens of other dignitaries to officially open the new Judge Jay C. Waldman Seminar Room.
Located on Hillman's first floor, the wood-paneled study area will be used for seminars by faculty and students. Shelves and walls display a selection of artifacts from Waldman's career, including photos, newspaper clippings, and his law school textbooks, many of which are annotated in his own hand.
The seminar room adjoins the library's Dick Thornburgh Room—an appropriate place, Nordenberg said, because Waldman served as one of Thornburgh's most trusted advisors for more than 30 years, and they often had adjoining offices.
Thornburgh, who Nordenberg called a "source of inspiration to Pitt students and faculty," is a Pitt trustee and former U.S. Attorney for the Western District of Pennsylvania who also served as U.S. Attorney General in the Reagan and George H.W. Bush administrations. The University has been the official repository for Thornburgh's papers since 1998 and has hosted the Thornburgh Family Lecture Series on Disability Law and Policy since 2003.
Waldman "had the capacity and planning ability to prepare for political and governmental challenges that no one else anticipated," Thornburgh said. "He developed what I called the ability to see around corners."
A Pittsburgh native and alumnus of Taylor Allderdice High School in the city's Squirrel Hill neighborhood, Waldman, who died in 2003 at the age of 58, was a graduate of Yale University and the University of Pennsylvania Law School. In 1971, he served as assistant U.S. attorney under Thornburgh, then followed him to a post at the U.S. Justice Department in Washington, D.C., under President Ford.
After managing Thornburgh's successful Pennsylvania gubernatorial campaign in 1978, Waldman went to Harrisburg as one of the new governor's "Five Musketeers"—his inner circle of close advisers.
As executive assistant and general counsel to Thornburgh, Waldman became famous for his willingness to take the heat when the governor made difficult political decisions. The Philadelphia Evening Bulletin called him "the power behind the throne," while the Philadelphia Inquirer called him Pennsylvania's "shadow governor."
In 1988, Waldman was appointed a U.S. district court judge and began serving on the federal bench in Philadelphia. He was nominated by President George W. Bush to the Third U.S. Circuit Court of Appeals in 2003, but died of lung cancer while waiting to be confirmed by the U.S. Senate.
Waldman lived his life "at the intersection of law, politics, and intellectualism," Specter said. "What a fitting tribute that he should be honored with a seminar room where people can think about those things and try to emulate his achievements."
Giuliani said he met Waldman in 1975, when both were federal prosecutors—one in New York, the other in Pittsburgh. The two bonded over their common love of the law—and cigars, he said. In later years, Giuliani came to depend on Waldman's reliable, no-nonsense personal and professional counsel.
But, Giuliani joked, both men were wrong on the most important advice they gave each other; Waldman told Giuliani not to run for mayor of New York City, while Giuliani, afraid Waldman would find a federal judgeship stifling, told him not to seek an appointment to the bench.
"I was completely wrong," Giuliani said. "I didn't realize what a serious interest he had in the law. He was tremendously dedicated, tremendously well respected by both sides. It proved that no matter how well you think you know somebody, there's always a deeper side to them.
"This is a joyous occasion because Jay was a very optimistic guy," he said, "but I'm very sad and miss him tremendously, and I can't go past Philadelphia in my many travels without thinking of him."
Giuliani and other speakers also paid tribute to Waldman's wife, Roberta, an assistant vice president at Merrill Lynch & Co. James Seif, who worked with Waldman and Thornburgh on both the state and federal levels, called Roberta Waldman "a power package" and "a dynamo" behind her late husband.
"You should view this Jay Waldman Seminar Room as a reflection of the respect and affection we have for you, Bobbi," Nordenberg told Roberta Waldman.
Other Pitt officials included in the celebration included Provost and Senior Vice Chancellor James V. Maher; Vice Provost for Academic Planning and Resources Management Robert Pack; Vice Chancellor for Institutional Advancement Al Novak; and Rush Miller, Hillman University Librarian, director of University Libraries, and professor of information sciences.
The master of ceremonies was Paul Critchlow, vice chair of Merrill Lynch & Co., who served as Thornburgh's press secretary from 1978 to 1984 and helped lead the fundraising drive for the Waldman Room along with Seif; Thornburgh's son, John; and Samuel S. Zacharias (CAS '64), a principal in Gateway Financial Group Inc., a member of Pitt's Board of Trustees, and an emeritus president of the Pitt Alumni Association. Other guests included philanthropist and Pitt benefactor Elsie Hillman; former Pennsylvania attorney general D. Michael Fisher, now a judge on the Third U.S. Circuit Court of Appeals and an emeritus member of Pitt's Board of Trustees; and Evans Rose Jr. (LAW '59), a director of Cohen & Grigsby, P.C., and an emeritus member of Pitt's Board of Trustees.
After the ceremony, Giuliani briefly signed autographs for Pitt students, several of whom took the opportunity to have their photos taken using cell-phone cameras. Guests then adjourned to the William Pitt Union for a luncheon.
Other Stories From This Issue
There are no stories for the issue at this time.
On the Freedom Road

Follow a group of Pitt students on the Returning to the Roots of Civil Rights bus tour, a nine-day, 2,300-mile journey crisscrossing five states.
Day 1: The Awakening
Day 2: Deep Impressions
Day 3: Music, Montgomery, and More
Day 4: Looking Back, Looking Forward
Day 5: Learning to Remember
Day 6: The Mountaintop
Day 7: Slavery and Beyond
Day 8: Lessons to Bring Home
Day 9: Final Lessons