Giving His All: Pitt Panther running back and freshman Dion Lewis works for success on the field—and in life, too
Issue Date:
February 15, 2010
The moment he made a sharp juke move to his right to evade a final defender at the 11-yard line, Pitt running back Dion Lewis knew his first touchdown as a Panther was mere seconds away.
"It felt good. It felt really good." The freshman communication major grins as he recalls standing in the back left corner of Heinz Field's south end zone being congratulated by teammates and cheered on by a crowd of thousands of Pitt fans. "It was exciting, but I couldn't lose my head over it. We were only halfway through the first quarter; there was still a lot of game to go and a lot of work to do."
Indeed, Lewis had a lot left to accomplish in the game that was Pitt's 2009 season opener. By the end of the game against the Youngstown State University Penguins, he had scored two more touchdowns, rushed 129 yards, and grabbed the attention of the nation's football fans as he led his teammates to a 38-3 victory.
That game would turn out to be just the start of an outstanding freshman campaign, which resulted in 18 touchdowns and 1,799 yards rushing, culminating with the Most Valuable Player designation in the 2009 Meineke Car Care Bowl. Yet, even as many college football analysts are predicting he will be a Heisman Trophy favorite for 2010, Lewis has remained humble and acknowledges his skill set is far from complete.
"This off-season, my focus is on working on my game and becoming a more accomplished, all-around football player for next season," says Lewis, an Albany, New York, native.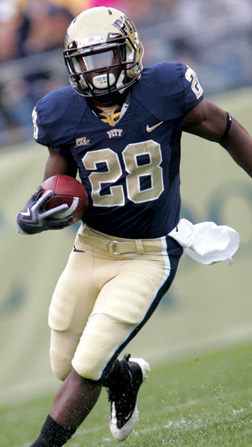 Healthy anticipation and working today for the future are key mindsets for Lewis. And fortunately, Pitt's philosophy for its student athletes dovetails nicely with Lewis' vision for the future. One of the most impressive aspects of the University during his recruitment period, Lewis recalls, was its emphasis on producing athletes who are also high-quality students.
"Pitt is a great academic school. It's not one of those colleges where you can play football and get away with not going to class and not doing what you're supposed to be doing," says Lewis, who would like to become an NFL commentator when his football career is over. "Sports has played a big part in my life, but football isn't forever, and there are a lot of different things that I can do with a communication degree. That was important to me in making my decision on which school to attend."
Focused and driven beyond his years, Lewis says he views football as more than just a game: He also sees it as a means to building a secure future for himself and his family. Lewis is dedicating this period of his life to laying the foundation for that future.
The roots of this solid sense of focus spring directly from Lewis' parents. Lewis is the third of the four children of Leroy and Linda Lewis, a construction worker and social worker, respectively. He said both of his parents were strong disciplinarians who wanted all of their children to be driven and self-disciplined.
This sentiment is clear to anyone who has ever spent a significant amount of time with the Lewis family. Jeff Hafley, Pitt's secondary coach who recruited Lewis to the University, says that Dion's family life has definitely shaped the man he is today.
"When you look at Dion I think you can easily see a lot of his parents' influences within him," says Hafley. "In Dion, you have all the intangibles of a dynamic football player. He has a tremendous drive to be the best, and once you get to know him you see how dedicated he is in all aspects of life.
On the football field, Lewis makes it all look easy, but the 19-year-old's daily life outside of football is anything but a breeze. What most spectators do not see is the exhausting grind of both academic and football-related responsibilities within Lewis' weekly routine. His schedule consists of a full-time class load, football practice, tutoring sessions, hours devoted to strength and conditioning, traveling—all of this before representing Pitt on the football field on Saturday afternoons.
A normal day in the life of student-athlete Lewis starts with a string of morning classes followed by various football activities. After enduring the rigors of daily classes and practice, your average freshman student would retreat to the leisure of their room.
But not Lewis.
His dedication to performing well academically is strong, and in the evenings, he can often be found in tutoring sessions in the University's Petersen Events Center. If he does not have a night class on that particular evening, he will return to his dorm room to ice injuries and study alone for a few hours before calling it a day—and then will get up early the next morning and do it all over again.
Lewis sees the tight schedule as an integral part of being a Pitt student. His studies and football are priorities. But on those rare occasions when he can find the time, Lewis explores his surroundings. Pitt has much to offer culturally, he says, adding that he is enjoying the numerous events the University is sponsoring for February's Black History Month.
Lewis views this month as an opportunity to celebrate those who have made great sacrifices, not just for African Americans, but for all Americans. He cites Mohammed Ali as a childhood role model because of Ali's athletic prowess and his strong stance when he joined the Nation of Islam, sparking a firestorm of public controversy.
While Lewis says he does not consider himself to be a role model, he understands that others may see him that way. "You may not want to be a role model, but the reality is that people are watching you and little kids are going to look up to you; it's a part of life," he says, adding that he doesn't spend too much time thinking about it.
The future appears bright for Lewis—a future that could include a career in the NFL—but today, his focus is on preparing for the short term, the 2010 season.
"Professional ball is nice to think about, but that's not where my head is at right now," says Lewis, referring to the upcoming fall season. "I want to be remembered as a team player, a guy who always gave it his all, tried to make things happen on the field, and who worked for everything he received."
Other Stories From This Issue
There are no stories for the issue at this time.
On the Freedom Road

Follow a group of Pitt students on the Returning to the Roots of Civil Rights bus tour, a nine-day, 2,300-mile journey crisscrossing five states.
Day 1: The Awakening
Day 2: Deep Impressions
Day 3: Music, Montgomery, and More
Day 4: Looking Back, Looking Forward
Day 5: Learning to Remember
Day 6: The Mountaintop
Day 7: Slavery and Beyond
Day 8: Lessons to Bring Home
Day 9: Final Lessons