Gleim Named Interim Associate Vice Chancellor for Alumni Relations at Pitt
By Patricia Lomando White
Issue Date:
June 23, 2008
He succeeds Leland Patouillet, who has led alumni relations for 17 years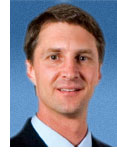 Jeff Gleim (right), associate executive director of the Pitt Alumni Association (PAA), has been named interim associate vice chancellor for alumni relations at Pitt, effective Aug. 1, vice chancellor for institutional advancement Albert J. Novak Jr. announced today. Gleim will succeed Leland D. Patouillet, associate vice chancellor for alumni relations and executive director of the PAA, who will become executive director and associate vice president of alumni relations at the University of Florida. Patouillet has headed alumni relations at Pitt since 1991.
"When Lee came to the University, he inherited an underdeveloped alumni relations program and transformed it into a national leader," said Pitt Chancellor Mark A. Nordenberg. "Because of Lee's work here, Pitt will always be at the forefront of alumni relations. He has represented the University with distinction, transformed our program from a locally focused affinity group to an international program of real scope and vision, and strengthened the professionalism and organization of his division."
"It has been my pleasure to work with Lee for the past 11 years," said Novak. "During Lee's tenure, the Pitt Alumni Association has grown in strength, impact, and reputation, and we always will be grateful for his very significant contributions to that progress. We also look forward with confidence to the leadership Jeff Gleim will provide, with his proven track record and professionalism in the field of alumni relations."
As associate executive director, Gleim oversees the communications, marketing, membership, student involvement, and outreach areas within the PAA.
Prior to joining the University on Feb. 5, 2007, Gleim was director of The Ohio State University Alumni Associations Advocates Program. He served for more than a decade in a number of key management positions within Ohio State Alumni Association. While at Ohio State, Gleim was responsible for more than 200 alumni clubs and organizations worldwide. He directed a successful alumni advocacy program and was instrumental in developing its new strategic plan and generating new sources of revenue. He is well respected nationally in the field of alumni relations and is a member of the Council for Advancement and Support of Education (CASE) District V Conference Planning Committee.
Before beginning his academic career, Gleim served in the Speaker's Office of the Ohio State legislature for nine years. He earned the Bachelor of Arts degree in political science at Ohio State.
Prior to coming to Pitt, Patouillet was executive director of the University of South Florida Alumni Association. He received a BA degree with honors in American studies from the University of South Florida in 1975, an MS in educational psychology from the University of Tennessee in 1976, and a PhD in administrative and policy studies from the University of Pittsburgh in 2000. His work has been recognized with numerous professional honors, including nine awards for excellence in alumni relations from CASE, CASE's Quarter Century Service Award to the field of advancement, and numerous other institutional service awards. He is a charter member of the editorial board of The International Journal of Educational Advancement and has been a featured speaker at a number of professional conferences.
"The Pitt Alumni Association is extremely grateful to Lee for all he has done for the University and its alumni," commented current alumni association president F. James McCarl (CGS '73). "He has helped build an international network that connects Pitt to its alumni in a variety of ways. On a more personal level, I want to thank him for being such a good friend and wish him best of luck with his new position. I also look forward to working with Jeff Gleim during this time of transition."
"It has been my pleasure and honor to serve the University of Pittsburgh and its alumni for the past 17 years, noting with great satisfaction the Pitt alumni program's progress, which is the direct result of a shared vision among supportive university leadership, dedicated staff, and committed volunteers," said Patouillet. "The University of Florida position will allow me to return to my Florida roots and be closer to family while helping lead the alumni association of another of the nation's finest academic institutions. I look forward to visits from Pitt colleagues and friends, especially during the winter months! As a proud Pitt alumnus, I will continue to monitor the progress of the University as a whole and stand ready to assist the institution as needed."
Established in 1866, the PAA is a member service organization dedicated to serving the needs of more than 260,000 addressable alumni worldwide. The Division of Alumni Relations within the Office of Institutional Advancement provides the administrative support for the association. The organization is staffed by 21 alumni relations colleagues who are responsible for a variety of programs and alumni services, including strategic planning, awards, career networking, student relations, learning and travel programs, communications, homecoming, reunions and special events, international network of alumni clubs, councils and affinity groups, governmental advocacy, marketing, membership, student recruitment, and scholarship programs. The Alumni Relations staff works with alumni professionals from Pitt's 16 schools and colleges and four regional campuses.
Other Stories From This Issue
There are no stories for the issue at this time.
On the Freedom Road

Follow a group of Pitt students on the Returning to the Roots of Civil Rights bus tour, a nine-day, 2,300-mile journey crisscrossing five states.
Day 1: The Awakening
Day 2: Deep Impressions
Day 3: Music, Montgomery, and More
Day 4: Looking Back, Looking Forward
Day 5: Learning to Remember
Day 6: The Mountaintop
Day 7: Slavery and Beyond
Day 8: Lessons to Bring Home
Day 9: Final Lessons