Goldie Edwards, Pitt Professor Emeritus, Squashes the Competition
By Adam Reger
Issue Date:
November 18, 2013
Marigold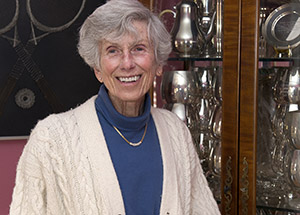 "Goldie" Edwards first picked up a squash racquet in 1963. At age 29, she was a latecomer to the game. Her athletic passion at the time was badminton, and she was disappointed upon her arrival at Pitt in 1962 to find that the sport was not played competitively in Pittsburgh. Casting about for a winter activity to keep her occupied, she took a friend's suggestion to try squash.
"I had hardly heard of it," recalls Edwards with a laugh, about her first experience playing squash. "When I found that players shared the same area and were swinging a racquet about the same length as a tennis racquet, I thought, 'What a dangerous game.'"
At the time, she was practically alone here as a woman playing the sport, so she competed against men. She says that, at the time, the Fitzgerald Fieldhouse courts were more like a wrestling room: "They smelled so badly of sweat, I did not return to squash for a year!" But once she did, the New Zealand native directed all of her competitive energies at the sport, playing every day with friends.
That effort was not wasted. More than five decades later, at age 79, she has attained the highest honor available in the U.S. to a squash player. Edwards—now a professor emeritus in Pitt's School of Education—is the 2013-14 inductee into the U.S. Squash Hall of Fame.
She came to Pitt to become an instructor in the health and physical education program, after running a recreation program for officers' children on the Royal Canadian Air Force base in Zweibrücken, Germany. As she settled into her position here, Edwards' teaching responsibilities gradually broadened to include health classes focusing on nutrition, exercise, weight control, stress management, and relaxation training. In time, she continued her studies and earned a PhD from Pitt's School of Education, writing a dissertation on exercise physiology.
Outside of Pitt, she conducted seminars and workshops for both lay and professional groups, and she served as a consultant to business and industry and to executive training programs. During these years, she became a special consultant to the President's Council on Physical Fitness and Sport, as well as a national clinician for both the United States Tennis Association and the American Association for Health, Physical Education, Recreation and Dance. In 1982, she received the National Tennis Foundation and Tennis Hall of Fame's Education Merit Award.
"I was fully engaged," Edwards says of her busy life, crediting Pitt with granting her the freedom to "do all sorts of things." She adds that the integration of her professional and personal lives was "total and satisfying," and not merely as a matter of maintaining her own health but also as a way to emphasize to others the importance of lifestyle to overall health. "It was not just for myself," she says, "but about promoting healthy lifestyle to as many people as I could get to hear me."
Among her many achievements on the squash court are Edwards' 28 national singles championships. She won the Canadian national singles tournament twice and, in 1974, her first U.S. national singles championship. For the next 26 years or so, Edwards would win at least one national title each year. Not only a consistent juggernaut against opponents in her own age brackets, Edwards also reached the finals of the top-level open national tournament four times and made the open semifinal match in 1983 at age 51.
Along the way she has been described as "indefatigable"… "legendary" … "a wily veteran" … "Pittsburgh's perennial champion" … "The Ageless Wonder" and "Grande Dame" ... in Squash Magazine, the official publication of the U.S. Squash Association.
Still, she insists that everything she has done, whether in teaching or on the squash court, has been about one thing—encouraging all of us to improve our health. "You can ruin the best gene pool in the world with a crummy lifestyle," says Edwards. "Any time you can influence people to pass on that message and to change their lifestyle to be a little less crummy, it's valuable."
Edwards, a beloved faculty member, retired in 1999 and was forced to give up squash in 2001 due to knee problems, but she still hikes and bikes. She spends the four months of U.S. winters in New Zealand, where she has reconnected with family, friends, and classmates from as far back as primary school. The rest of the year, she loves living in Oakland near the University and fondly remembers her 37 years at Pitt. "Even now, when I stand beside the Cathedral of Learning, which I can see from my kitchen," Edwards says, "I feel uplifted."
Other Stories From This Issue
There are no stories for the issue at this time.
On the Freedom Road

Follow a group of Pitt students on the Returning to the Roots of Civil Rights bus tour, a nine-day, 2,300-mile journey crisscrossing five states.
Day 1: The Awakening
Day 2: Deep Impressions
Day 3: Music, Montgomery, and More
Day 4: Looking Back, Looking Forward
Day 5: Learning to Remember
Day 6: The Mountaintop
Day 7: Slavery and Beyond
Day 8: Lessons to Bring Home
Day 9: Final Lessons