Goldwater Scholarship Awarded to Emily Crabb
By Anthony M. Moore
Issue Date:
March 31, 2014
University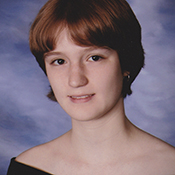 of Pittsburgh student Emily Crabb has been named a 2014 Barry M. Goldwater Scholarship winner for her outstanding undergraduate research in engineering and her commitment to pursuing a career in science. A native of Royersford, Pa., in her third year of study at Pitt, Crabb is majoring in computer engineering in the Swanson School of Engineering and majoring in physics in the Kenneth P. Dietrich School of Arts and Sciences.
In addition, three Pitt students have received Honorable Mention designations in the national Goldwater Scholarship competition: Andrew Abboud, a junior from Troy, Ohio, majoring in biological sciences and religious studies; Angela Beck, a junior from Monongahela, Pa., majoring in bioengineering; and Alexandre Gauthier, a junior from Charlotte, N.C, majoring in physics.
"The Goldwater Scholarship is the highest honor that can be won by undergraduate students studying science, math, or engineering, and we are proud of the recognition the Pitt students have received," said Pitt Chancellor Mark A. Nordenberg. "The ever-expanding record of student achievement at Pitt is reflective of the University's dedication to education both inside and outside classrooms. Encouraging the development of human potential remains our most fundamental mission."
Established in 1986 by the U.S. Congress, the Goldwater Scholarship was named for then-Senator Barry M. Goldwater of Arizona and encourages outstanding students to pursue careers in mathematics, the natural sciences, or engineering. The prestigious honor is awarded in either a student's sophomore or junior year, and the scholarship funds tuition, room and board, fees, and books for the recipient's remaining period of study.
"The academic and research credentials of the four students recognized in this national scholarship competition reflect their strong commitment to research and education and the success that they have had. They have represented themselves, their families, and the University of Pittsburgh well," said University Honors College Dean Edward M. Stricker.
Since her freshman year at Pitt, Crabb has conducted research within the laboratory of Anna Balazs, a Distinguished Professor of Chemical Engineering and the Robert Von der Luft Professor in the Swanson School. Crabb's research interests include studying the physics of nanoscopic and microscopic systems. In 2013, she coauthored the academic papers "Harnessing Fluid-Driven Vesicles to Pick Up and Drop Off Janus Particles" and "Self-Healing Vesicles Deposit Lipid-Coated Janus Particles into Nanoscopic Trenches," which were published in the American Chemical Society journals ACS Nano and Langmuir, respectively. Crabb also presented her research findings on the behavior of lipid vesicles in solution at the 2013 American Physical Society conference.
"Even before entering college, I knew I wanted to study science because of my love of math and physics. Having the opportunity to work in a scientific research lab at the University of Pittsburgh has solidified my desire to pursue a career in scientific research," said Crabb."I enjoy predicting the outcomes of simulation experiments and then puzzling over why different things actually happen as well as discussing ideas and planning new experiments with other researchers. I also relish communicating my results, whether through coauthoring papers or presenting a poster, and these activities are highlights of my research experience and hopefully my future."
This semester, Crabb is studying computer engineering abroad at the École Nationale Supérieure de l'Électronique et de ses Applications in Cergy, France. After graduating from Pitt, Crabb plans to earn a PhD degree in physics and pursue a career conducting theoretical physics research as well as international collaborative research.
Crabb's awards and accolades include the University of Pittsburgh's Honors Tuition Scholarship, the Pittsburgh Foundation's Thomas Lain Scholarship, and the Russell Vohr Beckett and Hazel Ley Beckett Scholarship in Electrical and Computer Engineering. A 2011 National Merit Scholar, Crabb was inducted into the Tau Beta Pi Association, the oldest engineering honor society in the United States, in 2013.
In addition to being an active member of the Tau Beta Pi Association, Crabb's professional affiliations include the American Nuclear Society, the Society of Physics Students, and the Society of Women Engineers.
Crabb is the 42nd Pitt student to have won a Goldwater Scholarship since 1995. She joins an elite group of former Pitt Goldwater honorees, some of whom have gone on to receive prestigious postgraduate awards: Pitt's 2007 Rhodes Scholar Daniel Armanios, 2006 Rhodes Scholar Justin Chalker, and 2007 Marshall Scholar Anna Quider.
Crabb was nominated with assistance from Pitt's University Honors College, which advises Pitt undergraduates, seniors, and alumni who are interested in pursuing national and international awards. Institutions can nominate up to four students for the Goldwater Scholarship. In 2014, all of Pitt's Goldwater nominees were recognized; this is the second consecutive year that all of Pitt's nominees have received a Goldwater Scholarship or Honorable Mention designation.
Other Stories From This Issue
There are no stories for the issue at this time.
On the Freedom Road

Follow a group of Pitt students on the Returning to the Roots of Civil Rights bus tour, a nine-day, 2,300-mile journey crisscrossing five states.
Day 1: The Awakening
Day 2: Deep Impressions
Day 3: Music, Montgomery, and More
Day 4: Looking Back, Looking Forward
Day 5: Learning to Remember
Day 6: The Mountaintop
Day 7: Slavery and Beyond
Day 8: Lessons to Bring Home
Day 9: Final Lessons