The Grace of Good Sportsmanship: Rutgers alumni thank Nordenberg, Pederson for Pitt's LeGrand Support
By Jane-Ellen Robinet
Issue Date:
August 20, 2013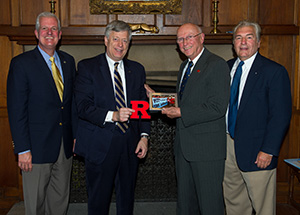 A recent visit to Pitt's campus by two alumni from Rutgers, the State University of New Jersey, provided a fitting closure and expression of thanks for what they termed "the most compassionate [display] of sportsmanship ever seen in college football."
Eric Young and John Lenkey III, the current and immediate past presidents, respectively, of the Rutgers Alumni Club of Pittsburgh, visited Oakland on July 30. Their hosts: Pitt Chancellor Mark A. Nordenberg and University Athletic Director Steve Pederson.
Their topic: the outpouring of support and concern from Pitt football players, students, and fans for Eric LeGrand, the former Rutgers defensive tackle who was paralyzed from the neck down following a tackle during an Oct. 16, 2010, game against West Point Military Academy.
Upon hearing news of that tragic accident, Pitt's football team—which was scheduled to play Rutgers at Heinz Field the following week—sprung into action. They painted and signed a large banner that read "We're With You Eric." Scores of Pitt students signed it, too.
On the day of the Pitt-Rutgers game, Oct. 23, 2010, Lenkey called Chancellor Nordenberg to ask if the banner could be brought to McFadden's Restaurant and Saloon, next to Heinz Field, where the Rutgers Alumni Club was holding an "Indoor Tailgate Party." The chancellor made a quick call to Pederson and, 30 minutes before kickoff, a parade of Pitt fans burst into McFadden's, unfurled the banner, and welcomed the Rutgers fans and alumni to sign it, too.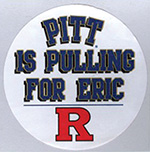 Meanwhile, at Heinz Field, Pitt students manned the entrance gates, distributing 30,000 "Pitt Is Pulling for Eric" stickers to anyone wearing blue and gold. Right before the game, Pitt students presented the banner to Tim Pernetti, then-athletic director of Rutgers, who flew back to Newark and delivered the banner to LeGrand, who lay paralyzed in a hospital watching the Pitt-Rutgers game.
Chancellor Nordenberg said Pitt's actions regarding LeGrand and Rutgers at that time were "a heartfelt display" of support. Young and Lenkey, during their visit last month, expressed their thanks for Pitt's public display of support, saying that it was most appreciated by LeGrand and by the people of Rutgers.
In May, LeGrand moved back into his Avenel, N.J., family home, which has been rebuilt and is fully accessible. With the help of a computerized wheelchair and several other advanced assistive devices, he is able to navigate at home on his own. LeGrand works as a TV and radio football analyst, and he travels as an inspirational speaker. He has a symbolic NFL contract with the Tampa Bay Buccaneers, who are coached by Greg Schiano, formerly LeGrand's coach at Rutgers.
Other Stories From This Issue
There are no stories for the issue at this time.
On the Freedom Road

Follow a group of Pitt students on the Returning to the Roots of Civil Rights bus tour, a nine-day, 2,300-mile journey crisscrossing five states.
Day 1: The Awakening
Day 2: Deep Impressions
Day 3: Music, Montgomery, and More
Day 4: Looking Back, Looking Forward
Day 5: Learning to Remember
Day 6: The Mountaintop
Day 7: Slavery and Beyond
Day 8: Lessons to Bring Home
Day 9: Final Lessons