Graduating Senior Profiles: Syed Kaleem
By Micaela Fox Corn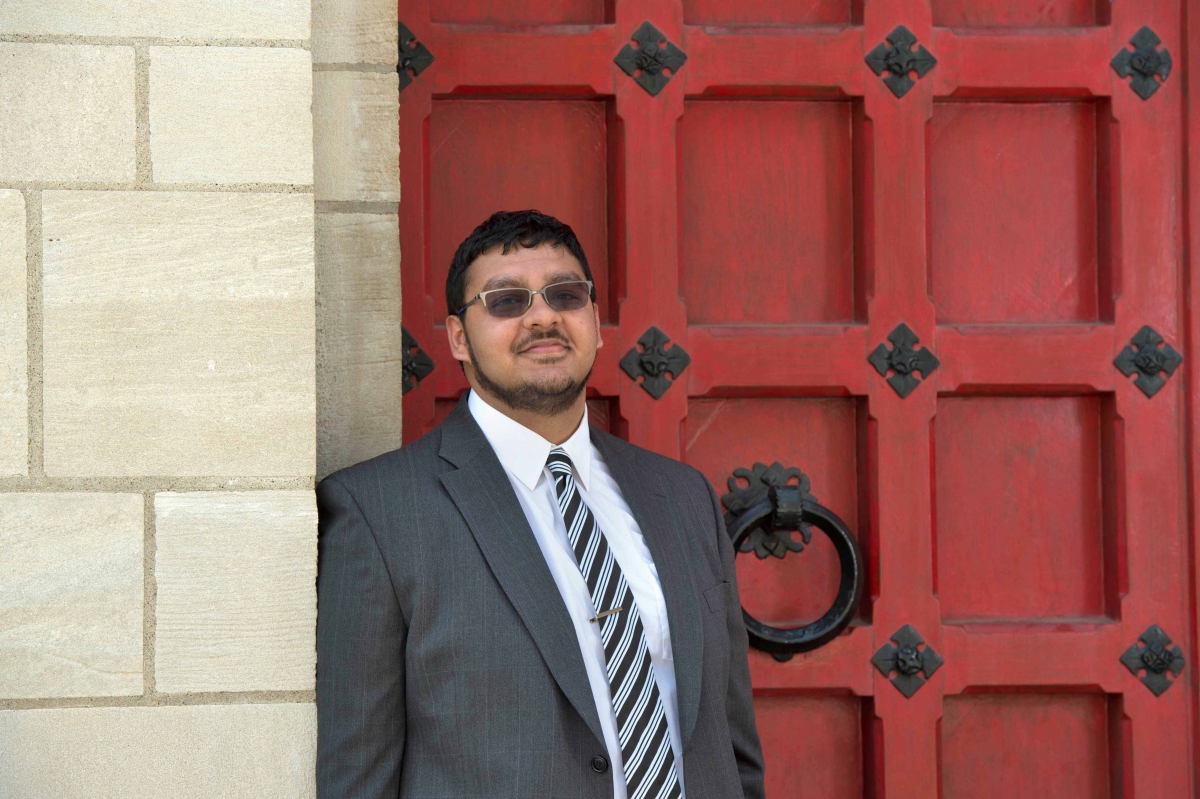 At the food pantry, someone recognized Syed Kaleem.
At first, Kaleem was confused when the person said, "I saw you on TV!" Then he remembered a recent, unusually warm December day when he and some friends from Pitt's Muslim Students Association had scattered around campus holding signs that read, "Hug a Muslim." It was about lifting low spirits, breaking down barriers. A local TV station took note, as did some people at the food pantry where Kaleem volunteers.
Kaleem is a first-generation American, who graduated this spring from Pitt's College of General Studies with a bachelor of science in natural sciences, a political science minor and global studies certificate. His father, a doctor from Pakistan, was an early influence in pursuing this premed track, and Kaleem has found plenty of inspiration of his own accord during his time at Pitt.
For two years, Kaleem has volunteered as codirector of the Islamic Center of Pittsburgh's food pantry, part of the Greater Pittsburgh Community Food Bank. Every third Saturday of the month, he and his team distributed food to Muslim and non-Muslim families from all over the region. The pantry is an integral support for the families it serves.
On one of his last distribution days, he met a man who had come from Syria the night before. This Syrian refugee was only just beginning to navigate his new life in a new country. One of the first things he sought was the Islamic Center of Pittsburgh's food pantry, which offered cultural comfort and support. Among a variety of produce and staple dietary items, the pantry is one of the city's only to offer halal meats, prepared in accordance with Islamic law.
The Syrian man had been an engineer in his home country, but was now worried about finding similar work in America that would provide enough to feed his seven children. Kaleem listened, remembering how his own father, after being a physician for many years abroad, had to retake several exams in order to gain licensure to practice medicine in the United States. His mother took on extra work to make ends meet.
As they conversed in Arabic, it occurred to Kaleem that he was one of the first people this man had spoken with since arriving to this country, which made him thankful for the summer he spent abroad in Amman, Jordan, gaining proficiency in Arabic through an intensive summer program.
About half of the people who come to the Islamic Center's food bank are non-Muslim, Kaleem says, but most of the other half are Muslim immigrant families with limited English capabilities. Since returning from studying abroad, Kaleem's Saturdays have been more meaningful.
"Our pantry plays a special role in these times as a way not only to serve foreign-born people in a familiar environment and avoid stigma, but to get non-Muslims exposed to Muslims [and] Islam as a whole, and to see what we're all about," he says.
By the time he graduates, Kaleem will have helped distribute more than 18,000 pounds of food and toiletries over the course of two years as codirector of the food bank. His team served around 45 families each month.
Also this year, he was a public policy and advocacy intern with Just Harvest, an organization that helps fight hunger and poverty in the Pittsburgh region. There, he advocated for Pittsburgh immigrants and worked with the policy team to improve Just Harvest's advocacy strategies regarding the distribution of SNAP, or food stamp, benefits in Pennsylvania. He's passionate about issues like these at the intersection of health and policy, especially relating to immigrants and refugees. His time at Pitt has prepared him for tackling difficult, large-scale problems, such as when, as a teaching assistant with a University Honors College Teaching Fellowship, he approached his professor with ways to improve her course.
By listening with an open and curious mind, he created workable methods to help other students succeed — collaborating on an online video series summarizing each lecture, as well as individualized extra help — and he and instructor Lesley Ashmore in the Department of Biological Sciences saw real results in the metrics. It was an encouraging moment, seeing the fruits of his efforts firsthand.
"Syed is truly one of the most extraordinary students I have ever had," Ashmore says, adding, "he is very good at identifying areas where he can be of assistance, and [at] suggesting improvements, both small and large, in a way that does not ruffle feathers."
As Kaleem applies to medical schools this summer, he'll be continuing down a path that seems naturally set for him — helping other people through the difficult stages of life, asking along the way, "How can we make this better?"
Other Stories From This Issue
There are no stories for the issue at this time.
On the Freedom Road

Follow a group of Pitt students on the Returning to the Roots of Civil Rights bus tour, a nine-day, 2,300-mile journey crisscrossing five states.
Day 1: The Awakening
Day 2: Deep Impressions
Day 3: Music, Montgomery, and More
Day 4: Looking Back, Looking Forward
Day 5: Learning to Remember
Day 6: The Mountaintop
Day 7: Slavery and Beyond
Day 8: Lessons to Bring Home
Day 9: Final Lessons