Graduating Senior Profiles: Grace Pehlert
By Katie Fike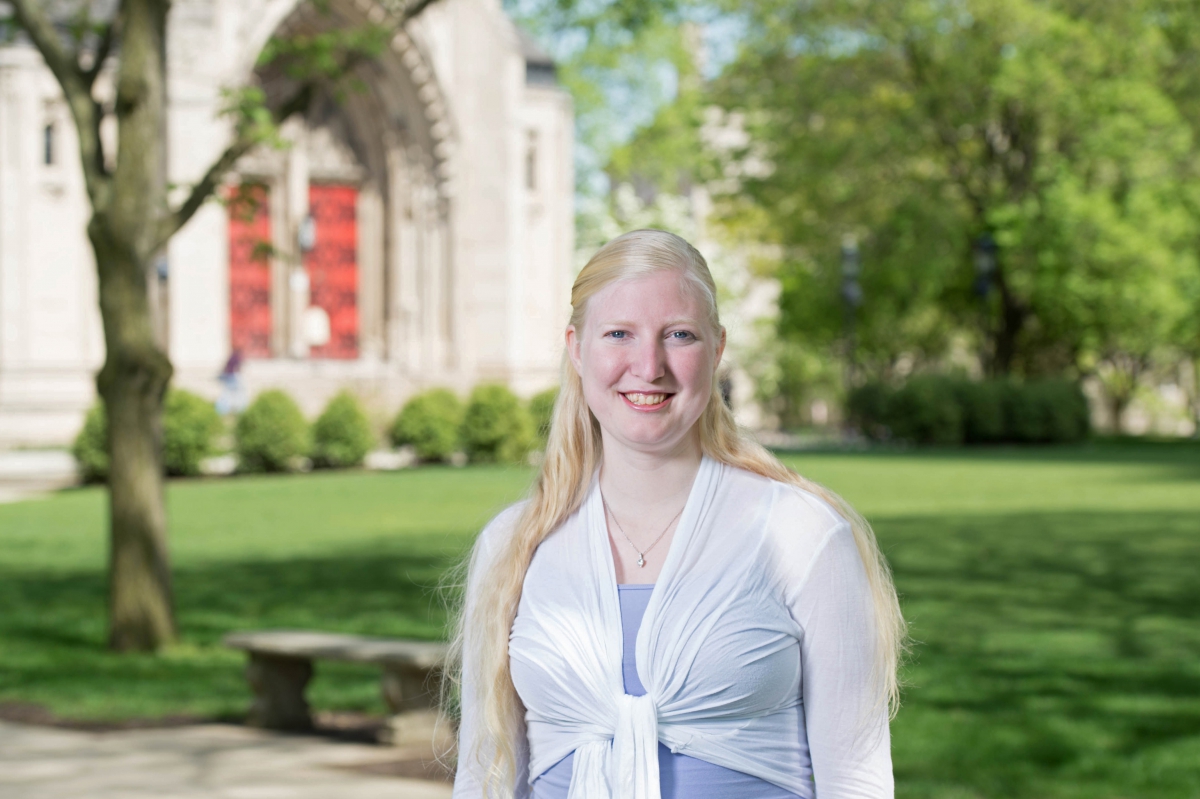 You could say that Grace Pehlert's commute to the University of Pittsburgh was longer than her earlier commutes to school.
To attend her classes in microbiology, German and music at Pitt, she took a short walk to campus from an apartment in North Oakland. But during elementary and high school, Pehlert simply left her bedroom and descended a stairwell in her Downingtown home in Eastern Pennsylvania.
Pehlert was homeschooled, and began to guide her own education after the fifth grade, selecting textbooks that reflected her interests, such as astronomy. When she wasn't in class, Pehlert rode horses and danced ballet, played piano and violin, and sang. She was effectively a piano teacher for one of her three siblings. All while having a visual disability.
"I learned mostly by ear. It was years before I actually learned how to read music," said Pehlert, who graduated April 30 with both a Bachelor of Science and Bachelor of Arts. "But I can listen to an orchestral score and pick out my line and learn it. And I always memorize my music for concerts and everything. No page-turning issues for me!"
Pehlert aspired to study at the Curtis Institute of Music in Philadelphia, but as a teenager she encountered another obstacle: Lyme disease. The disease robbed her of feeling in her fingertips and of her dream of playing violin professionally. The diagnosis also convinced her to delay her college studies for a year. In the meantime, the disease gave her a new interest: microbiology.
Aware of Pitt's reputation in science, Pehlert applied and was accepted, but she was ultimately persuaded to attend by the Cathedral of Learning's Nationality Rooms.
"It was one of the major incentives for me to come to Pitt, rather than another school, because in high school, I faced a lot of bullying," she said. "But seeing all the cultures and backgrounds represented here and seeing how accepting people were of these cultures and even of all the different religions, I figured, 'They'll be accepting of me, too.' And they were, for the most part. So that was a huge draw. And I wanted to be able to share that acceptance with others."
She served as a Quo Vadis — that is, a Nationality Rooms tour guide — since her freshman year. What is her favorite Nationality Room?
"Oh, goodness. We're not allowed to have favorites!" she said. When pressed, however, she chose the Irish room ("the best room to study in, definitely") and Austrian room, an unsurprising selection, considering her German major.
Having studied German briefly on her own, Pehlert chose to enroll in a German course during her freshman year, and the department, in her words, "reeled me in." Her mastery of the language is evident in her receipt of the department's Lore B. Foltin Memorial Prize.
In the German department, she found a community where being visually impaired was not thought of as a hindrance.
An example of this supportive environment can be found in the department's Drama of Ideas course, in which Pehlert and her classmates were cast this semester in a play. Her classmates helped Pehlert, who lacks depth perception, become familiar with the performing space and play the lead female role.
Her visual impairment has not deterred her from traveling to further her studies either. A grant from the Austrian Room Committee allowed Pehlert to study abroad the summer before her junior year. During the following summer, she participated in the University Honors College's Wyoming Field Studies Program, during which she unearthed an interest in paleontology. She combined this newfound fascination with fossils with her German studies for her senior capstone project on an ancient bird known as the Urvogel in German.
"From her time studying music in Salzburg to her work on archaeopteryx [the Urvogel], Grace has been a model for the great possibilities of the liberal arts," said Randall Halle, the Klaus W. Jonas Professor of German Film and Cultural Studies and chair of the Department of German in the Kenneth P. Dietrich School of Arts and Sciences. "Dauntless and resolute, she truly has the skills and spirit to go where her imagination leads her."
Driven by her experience with Lyme disease, Pehlert, who has participated in online research, hopes to apply her microbiology studies to a career studying rare diseases. She also is considering pursuing a master's degree in genomics and integrated systems biology. Any doubts that could arise for Pehlert about her future would be subdued by reflecting on 23 years of overcoming challenges, both internal and external.
"I mean, look at my life so far," she said. "It has to work out. I'm confident it will."
Other Stories From This Issue
There are no stories for the issue at this time.
On the Freedom Road

Follow a group of Pitt students on the Returning to the Roots of Civil Rights bus tour, a nine-day, 2,300-mile journey crisscrossing five states.
Day 1: The Awakening
Day 2: Deep Impressions
Day 3: Music, Montgomery, and More
Day 4: Looking Back, Looking Forward
Day 5: Learning to Remember
Day 6: The Mountaintop
Day 7: Slavery and Beyond
Day 8: Lessons to Bring Home
Day 9: Final Lessons