Graduating Senior Profiles: At Home in the World
By Patricia Lomando White
Issue Date:
April 27, 2008
Mothupi, Pitt's inaugural Mandela Scholar and a Phi Beta Kappa inductee, ready to return to South Africa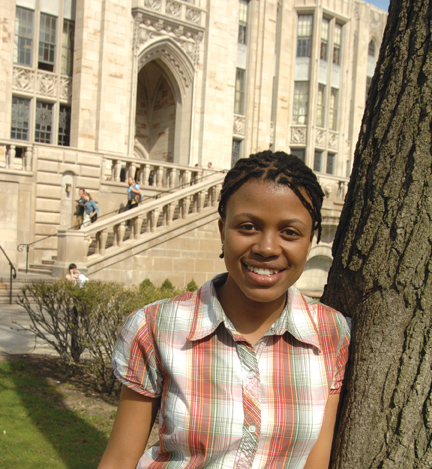 Mamothena Carol Mothupi, a graduating senior from South Africa, had never dreamed of studying in America. But her past four years at the University of Pittsburgh have put her one step closer to achieving her life's dream of becoming a doctor, and they have even changed her perception of her home.
Mothupi is the inaugural recipient of the Nelson Mandela Children's Fund Scholarship at the University of Pittsburgh. Inducted into Phi Beta Kappa this spring, she is receiving a Bachelor of Arts degree in anthropology with a concentration in premedicine.
Mothupi had just enrolled in a South African college to study biochemistry when she received the Mandela Scholarship offer in 2004. Torn about what to do, she had hoped that her mother, a widow who had raised Mothupi and her two brothers alone, would help her make the decision. But her mother would not, leaving Mothupi, who said she knew nothing about Pitt and had never thought about studying in America, to make her choice.
"In South Africa, you either major in science or in the arts," she said. "It's almost like being in professional school right away. When I realized that I could have a more liberal education in the United States, it helped me to decide to come to Pitt."
Her education was, indeed, very broad. Not only did Mothupi dig into anthropology and premed subjects, she blossomed into a theater star at Pitt's Kuntu Repertory Theatre. Her internships and volunteer activities exposed her to public health issues, the intricacies of poverty in America, and the educational needs of children from disadvantaged families. Blessed with a social ease and the ability to make friends quickly, Mothupi has created social circles that include homes away from home here in America and even a friend with whom she will work upon returning to South Africa.
She describes her experience in America and at Pitt as being "rich in so many ways"—academically, by broadening her horizons; culturally, by exposing her to theater; and socially, by giving her the chance to form friendships.
Vernell Lillie, founder of Pitt's Kuntu Repertory Theatre and an emeritus professor in the Department of Africana Studies, says she remembers seeing Mothupi step off an elevator one day. Lillie took one look and said to Mothupi: "You're my Sarafina!"
"She didn't see herself as an actress, but as a scientist or a social scientist," Lillie revealed. "I remember her worrying about it. I told her, 'Think about it; if you can't act, you can assist us in interpretation and pronounciation of the Zulu traditions, history, and language.'"
Mothupi starred in Kuntu's 2007 production of Sarafina!, a musical depicting students involved in the 1976 antiapartheid riots of Soweto. She played to rave reviews, including one from Pittsburgh's City Paper that said: "Kuntu's Sarafina! has plenty to offer an audience, not the least of which is Mamothena Carol Mothupi as Sarafina. This kid's got talent to burn."
Mothupi enjoyed the role. "Because it is a South African play, it's as if I got to tell my story," she said, adding that some things mentioned about South Africa in the play were unknown to her. As a result, she learned more about her own country while playing the role.
"She does her own research," said Lillie, including researching her most recent role of Kuka, the best friend of the main character in Lavender Lizards and Lilac Landmines: Layla's Dream.

At one point, Mothupi considered majoring in theater arts. But she decided to continue with her anthropology and premed majors and hopes instead to help establish a community theater in her hometown.
"I wish I had grown up around theater, and I would love to make it popular in my hometown," she said. "In the cities in South Africa, there is a lot of theater, but none in the rural towns."
Mothupi's life at Pitt has been varied and busy. Along with a demanding course load, she volunteered and worked for a number of organizations. She interned for two years with Pitt's Center for Minority Health, which exposed her to the public health field and took her into the heart of Pittsburgh neighborhoods, including East Liberty and Homewood. She also participated in Pitt's Student Volunteer Outreach Alternative Spring Break, helping to feed the underprivileged in Chicago through Northwestern University's Campus Kitchen Project in 2005. The following year, she helped a family in West Virginia rehabilitate its home through the Appalachian South Folklife Center.
"I expected the American environment to be urban," said Mothupi, who is from a rural village. "It was refreshing and surprising to see West Virginia and the rural areas."
Mothupi continued her volunteer work throughout the school term by tutoring high school students in physics, chemistry, mathematics, and English through the Job Links School 2 Career Program in Oakland.
Mothupi also saw Africa in a different light as she met more Africans from other African countries. She is part of Pitt's African Student Organization, whose members are from Kenya, Nigeria, Congo, and other African nations.
"At home in South Africa, we're somehow separated from other African cultures," said Mothupi. "I am much more interested in Africa than I ever was, and I learned that from living here."
Mothupi said she will always be appreciative of the monetary and social support she received during her time at Pitt. "Some students struggle to get housing, and, even in America, people struggle to pay their tuition fees. I am blessed to have received the Mandela Scholarship.
"When I first arrived, I was homesick a lot of the time, even though I had so much support," she said. Mary Beth Favorite, her academic advisor, helped Mothupi understand how the Pitt system worked. The chancellor's office made sure her meal plans were in order.
Mothupi developed a close friendship with Monique Thompkins, an administrative assistant in Pitt's Department of Africana Studies, and her family. Other Pitt administrators, staff, faculty, and students also have reached out and become an important part of Mothupi's American family. None of this comes as a surprise to Lillie, who says Mothupi makes friends very quickly.
"She has a profound internal love for herself and an awareness of her strengths and weaknesses. She is able to carve out her own world," said Lillie. "You can see in her eyes that she's always been a wise old soul."
Mothupi has applied to medical school and she is preparing to return to Africa in May. With the time remaining, she hopes to spend as much time with friends as possible, even if it means sleeping less.
"I am really happy that after all of the experiences I've had here, I still want to go into medicine," said Mothupi, who may specialize in obstetrics and gynecology. "My experience growing up was that women's health, health in general, but women's health in particular, is more neglected. When I go to medical school, I will determine what interests me the most."
Before starting medical school in January at either the University of Cape Town or the University of Witwatersrand in Johannesburg, where she has applied, Mothupi will be involved in several projects. In June and July, she will work with the Nelson Mandela Children's Fund Project in Johannesburg, preparing for Mandela's birthday celebration in July. The organization funds agencies that work with children who are disadvantaged and predominantly orphans. Mandela spends his birthday every year with the children who benefit from the organization's work.
In August, Mothupi will work on a business-oriented project at a community center in Lesotho, a landlocked nation within the borders of South Africa where most of her ethnic group is from. Nathan Emery, a Pitt friend and a current student in Pitt's Graduate School of Public and International Affairs, is returning to South Africa to run the project, which involves marketing indigenous herbs that have been turned into ointments and medicines. The project, which will help to create jobs for the local people, is particularly important to Mothupi.
"I've never done any developmental work, and it is interesting to me, since it is an African project," she said.
What Mothupi is really looking forward to is spending Christmas with her family. She plans to spend the whole month of December in her hometown.
"As long as I'm in my environment, I'll be happy," she said.
Reflecting, Mothupi said, "I still remember the day I came here. I am very grateful for my American experience. Hopefully, someone else from my country can get the Mandela Scholarship and have these wonderful experiences."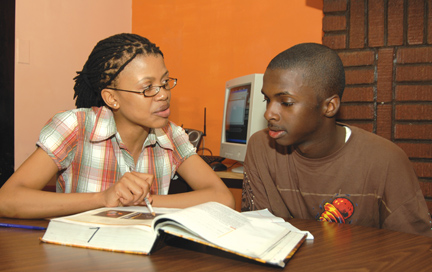 Other Stories From This Issue
There are no stories for the issue at this time.
On the Freedom Road

Follow a group of Pitt students on the Returning to the Roots of Civil Rights bus tour, a nine-day, 2,300-mile journey crisscrossing five states.
Day 1: The Awakening
Day 2: Deep Impressions
Day 3: Music, Montgomery, and More
Day 4: Looking Back, Looking Forward
Day 5: Learning to Remember
Day 6: The Mountaintop
Day 7: Slavery and Beyond
Day 8: Lessons to Bring Home
Day 9: Final Lessons