Graduating Senior Profiles: Jacky Chen
By Anthony M. Moore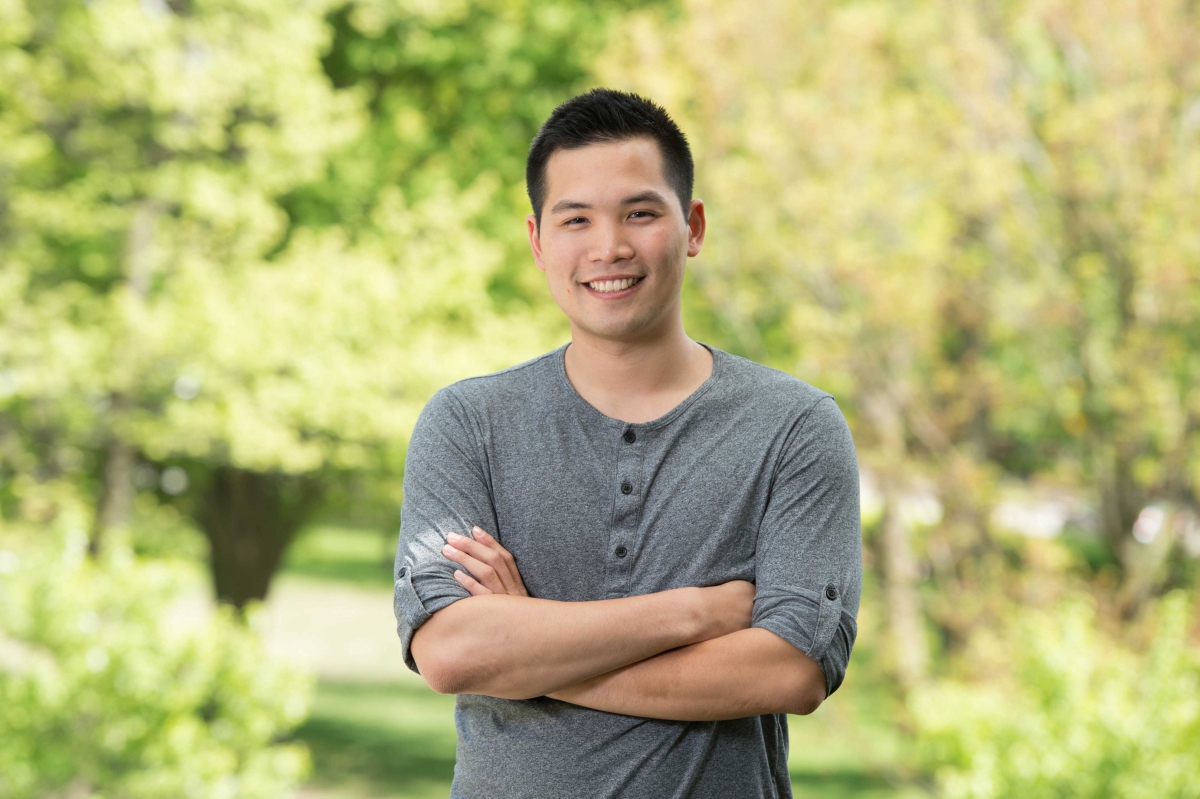 Jacky Chen says enlisting in the U.S. Army National Guard during his sophomore year at Pitt has been one of the most rewarding decisions of his life. For the past three years, the graduating senior has served as an infantryman, and he now looks forward to making service to his country his full-time career.
After graduation, Chen plans to attend medical school and serve as a physician in the Army. In the distant future, he hopes to dedicate his skills in medicine to nonprofit organizations that progress social causes both in the U.S. and abroad. Chen's career ambitions, he says, best merge his love for medicine and the United States of America.
"This country has given so many opportunities to me and my family, and I feel blessed to have been born here," said Chen, a first-generation American from Lindenhurst, New York. "U.S. servicemen and women are some of the noblest people I know. They truly are the best of what America has to offer. It will be a personal honor to dedicate my practice to my fellow brothers and sisters in arms."
Chen graduates with a Bachelor of Science degree in neuroscience from the Kenneth P. Dietrich School of Arts and Sciences. This summer, Chen will travel abroad for cultural enrichment at the Dalian University of Technology in the port city of Dalian, China.
The travel opportunity will be funded by a U.S. Department of State Critical Language Scholarship — the latest in a string of recent honors for Chen. Last year, he was awarded the John H. Tsui Memorial Scholarship from Pitt's Nationality Rooms and Intercultural Exchange Programs. Additionally, in 2016, he won the U.S. State Department's Benjamin A. Gilman Scholarship, was named a David L. Boren Scholar by the National Security Education Program and was bestowed the Institute of International Education's Freeman Award for Study in Asia.
Chen pooled the resources of the Freeman Award, the Boren and the Gilman scholarships to partake in a summer-long intensive language-training program at Peking University in Beijing. The son of Chinese immigrants, Chen says reconnecting with his native culture has become a priority in his life. He hopes to further engage family members still living in China as he transitions from student life and into his professional career.
Chen's parents first came to the U.S. in the late 1980s. As a child, he watched them fulfill their dreams of becoming U.S. citizens and restaurateurs. Chen worked in their restaurant — the Wing Wah Kitchen in Long Island, New York — for most of his childhood. At the age of 14, they made him an assistant manager, responsible for overseeing a staff of seven. Chen says he learned, through his parents' example, that anything is possible in the United States through the tenets of grit and determination.
"In Chinese culture, much is expected of the oldest son. So, there has always been an expectation that I will be a leader and be successful for the good of myself as well as the family," said Chen, who has an older sister working at Columbia University, as well as a younger brother graduating from high school this year. "My siblings and I are inspired by our parents and all that they have accomplished in this country. They taught me that leaders leave their mark wherever they go, and I've always kept that in mind."
Chen has been working to make his mark on the University of Pittsburgh's campus. Most notably, he is a cofounder of TEDx University of Pittsburgh, which hosted its third speaking series in the William Pitt Union last month. When not organizing for the TEDx stage, Chen can usually be found in his research lab studying the effects of experimental neuromuscular disorder drugs within the laboratory of Pitt faculty member Stephen D. Meriney.
As a campus leader, Chen has served as president of Pitt's chapter of the American Medical Student Association (AMSA), where he spearheaded efforts to increase membership from around 50 to more than 275 people. An executive member of Pitt's student government board, he served on the University's first-ever Diversity Council. Through the Diversity Council, he worked with more than 30 campus organizations in efforts to make Pitt an even more diverse and inclusive campus. Chen also is an active member of the Omicron Delta Kappa leadership honor society, Outside the Classroom Curriculum Honorary Society and the SALUTE Veterans National Honor Society.
Upon returning from China this fall, Chen will begin working as a medical assistant for the Charles B. Wang Community Health Center in Flushing, New York. He says this job will allow him to stay active in the health care field while taking a much needed short-term break from academia.
Of his experiences at Pitt, Chen said: "This University has been a major part of my life these past five years. I've learned a great deal about myself and the world around me. I will always love Pitt and I hope to make the University proud in my new role as an alumnus."
Other Stories From This Issue
There are no stories for the issue at this time.
On the Freedom Road

Follow a group of Pitt students on the Returning to the Roots of Civil Rights bus tour, a nine-day, 2,300-mile journey crisscrossing five states.
Day 1: The Awakening
Day 2: Deep Impressions
Day 3: Music, Montgomery, and More
Day 4: Looking Back, Looking Forward
Day 5: Learning to Remember
Day 6: The Mountaintop
Day 7: Slavery and Beyond
Day 8: Lessons to Bring Home
Day 9: Final Lessons